Two-Time PBR Canada Champion Zane Lambert Rises to No. 1 Ranking Ahead of Hometown Event
By: Covy Moore Thursday, September 2, 2021 @ 9:32 AM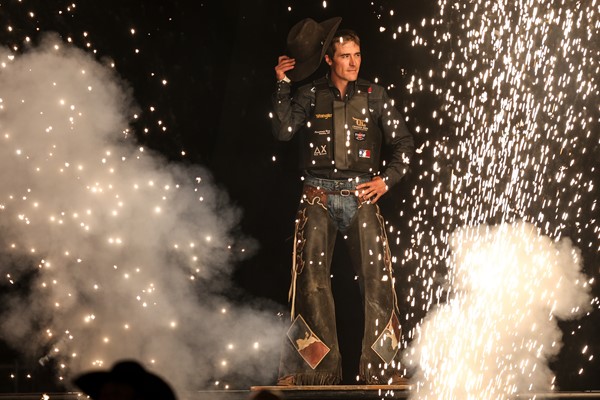 AIRDRIE, Alberta – When the PBR Canada Cup series got underway in Lethbridge, Alberta, last weekend, Zane Lambert proved why he is not only a two-time PBR Canada Champion, but an annual favourite to win events and titles alike.
Going 2-for-3 at the PBR South Country Co-op Showdown, presented by VisitLethbridge.com, Lambert not only won the event, but was catapulted to the No. 1 rank in the race for the 2021 PBR Canada Championship, and accompanying $50,000 bonus.
RELATED: Monstrous 90-Point Ride Propels Two-Time PBR Canada Champion Zane Lambert to Event Win at Season-Launch Cup Series Event in Lethbridge
Lambert's golden finish included a 90-point ride in the championship round, earned aboard a familiar foe in Two Bit Bucking Bulls' Catch My Drift.
Earlier this season, Lambert covered the Magrath-based bovine in Prince Albert, Saskatchewan for 91 points.
"I have been on that bull four times, he is always my pick, "Lambert said. "I know what he does."
"He doesn't always do the same thing, but if you are looking for high scores, and with the way the average was working that night, you had to be the highest score you could be in that short go."
"I had been 90 on him before," Lambert continued. "There were bulls in there that I thought if they had a good day I might not be able to be 90 on them, so I picked [Catch My Drift]. That bull is solid every time, but it's a bit of a gamble too because that bull does buck really hard and can buck a guy off."
With a championship round that will be remembered for some time, featuring six qualified rides all for 87 points or more, when Lambert nodded his head, he was sixth overall and had to ride his bull to win.
"A lot of guys went before me," Lambert chronicled. "I was surprised how many of them rode. They were passing me that whole round. When you see those other guys doing good, and building that momentum, that momentum works for all of us other guys too. You see that sometimes, when a couple guys do really good it really takes off from there."
"The guys were just hungry and we were all ready to go for the big events," the Ponoka-native added. "Everybody had a chance to win. So you saw everyone trying for that victory."
As the penultimate man to leave the chutes, Lambert again delivered a monstrous score, this time marked 90 points. Propelled to the top of the leaderboard, Lambert clinched the win when Lonnie West bucked off 2019 PBR Canada Bull of the Finals Finning Lil Shorty.
For his efforts, Lambert netted a critical 85.5 national points, catapulting him from No. 9 to No. 1 in the race for the 2021 PBR Canada Championship. The 35-year-old now leads No. 2 Tetz by a mere 1.34 points.
And while Lambert's head-turning score earned him the event win, it was not the only 90-point score from the event. Tying for the championship round win with Lambert was Griffin Smeltzer who covered 2018 PBR Canada Bull of the Year Happy Camper for a matching 90 points.
"It is hard to pick one," Lambert said of the tour newcomers this season, including Smeltzer. "It is good to see these young guys coming. Every five years or so you see a good talented crop of guys coming through that can challenge for the win. There are five of so guys going right now that are challenging for wins that are rookies. It is cool to see them being so competitive."
"It is good to get new guys in the dressing room, see their characters and their way of life."
This coming weekend Lambert's focus will return to the Touring Pro Division, with the nation's next event scheduled for his hometown of Ponoka, Alberta, on Sept. 4. Slated to take place in the historic red chutes of the Ponoka Stampede, the iconic rodeo grounds will hold its first PBR Canada event since 2017.
"We are really looking forward to the Ponoka event," Lambert said. "It's on a long weekend too, so I have a bunch of family out at the house. Driving into town already I see there are trailers and campers getting set up at the rodeo grounds. The folks I talk to were all wondering if the PBR was coming, and looking forward to it happening this year."
"It is going to bring Ponoka together. I am glad they we're able to bring the PBR to town this year for the town and the province."