Remembering Jack Braithwaite
By: Covy Moore Tuesday, September 21, 2021 @ 4:06 PM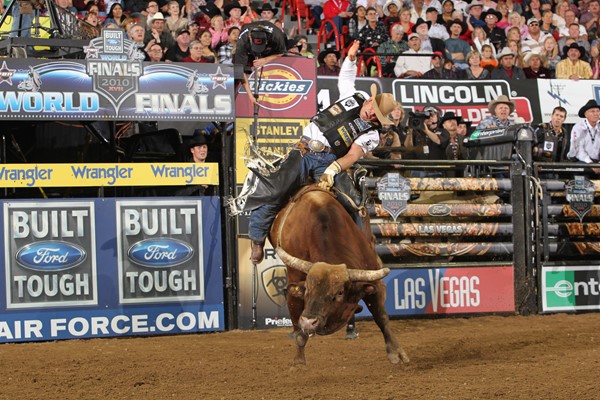 AIRDRIE, Alberta – The Braithwaite family, and by extension the entire PBR Canada community, lost a pillar of the bull riding world on September 20.
Surrounded by family, Jack Braithwaite passed away peacefully at the age of 79.
While Braithwaite's passing leaves a void for everyone, there is no questioning his impact upon the Canadian bull riding world.
Starting out in the breeding business in the early 90s, while his son Todd competed in bull riding, Jack's work ethic was immediately evident by the quality of his stock being hauled to events.
"He got started when my dad was riding," said grandson and current PBR Canada bull rider Cawl Braithwaite. "Dad got into the bucking bulls when he was riding them, and gramps would be right there flanking them. He went out East with them, he packed a lot of bulls to the PBR and PCB events,"
"We first won a couple bucking bull of the years in the PCB, then on to the PBR after that. He hauled a lot of bulls, flanked a lot of bulls for us."
Focusing on consistent care and attention for the bulls, Cawl says that while his grandfather Jack was simply one of the good guys to have around at events, he was even better to have looking after your bucking bulls.
"He was always happy, always had a smile on his face, he was just another one of those good ole boys," recalled Cawl. "He was one of the best, he would get up at the same time every day, and get those bulls grained. There wasn't anyone better to take care of them. He was really dialed in that way. That is why we got to be so successful when he was going."
For Jack, as with many involved in the PBR Canada community, the sport ran deeper than the 8 seconds in the arena. And there isn't too many who would have a bad thing to say about the legendary contractor.
"He was just a good guy and really loved it," Cawl said. "He really loved seeing people, always had a smile on his face. Always happy. He would always call you partner – 'Top of the morning partner,' that was his thing."
As for the bucking bulls, Cawl said there are a lot of bulls that had Jack's touch on them.
But, if there was one that he would pick out as a favourite, it would have been Double Jeopardy, a bull that won Bull of the Year in the pre-PBR Canada, PCB-sanctioned days.
After that however, the Braithwaite family had a stranglehold on contractor of the year from PBR Canada's inception in 2006 until 2011, a consecutive six titles which is still unmatched today.
Today's PBR Canada bull pens would not look the same without Jack's care and attention.
With his bloodlines showing up in almost every major Canadian stock contractor today, there is no question the impact he, and the Braithwaite family have had in Canada.
"There is a lot of Rockstar bloodlines going around, in the Lindsay Carlier X6 Ranches herd. They have had success with that, and some Double Dipping blood as well" Cawl detailed. "Wild Hoggs have a little bit. Nansen Vold is packing that Papa's Rockstar and has been breeding with them a bit. There is a bit of our genetics in a few contractor's herds."
"It helped having him around," Cawl continued. "You would get to see the best bulls, they would all get a fair shot. You got to see the ones with the best heart too, and he really brought the best out in them. There are a lot of bulls that people bred with and we owe him for that. People might not have gotten to see how good those bulls were or not taken the chance at breeding with them without him."
Jack hauled bulls for the last time in 2015, flanking a load at the year's Glen Keeley Memorial PBR.
For Cawl himself, he says his grandfather instilled a hard work ethic in him and the urge to give the bucking bulls the best shot to perform.
"Trying to be as consistent as you can with flanks, he would really pay attention to the flanks," Cawl said. "And then just getting up early and taking the time to feed, to look at those small details. I try and do those things too, everywhere we go."
"He is going to be missed around here. I have been doing the chores around here the last couple years with him. He is in a better place now you could say. Gramps and dad put a lot of hard work in. We are not known for having bad bulls, and that was something those two took pride in. I would like to keep that going."