#InCaseYouMissedIt: Lucky No. 7 for Leme, No Days Off for Campbell and More
By: Darci Miller Tuesday, September 21, 2021 @ 11:20 AM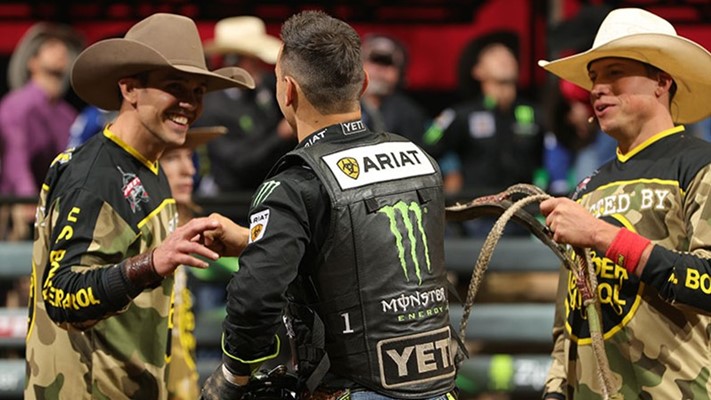 COLORADO SPRINGS, Colo. – Stop us if you've heard this before: Jose Vitor Leme won the premier series event this past weekend. (Did we change the lede from last week? No. It's an evergreen statement at this point.) Plus, Kaique Pacheco on his mindset amidst the world title race, what has Fernando Henrique Novais riding so well and what's going on with Leme's groin injury. Miss a moment of the action this weekend? Here's what happened around the PBR.
On the Unleash The Beast…
Another weekend, another win for world No. 1 and reigning World Champion Jose Vitor Leme in Newark. It was his seventh of the season, putting him just one win away from tying the record for most wins in a season. He also tied the record for round wins in a season and earned an unprecedented 21st 90-point ride this season, naturally.
However, all was not well for Leme, as he'll undergo an MRI this week to determine the severity of his groin injury.
As for Leme's challengers in the world title race, No. 3 Cooper Davis won Round 1 in Newark…
…while No. 2 Kaique Pacheco is relying on his biggest strength: his mental toughness.
Boudreaux Campbell is pulling double duty – and taking no days off – as he attempts to qualify for both the PBR World Finals and the Wrangler National Finals Rodeo for the second consecutive season.
Fernando Henrique Novais went 3-for-3 to finish a career-best second overall in Newark and credits 2008 World Champion Guilherme Marchi with helping him get there.
Rookie of the Year contender Chase Dougherty may have a torn ligament in his riding elbow, but you won't catch that stopping him.
Meanwhile, on the Pendleton Whisky Velocity Tour…
Alex Cardozo went 2-for-2 to win the inaugural PBR Buckin' at the Rock.
Through the lens with Andy Watson and BullStockMedia
Check out the best photos from day one and day two in Newark.
Social spotlight
If the three-time World Champion tells you to do something, you listen! 
Fatherhood is lookin' good on Matt Triplett. 
We love seeing Fabiano Vieira thriving! 
Looking ahead
The Unleash The Beast rolls into Deadwood, South Dakota, for the PBR Monster Energy Invitational, presented by Cooper Tires, on Sept. 25-26 (RidePass on Pluto TV on Sept. 25 at 9:30 p.m. ET; CBS on Sept. 26 at 3 p.m. ET; CBS Sports Network on Sept. 26 at 8 p.m. ET).
The Pendleton Whisky Velocity Tour next heads to Fairfax, Virginia, for the Fairfax Invitational on Sept. 25-26 (RidePass on Pluto TV on Sept. 25 at 7 p.m. ET and Sept. 26 at 2 p.m. ET).