#InCaseYouMissedIt: Leme Earns Win No. 6, Lockwood on the Comeback Trail and More
By: Darci Miller Tuesday, September 14, 2021 @ 11:16 AM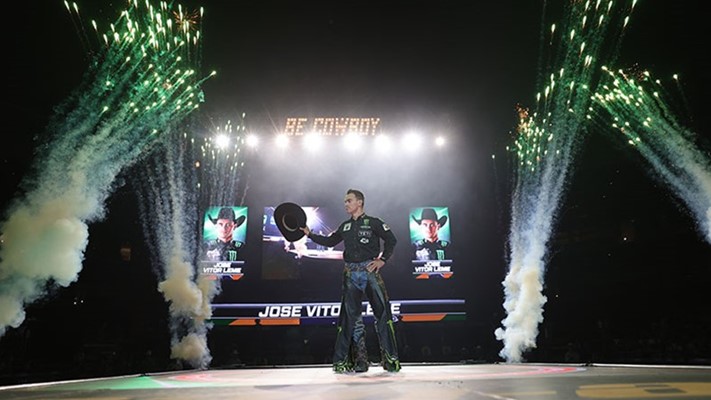 COLORADO SPRINGS, Colo. – Stop us if you've heard this before: Jose Vitor Leme won the premier series event this past weekend. It was his league-best sixth and probably the least surprising thing he's done this season. Plus, Jess Lockwood on his eventual return from injury, and some riders on the bubble make a statement. Miss a moment of the action this weekend? Here's what happened around the PBR.
On the Unleash The Beast…
World No. 1 Jose Vitor Leme stayed the course and took care of business with a third-place finish in Round 1 in Anaheim…
…and went on to win the PBR Monster Energy Invitational, presented by Cooper Tires. His sixth premier series event win of the season extended his lead atop the world standings to – get this – 729.5 points. (Oh, and he also notched his 19th 90-point ride of the season, which sets a new record.)
Right behind Leme in Anaheim were Andrew Alvidrez in second and Marcelo Procopio Pereira in third. Both riders are on the bubble for World Finals qualifying, and both can breathe a little easier now.
It was also a good weekend for Derek Kolbaba and Clayton Sellars, who split the Round 1 victory – the first UTB round win of Sellars's career.
On the injury front, world No. 4 Dener Barbosa missed the final day of competition in Anaheim with a bruised right shoulder.
And speaking of injuries, two-time World Champion Jess Lockwood is on his way back from pelvic surgery but is taking his time and won't return until he's 100% ready.
Meanwhile, on the Pendleton Whisky Velocity Tour…
Alvaro Aguilar Alvarez won Round 1 of the first-ever Velocity Tour event in Kennewick, Washington…
…but it was home-state cowboy Cody Casper taking the win with a 3-for-3 performance.
Up north in PBR Canada…
Dakota Buttar furthered his stronghold on the Canadian No. 1 ranking with not one, but two victories in Calgary.
Young gun Griffin Smeltzer won the first PBR event of his career at the Cody Snyder Charity Bull Bustin' in Calgary.
Down under in PBR Australia…
Bailey Woodard won the Rockhampton Invitational to crack the Top 5 of the Australian national standings while three-time PBR Australia Champion Aaron Kleier tied for third to increase his lead at No. 1.
Through the lens with Andy Watson and BullStockMedia
Check out the best photos from day one and day two in Anaheim.
Social spotlight
Never forget. 
Fam goals!
Is there anything he CAN'T do? 
Looking ahead
The Unleash The Beast rolls into Newark, New Jersey, for the PBR ZipRecruiter Invitational on Sept. 18-19 (RidePass on Pluto TV on Sept. 18 at 6:45 p.m. ET; CBS Sports Network on Sept. 19 at 8 p.m. ET).
The Pendleton Whisky Velocity Tour next heads to Church Rock, New Mexico, for Buckin' at the Rock on Sept. 18.