The Morning Line – Saskatoon – Round 2
By: Tanner Byrne Saturday, October 30, 2021 @ 8:30 AM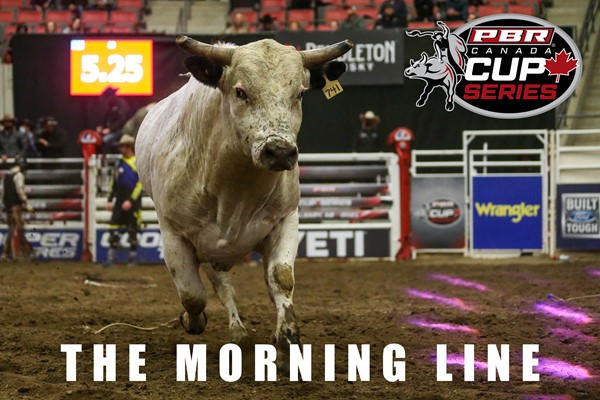 SASKATOON, Saskatchewan – Saskatoon, Round 1 of PBR Canada Cup Series action did not disappoint Friday night.
With the league's tenacious riders covering more than 50% of the nation's top animal athletes, it was clear that no one is holding anything back as the fight is on to be inside the Top 20 and earn a berth to the 2021 PBR Canada National Finals, presented by Command Tubular Products, Nov. 12-13 in Edmonton, Alberta, at Rogers Place.
RELATED: Click here for the full Saturday daysheet.
Leading the field ahead of Round 2 is Callum Miller, who is hoping to conclude the season as the first-ever Australian PBR Canada Champion in league history. However, he is followed closely by runner-up Cody Coverchuk and fifth-place finisher Dakota Buttar, each of whom are chasing history of their own.
RELATED: 2018 PBR Canada Champion Cody Coverchuk Wins 5/5 Bucking Battle in Saskatoon
Tickets are still available for the PBR Saskatoon Classic and can be purchased online at TicketMaster.ca. Before you go, be sure to check out the fan guide, here, of what to expect once you arrive at SaskTel Centre.
Below are PBR Canada bullfighter Tanner Byrne's bets for Round 2 of the event from Saskatoon.
Let us know your thoughts and your picks for Saskatoon by tagging @PBRCanada on Twitter.
Tim Lipsett vs. Finning JB Muley
Tim is a guy that is on the outside looking in when it comes to the PBR Canada Finals in Edmonton. He needs to make up ground to get into that Top 20 at the end of the year, and this is the exact bull that he can do it on -- JB Muley from Flying Four Bucking Bulls. He's is going to kick out there a few, around to the left, into Tim's hand. Tim just needs to stay calm, not get too excited and drop down in there. Stay right in the middle and this bull should catapult him to the top of the leaderboard where he needs to be to rack up those points to get to Edmonton. A good one for Tim, and a good one for the crowd to get a little wild over -- a little showy and pretty fun to watch, both Tim ad JB Muley.
Callum Miller vs. Stay Alert
Callum is in the Top 5 in Canada. The Aussie cowboy has been riding really great this year. It is kind of his breakout year where we're seeing what he's all about, that he's a top contender for a Canadian Championship and one of the top bull riders in North America right now. He's got a bull called Stay Alert of the X6 Ranch, originated out in Saskatchewan. I saw this bull in Medicine Hat with Cody Coverchuk. He rode him right to the whistle and was probably going to win the round on this bull. Should be around to the right, a lot of action, moving ahead, all attributes that a bucking bull should have. He'll be a handful by the looks of it, but I look for Callum to not worry what that bull is doing, just sit up there, probably kick loose and have fun like Callum does and win the round on Stay Alert.
Dakota Buttar vs. Thor's Hammer
Dakota Buttar is the No. 1 man in Canada right now, he's been the No. 1 man for the last few years. He seems to be riding on his own level and the only person that looks like he can beat Dakota Buttar right now, would be Dakota Buttar. He has got a good bull by the name of Thor's Hammer. This bull should be right in the gate to the left, right up Buttar's alley. A good bull from Wild Hoggs, I have seen him a few times this year. He's one that Dakota is probably going to eat up and come back in the short round in good position to try to get another event win in Saskatoon and try to move himself further into the lead into the Canadian standings in Edmonton.
Jordan Hansen vs. New Tattoo
Jordan is a world-class bull rider. He has been in the US most of the year on the rodeo trail making a run at the NFR. He has only been to a handful of events in Canada, and he's already bumped himself up into the Top 10 in the Canadian standings, just by the few events he's been to. It shows how good of a bull rider he is, how clutch he is in situations where he needs to step up to the plate to get points and win money, and this will be no different. New Tattoo of Wild Hoggs was in Calgary last weekend. Chad Hartman rode him quite a way. He's a bull that really bucks, around to the left, into Jordan's hand, moving ahead a little bit, which will fit Jordan perfectly. This one could be in that 85-87-point range to take the round win. Look for Jordan Hansen to step up and make a great bull ride Saturday night in Saskatoon.
Blake Smith vs. Eski Time
Blake Smith is a young cowboy that is making a name for himself in the PBR Canada world. Everybody is starting to take notice of how good this kid rides, and the future that he's going to have in the sport. He's got a bull called Eski Time from the Wild Hoggs. He's a little black, flat-horned bull. He has a couple different trips to him, but the ones I have seen, he's been around to the left. A lot of up-and-down, a lot of kick. He bucked off Garrett Green in Calgary last weekend. I have seen them be 88 points on this bull earlier in the year in Czar, and a few other places this bull has been really great. This is one that Blake can step up to the plate on, make a good ride, and place really well in the round. Look for Blake Smith to step up to the plate and try and get himself into the Top 20 to get to Edmonton.
Stay tuned in to PBRCanada.com and follow the tour on Facebook (PBR Canada), Twitter (@PBRCanada), and Instagram (@PBRCanada) for the latest results, news, stats and more.