The Morning Line – Saskatoon – Round 1
By: Tanner Byrne Friday, October 29, 2021 @ 7:12 AM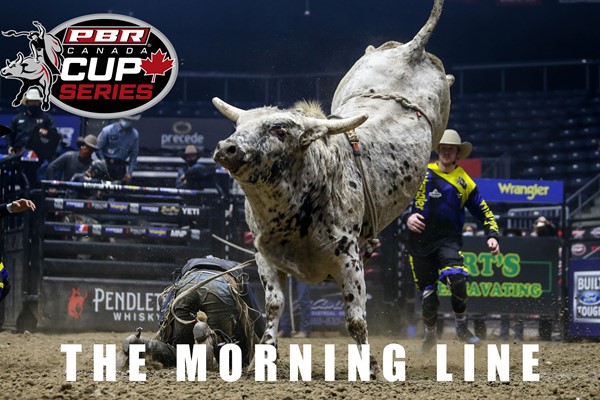 SASKATOON, Saskatchewan – The clock is ticking, and only two events remain prior to the 2021 PBR Canada National Finals, presented by Command Tubular Products, in Edmonton, Alberta, on Nov. 12-13.
One of those events is the final regular-season Cup Series tour stop of the year this weekend in Saskatoon, Saskatchewan, Oct. 29-30 at SaskTel Centre.
RELATED: Click here for the full Friday daysheet.
While all eyes have been on Dakota Buttar's pursuit of history, and the surging campaign of No. 2 Zane Lambert, the remainder of the field is jockeying to be inside the Top 20 and earn a berth to the year-end event where more than $175,000 will be on the line.
The Top 5 riders in the nation will travel to Saskatoon for the PBR Saskatoon Classic within 154.66 points of one another. This weekend, one rider will have the chance to earn 105 national points, with an additional 15 national points available in the tour stop's accompanying 5/5 Bucking Battle.   
Tickets are still available and can be purchased online at TicketMaster.ca. Before you go, be sure to check out the fan guide, here, of what to expect once you arrive at SaskTel Centre.
Below are PBR Canada bullfighter Tanner Byrne's bets for Round 1 of the event from Saskatoon.
Let us know your thoughts and your picks for Saskatoon by tagging @PBRCanada on Twitter.
Ashton Sahli vs. Blue North
Ashton Sahli is a young kid that shows a lot of grit every time he nods his head. He's not going to quit until he hits the ground. He is a guy who I look forward to seeing his career progress. He's got all of the tools to be one of the greats. He's got a bull called Blue North from the Two Bit Bucking Bulls. Blue North is a bull that I talk quite a bit about on this Morning Line. He's got a lot of kick, a lot of up and down, one that if you get in the right spot, you should be able to ride and get a good score. He'll go either way, but it doesn't matter what way you go with Ashton, he should stick it all over this one for an 86-point ride.
Cody Coverchuk vs. Langham Kid
Another bull from the Two Bit ranch that the guys like to get on. We saw a Buttar ride him in Calgary for a good score last weekend. The bull went right with Dakota, but the bull is usually around to the left, right in the gate to the left, with a little bit more jam, and little bit more kick. I think getting rode to the right, he's going to be in the door to the left this time. Should be right up Coverchuk's alley. This could be a round win of 87-88 points. Coverchuk is a Saskatchewan boy and he has had success in Saskatoon in the past. He'll have a hometown crowd as well as friends and family around him, this could be Coverchuk's event.
Nick Tetz vs. Fantastic Pet
Its been a long while since we've seen Nick. When he left the scene, he was No. 1 in Canada, but due to injuries, he's bene out and healing up. He's going to be fresh and ready to show what he's all about and get back to the top of those standings. He's got a bull called Fantastic Pet, one that is just a good one for him to get his feet wet again back on the PBR Canada Cup Series. Fantastic Pet should be around to the left, into Nick's hand. One that he can open up on, have some fun with and get his confidence back to roll for the rest of the weekend and into the Finals in good position to vie for a Canadian Championship.
Zane Lambert vs. Paulie Wallnutz
First of all, what a great name. I am not sure where that name comes from, Paulie Wallnutz, but I like it. Zane Lambert is the two-time PBR Canada Champion, looking to be the second ever three-time Canadian Champion, and this is the exact bull to do it on. I have seen this bull a few times. Tyler Craig has had a lot of success on him. Between that 85-87-point ride. Should be around to the right, lots of up-and-down, lots of timing, and one that fits Zane's style perfectly. Once again, this could vie for a round win, in that 85-87-point area. This will be one that Zane will be really happy to have from CS Bucking Bulls and Cody Strandquist.
Todd Chotowetz vs. Howlin' Wolf
Todd is coming off success in Medicine Hat, jumped himself up into the Top 20 like he needed to do to get into Edmonton. I think that got a big weight off of his back, and now he's just having fun. He's got a bull by the name of Howlin' Wolf, and this one will help him climb even further up the standings. This bull has bucked Todd off in the past in Marwayne, Alberta, at the PBR earlier this year. We have seen Jake Gardner have success on this bull in Prince Albert, Saskatchewan. He is a bull with a lot of kick, he's got a lot of drop to him, but once he gets to the spin, I think he'll ride really good. He'll go either way, to the right or to the left, but that shouldn't matter to Todd. After he gets past those first few jumps, this one will be fun for Todd and I look for him to place deep in the round and jump himself even further up the standings in a good spot to go into Yorkton and Edmonton and finish the year strong.
Stay tuned in to PBRCanada.com and follow the tour on Facebook (PBR Canada), Twitter (@PBRCanada), and Instagram (@PBRCanada) for the latest results, news, stats and more.