The Morning Line – Medicine Hat
By: Tanner Byrne Saturday, October 16, 2021 @ 10:24 AM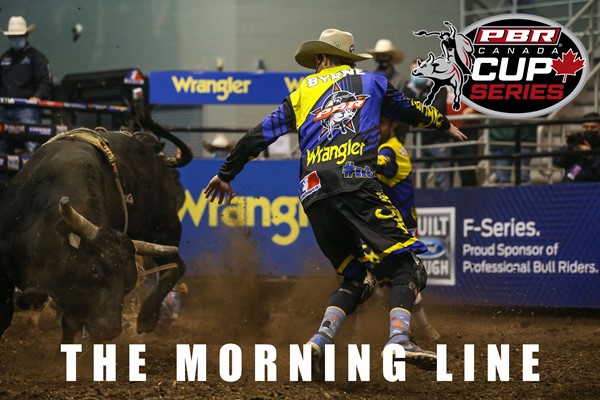 MEDICINE Hat, Alberta – With just three regular-season Cup Series events remaining prior to the 2021 PBR Canada National Finals, presented by Command Tubular Products, in Edmonton, Alberta, on No. 12-13, the competition is sure to be fierce this weekend in Medicine Hat, Alberta.
RELATED: Click here for the complete daysheet.
Marking the first Cup Series event in the town, the Top 5 riders will compete inside Co-op Place within 74.66 points of one another. This weekend, one rider will have the chance to earn 80 national points.
RELATED: Game Notes – Grande Prairie
Below are bullfighter Tanner Byrne's bets for Round 1 of the event from Medicine Hat and let us know your thoughts and your picks for the Cup Series event by tagging @PBRCanada on Twitter.
Aaron Roy vs. Pedro
We all know how good Aaron Roy is – three-time PBR Canada Champion – one of the best to ever ride bulls from Canada. Pedro is going to fit him really well. This bull will spin either way, he should be around to the right. Darin Eno has him now, but Pedro originally came from Dakota Buttar. He's one that I've seen Dakota ride in Coronation, and then I saw him a couple weeks later at Cody Snyder's bull riding in Calgary. He looks like one that will fit Aaron well, and will start the bull riding off with a good score, around that 85 mark.
Callum Miller vs. Langham Kid
This is a rematch for Callum from the Prince Albert PBR. This bull got him at about 7 seconds, and I don't see that happening again. Callum will have a feel for him, knows what this bull is all about. Langham Kid is one that the guys should like and should stay on to get good scores on from the Two Bit Nation. Callum is riding really good right now and I can see this being a possible round win.
Dakota Buttar vs. Devils Boy
Devils Boy is a younger bull from Josh Berezay and the Two Bit Nation. I have seen him twice in Prince Albert. One of the biggest troubles is getting out of the chute clean on him. He really wants to get going and sometimes will jump around in there when the chute gate opens. But I look for Dakota to get some vengeance back after not finishing Grande Prairie the way that he wanted to. He'll come to Medicine Hat on a mission, and this one is exotic. Devils Boy can spin either way once he gets out there, and with Dakota's style, they can be anywhere from 85-88 points.
Brock Radford vs. Sure Shot
Brock Radford is coming back from an injury. We haven't seen Brock a lot lately, he's been getting healed up. And I think with him healing up his body, he's also healing up his mind, and he'll be ready to rock and roll now that he's back on the Cup Series events. He's going to make up some points from lost time, and this is the bull to do it on. Sure Shot is a young bull from Skori Bucking Bulls that I have seen a few times this year. He looks like he is going to be a superstar for the Skori firm as he gets older and grows up. He should be around to the left, and into Brock's hand. He's a big bull that will fit Brock well. This is a matchup to watch for.
Jared Parsonage vs. Oldsmobile
Jared Parsonage hasn't had the year that he's wanted within the PBR. He's looking to make up for that, and the best part of getting bucked off a few is that you're due for a hot streak. I think that this will be the kickoff for Jared to finish his year strong. This is a good bull that Jake Gardner rode in Grande Prairie for that mid-80 range mark, and one that Jared should eat up and get a good score and set himself up great for the short round, and set himself up to finish really strong like the Jared Parsonage we all know.