The Morning Line – Grande Prairie – Round 2
By: Tanner Byrne Saturday, October 2, 2021 @ 11:29 AM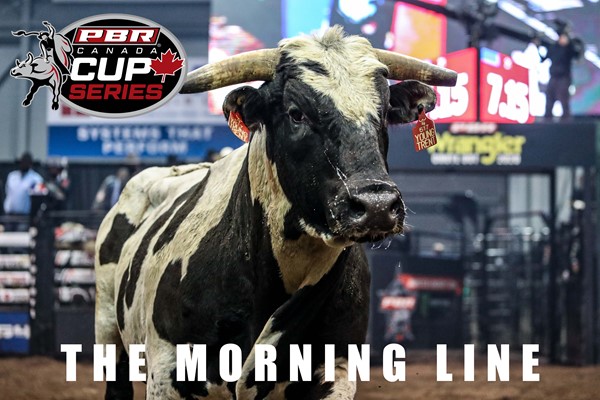 GRANDE PRAIRIE, Alberta – Stop us if you've heard this before – Dakota Buttar dominated last night's competition.
After making a come-from-behind surge in September to overtake the No. 1 rank in the national standings, Buttar continued his momentum last night in Grande Prairie, Alberta. Finishing second in Round 1 of the elite Cup Series' PBR Grande Prairie BuckWild, and winning the accompanying 5/5 Bucking Battle, Buttar furthered his stronghold on the No. 1 position in the race for the 2021 PBR Canada Championship.
RELATED: Dakota Buttar Inches Closer to PBR History with 5/5 Bucking Battle Victory at Cup Series Event in Grande Prairie
But Buttar wasn't the only one who showed out Friday evening inside Bonnetts Energy Centre. T
he Peace River Country's own Jake Gardner made his season debut on the Cup Series in electric fashion, going 2-for-2 to earn a collective 15 national points, allowing him to crack the Top 10 in the national standings.
The second PBR Canada Cup Series event will come to a climactic conclusion tonight at 7:00 p.m. MDT.
Below are bullfighter Tanner Byrne's bets for Round 2 of the event from Grande Prairie. Let us know your thoughts and your picks for the tour stop by tagging @PBRCanada on Twitter.
RELATED: Click here for the full Saturday daysheet.
And don't miss your chance to see the action LIVE!
Tickets for the PBR Grande Prairie BuckWild are still available and can be purchased online at RevolutionPlace.com. Before you go, be sure to check out the tour stop's fan guide, here, which details all the COVID-19 (coronavirus) protocols that will be implemented.    
Zane Lambert vs. Time Well Spent
This bull comes from Jim Thompson. He's a big red, white-faced bull who will spin either way. A lot of up-and-down and looks like one needs a gritty rider like Zane Lambert to stay on him. Zane's been riding really well this year and he's looking to win his third Canadian Championship. This could be a really high score to possibly take the round win for Zane. 
Garrett Green vs. Hot Tamale
Hot Tamale is a bull from Josh Berezay that a lot of guys don't get along with. He's got some hops and skips, and he's got a lot of action to him that the guys usually don't get along with all that well. Callum Miller rode him in Prince Albert last weekend for 88 points, and the way that Garrett rides, this bull is going to fit his style. Garrett will let him throw all that junk at him, just sit in the middle, and make a good ride on him. This is a really good matchup for Garrett where he can be anywhere from 86-88.
Callum Miller vs. Hanna Motors Rhythm & Blues
Callum Miller rode Hanna Motors Rhythm & Blues in Prince Albert earlier this year, he was 88.5 on him last time they matched up. Callum had been riding really well this year, he is in the Top 5. He put on a good show in Prince Albert at the PBR this last weekend. This is a bull that all the guys love to get on – a lot of up-and-down, should be into Callum's hand. It should be a walk in the park and a good one for Callum to do some showing off on.
Todd Chotowetz vs. Phantom Fury
Phantom Fury is a muley from Wild Hoggs Bucking Bulls that's not intimidating by any means, but when the gate pops, he's going to blow into the air and kick the lights out. If you do everything right, you can get a 90 on him, for sure. This is a good opportunity for Todd Chotowetz to step up to the plate, get the well needed points that he needs to get into that Top 20 and win the round.
Dakota Buttar vs. Built Tough
I have no idea what this bull is, but he comes from Flying High Rodeo Company, and anything that Lorne High brings to town always bucks. So if Built Tough is on his truck, you know it's going to be a good one, and when you're matched up with Dakota Buttar, you're bound to get an 8 second whistle. So I don't know much about this bull, but I do know Dakota is capable of riding anything they run under him so this should be good. 
Stay tuned in to PBRCanada.com and follow the tour on Facebook (PBR Canada), Twitter (@PBRCanada), and Instagram (@PBRCanada) for the latest results, news, stats and more.