The Morning Line – Grande Prairie – Round 1
By: Tanner Byrne Friday, October 1, 2021 @ 10:09 AM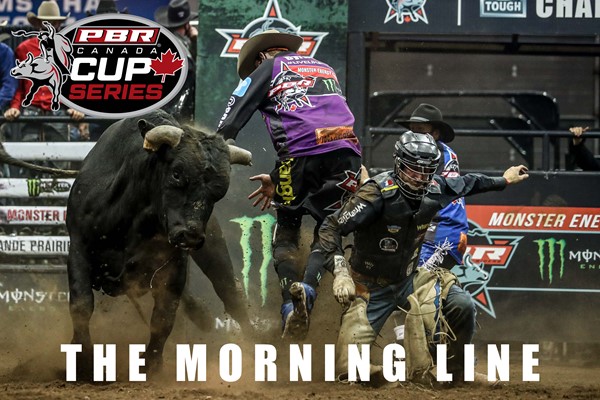 GRANDE PRAIRIE, Alberta – Grande Prairie, we're back!
After Bonnetts Energy Centre, formerly Revolution Place, welcomed the league for the historic 2020 PBR Canada Finals Week, the league's elite Cup Series is returning to the town for the second regular season stop of the 2021 campaign.
RELATED: Click here for the full Friday daysheet.
Tickets for the PBR Grande Prairie BuckWild, Oct. 1-2, are still available and can be purchased online at RevolutionPlace.com. Before you go, be sure to check out the tour stop's fan guide, here, which details all the COVID-19 (coronavirus) protocols that will be implemented.    
With the race for the 2021 PBR Canada Championship in full swing, the action will be intense in Grande Prairie! The country's best will be duking it out for crucial points and a beth to the PBR Canada National Finals, presented by Command Tubular Products, Nov. 12-13 in Edmonton, Alberta, where more than $175,000 will be on the line.
RELATED: Game Notes – Grande Prairie
Below are bullfighter Tanner Byrne's bets for Round 1 of the event from Grande Prairie and let us know your thoughts and your picks for the Cup Series event by tagging @PBRCanada on Twitter.
Dakota Buttar vs. Broken Trigger
Dakota Buttar rode Broken Trigger last weekend at the Prince Albert PBR for an 83.5. He's also rode him for an 85 before this. This one is a give me all day long for the top guy in the nation. Broken Trigger can go both ways but will be no trouble for Buttar to be in that 83-85 area for a good place in the first round.  
Zane Lambert vs. Sons of Junkie
Zane Lambert is the No. 2 man in the nation right now, needing to make a move to get back into the No. 1 position, and this is the exact bull to do it on. Jared Parsonage got on this bull in Lethbridge earlier in the year, and he was one of the best bulls out in Lethbridge. Sons of Junkie should be around to the right, into Zane's hand, and one that Zane could possibly take the round win on if he does his job like he's been doing it all year. This should be a great matchup for Round 1.
Jared Parsonage vs. Blow Me Away
Jared Parsonage rode this bull from Nansen Vold once for sure, I think a few times before at some rodeos as well, and the stats show he was 87 at the last PBR he got on him at. This is another one that Jared will get along with all day long. Blow Me Away is going to spin in the gate to the left into Jared's hand with the right amount of push back he's one that all the guys want to get on. Jared should place really good in the round with this one. It should be a great matchup.
Cody Coverchuk vs. Speak of The Devil
I have seen this bull at a few rodeo events earlier in the year and he's a big, mean, scary bucking white bull from the Kesler ranch. Last time I saw Speak of the Devil, he was out and around to the left. He should be into Coverchuk's hand, and if everything goes right, I think you could see a 90 here.
Garrett Green vs. Blue North
Garrett Green won the PBR event in Cluny on this bull earlier in the year. Originally from Lorne High, Josh Berezay owns this bull now, and he's one that I am a really big fan of. Blue North is going to blow up in the air, a lot of kick, a lot of show. He's going to spin either way, and I think he's going to fit Garrett perfectly. I don't know if they will get a round win if some of these other matchups come to fruition, but it's going to be a good first one for Garrett to get the event kicked off in Grande Prairie.
Stay tuned in to PBRCanada.com and follow the tour on Facebook (PBR Canada), Twitter (@PBRCanada), and Instagram (@PBRCanada) for the latest results, news, stats and more.