The Morning Line – Calgary
By: Tanner Byrne Friday, October 22, 2021 @ 10:51 PM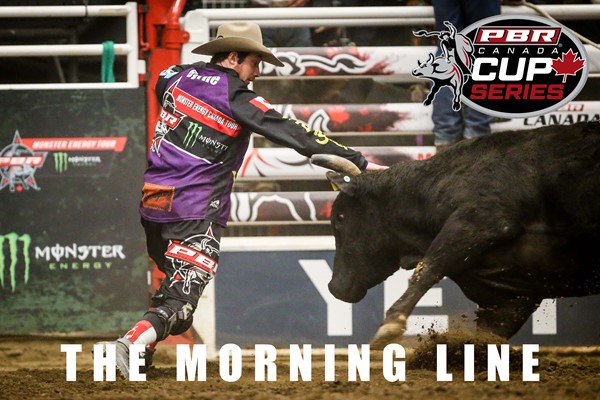 CALGARY, Alberta – With the fourth PBR Canada Cup Series event on the near horizon, it's crunch time this weekend in Calgary, Alberta, for the nation's finest as they compete at the PBR Pendleton Whisky Classic, Saturday, Oct. 23 at 7:00 p.m. MDT.
With just three events across all levels of competition remaining prior to the 2021 PBR Canada National Finals, presented by Command Tubular Products, Nov. 12-13 in Edmonton, Alberta, the forthcoming tour stop inside the Nutrien Western Event Centre will be key in shaping the field that will contend for more than $175,000 at the year-end event.
RELATED: Click here for the complete daysheet.
With a historic race for the 2021 PBR Canada Championship brewing atop the standings between No. 1 Dakota Buttar and No. 2 Zane Lambert, don't forget to be on the lookout for several dark horses in the national title race, after both Todd Chotowetz and Ashton Sahli delivered flawless efforts last weekend in Medicine Hat to gain crucial ground.
RELATED: Game Notes – Calgary
Below are bullfighter Tanner Byrne's bets for Round 1 of the event from Calgary. Let us know your thoughts and your picks for the Cup Series event by tagging @PBRCanada on Twitter.
Tickets are still available for the PBR Pendleton Whisky Classic and can be purchased online at Ticketmaster.ca. 
Dakota Buttar vs. Langham Kid
Dakota Buttar on Langham Kid of the Two Bit Bucking Bulls is going to be a great matchup. I have seen this bull quite a few times this year, he's usually in my picks because I think this is one that the guys should get along with and win a bunch of money on. He's gotten quite a few guys on the ground lately, and I don't think that's going to happen with Dakota Buttar. The bull should come out of there, spinning to the left into his hand and is one that I think could be the round win. It could be upwards of 86-88 points. This is a great one for Dakota to get his Calgary event kicked off right, and come back with a good pick in the short round.
Jake Gardner vs. Throwin' Stones
After bucking off in Medicine Hat, Jake Gardner is coming into Calgary looking for some vengeance, and he's got the bull to do it on. Throwin' Stones of Flying High Rodeo Co. and Lorne High is one that we haven't seen a whole bunch this year, but from what I've heard he's a good one, and one that you want to get on. He should be around to the right, and into Jake's hand. He's one that Jake should eat up and have fun with, and get his event kicked off the right way. This should be a really good matchup.
Lonnie West vs. Spooky Lukie
Lonnie and Spooky Lukie have matched up three times in the past. The first two didn't go Lonnie's way, but in Prince Albert not long ago, Lonnie made one of the best rides of the year so far on the bull. He was 89.5 on Spooky Lukie. I look for all of the same in this matchup. This bull has a couple different trips in him and can be not so rider friendly sometimes. But I don't think its going to worry Lonnie at all, he's going to come into this knowing he can be a high score and win the round on this bull, and I think it's going to be another really great matchup where you can see a round win.  
Wacey Finkbeiner vs. Big Bird
Big Bird is a big yellow bull from Vold Rodeo Co. and Nansen Vold. Big, yellow, big-horned, strong, and around to the left. A bull that I think looks pretty good, a lot of up and down. He's got the intimidation factor with his size and when guys hit the ground, he can be a little mean, but that's what us bullfighters are there for, so that's no problem. On that end, Wacey knows that he can give it everything he has, and let it all hang loose, and know that we have him protected once he hits the ground. This bull should fit Wacey with that up-and-down motions that he has. Into his hand, this is one that Wacey, a guy that is on the outside looking in to the Top 20 to get into Edmonton for the Finals, this is one that can get him there, by doing well in the long round and getting him back to the short round. This is a big weekend for Wacey and he has the bull he needs to get the points gathered up that he needs.
Chad Hartman vs. New Tattoo
Chad Hartman is another guy on the outside looking in, he needs to gather up so points to get to Edmonton and the Finals. This bull form Wild Hoggs, New Tattoo, I have seen a few times this year. He should be right in the door to the left, kicking and spinning. Really good bull and one that should fit Chad's style really well. If Chad has all of his ducks in a row, and he's doing things right, this could challenge a round win as well. This bull has been really good all year, and Chad's been riding good, he's had some ups and downs, and this is one that he needs to take advantage of to make that move to get to Edmonton.