Prince of the Peace Country Jake Gardner Sets Sights on Edmonton and the 2021 PBR Canada National Finals
By: Covy Moore Thursday, October 7, 2021 @ 10:09 AM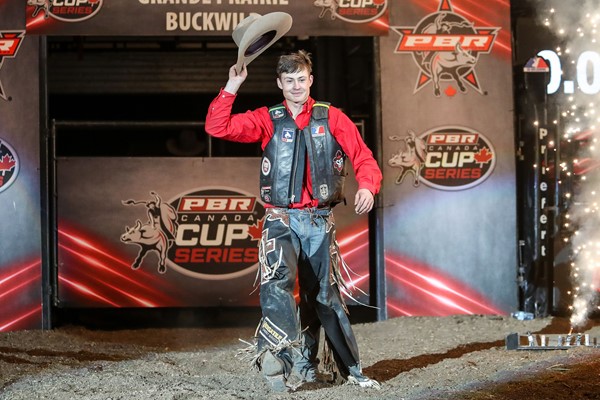 AIRDRIE, Alta. – There is no bull rider competing in Canada currently that is hotter than Fort St. John, British Columbia's Jake Gardner.
Fresh off a return home after six months spent stateside, Gardner began his quest for the 2021 PBR Canada Championship lighting up the scoreboards in Prince Albert, Saskatchewan covering his first four bulls back.
Not to be outdone by his own Prince Albert PBR performance, Gardner held on to that momentum as the elite PBR Canada Cup Series held it's second event of the season this past weekend in Grand Prairie, Alberta.
As the only rider to cover all three of his bulls, Gardner captured his first PBR Canada Cup Series event title in front of a near home crowd at Bonnetts Energy Centre. Adding to his success, Gardner also finished second in the tour stop's accompanying 5/5 Bucking Battle.
RELATED: Peace Country Contender Gardner Wins Elite PBR Canada Cup Series Event in Grande Prairie
"It was a pretty good weekend," Gardner chronicled. "I expect to go into every event and do good, and I went in there and got the win. I have been feeling good ever since I got back to Canada. Prince Albert went good and gave me that confidence for that next weekend."
"I knew if I kept my hand shut and rode all three bulls things would work out good," he added. "I am pretty grateful for it."
In the opening rounds of action, Gardner rode X6 Ranches' Oldsmobile for 82 points and Blue Blood for 83 points to punch his ticket to the championship round.
With a raucous crowd cheering him on from the edge of their seats, Gardner dominated in his matchup with Bull of the Year contender Lil Hooch, covering the Flying High Rodeo Co. bovine athlete for a career-best 89 points to clinch the event win.
The 25-year-old also capitalized in the special 5/5 Bucking Battle taking Nansen Vold's Wolf Bait to the whistle for an 84.5-point score.
The "Prince of the Peace Country," says riding in front of his home crowd gives him that little bit extra any athlete needs to be great.
"I feel like when I get into the North Country, there is something about it, I just feel at home," Gardner explained. "I know there are people in the stands cheering me on and that makes me want to put on a really good show. I feel so good riding up there, it doesn't matter where it is at. I love the atmosphere in the north, and I feel like I ride good in it."
Despite his time in Canada being limited thus far, Gardner has already launched himself to No. 9 in the race for the 2021 PBR Canada Championship and accompanying $50,000 bonus.
But it's another stat column that is turning heads – Gardner has ridden all eight bulls he has tied his hand to this season.
With the much-publicized record on Canadian soil being 11 straight rides, a feat achieved in 2020 by Dakota Buttar en route to the national title, Gardner is well on his way to breaking that record in the coming weeks.
However, the two-time Canadian Pro Rodeo All Around Champion says he doesn't pay attention to those types of stats.
"I try not to think about those things. I got a late start in the season, so it's not in my mind. I am just taking it all bull for bull right now. I know if I try my hardest things should go good."
Gardner spent a total of nearly 6 months competing at PBR and PRCA events stateside. With a future goal of qualifying for the National Finals Rodeo, his first serious trip stateside came with some lessons.
"Live in the moment and go at them," Gardner said. "Have fun, take each bull one at a time and try not to overthink it. You have to get on a lot of bulls down there. We have a lot of great bulls in Canada, but there are a whole lot of them down there. Each one just the same, go at them jump for jump. I think things have slowed down for me a lot, getting on so many down there."
"Since I was a little kid I have wanted to make the NFR," Gardner continued. "I know that you have to get down there sooner rather than later so I forced myself to go down. I was fortunate to make a few good bull rides and be able to stay down there the majority of the summer, and I went to some rodeos I have always wanted to go to.
"There were times where it would have been good to be in Canada, but you have to experience those things and ride against those guys to help elevate your game and try to make the NFR next year."
Now that he is home, however, Gardner is focused on winning the 2021 PBR Canada Championship. With No. 1 Buttar in his sights, Gardner is within 109.83 points of the top position.  
"I know you can make up a lot of ground at these PBR Canada Cup events. You have to get on that hot streak and get the ball rolling at the right time and capitalize on these next three events to set up the finals sitting pretty."
"I will lay it all out on the line to see what happens and see if you can get that win. Go at them day by day, bull by bull."