Nick Tetz Readies for Return to Competition in Medicine Hat After Nearly Two Months on the Sidelines
By: Covy Moore Thursday, October 14, 2021 @ 12:25 PM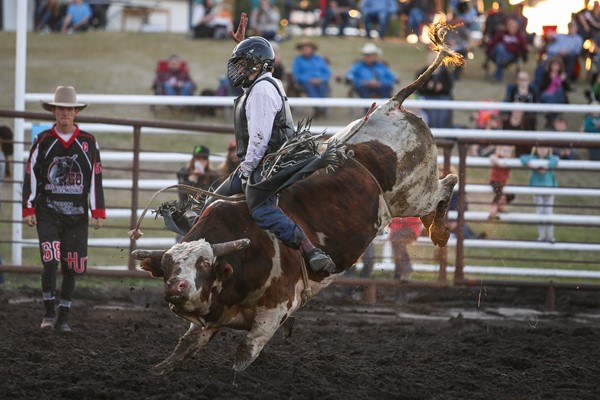 AIRDRIE, Alberta – When 21-year-old Nick Tetz rolled into the Marwayne PBR in Marwayne, Alberta in late August, he was on top of the world. Ranked No. 1 in the race for the 2021 PBR Canada Championship, he was fresh off a first and second-place finish in Stavely and riding bulls better than we have seen the 2018 PBR Canada Rookie of the Year has yet.
But after being knocked out in a wreck with Wild Hoggs Bucking Bulls' Kubota Tuff, that momentum came to a halt.
Sitting out now for more than a month, Tetz has been pushing hard to get back, and should be cleared for this weekend's PBR Canada Cup Series' Thunderbuck in the Badlands, presented by Robertson Implements and New Holland, in Medicine Hat, Alberta.
"I was at the peak of my riding, I was riding really good," Tetz said. "It was a bummer to be taking this much time off. I was planning on coming back, but got feeling really bad. I got checked out, I wasn't eating or drinking, everything hurt. I ended up having mono which messed with my spleen, enlarging it."
"They told me I couldn't get on. Right now it's just a waiting game, but I am back to working out and doing drills. I can do everything I want, just not riding bulls yet."
The more than 45-day hiatus from competition has proven to be positive for the young cowboy, as he is expected to get back to riding this coming weekend.
Despite sliding five positions in the standings, now ranked No.6 in the nation, Tetz says he hasn't really worried about those numbers so much.
"It hasn't been the worst though," Tezt said of his time off. "I missed the first two Cup events, but I will be back for these last ones and Finals. I am far from out of it, that's not weighing on me too much. It's just wanting to be getting on again. The hardest part is I am feeling 100%, and I just need to wait till I get that doctor clearance."
"I am paying attention a bit, but I am not overthinking it," Tetz said further of the title race, which this year is accompanied by a $50,000 bonus. "I keep up to see how my buddies are doing, and when the boys are doing good that fires me up and makes me want to work harder."
Ahead of this weekend's event, Tetz is within a mere 89.5 points of No. 1 Dakota Buttar.
"My mind is in it," Tetz said without hesitation. "I am not worried about my mind. It's my body we have to look after. I have a really good trainer, and he works with me closely and we have everything going good there. My body is good. I know how to ride bulls. I haven't forgot how to do that. It is just more or less going to be getting that first one down.
"I haven't forgotten what I have been able to accomplish this last year either. I still have all that confidence I had before."
In order to welcome fans at full capacity this weekend in Medicine Hat, the event will adopt the Government of Alberta's Restriction Exemption Program.
To ensure compliance with the recently announced public health measures, event-goers aged 12 and older will be required to: Provide proof of vaccination, or a negative test result within 72 hours that does not originate from Alberta Health Services or Alberta Precision Laboratories, or documentation of medical exemption.
For those fans who are not vaccinated, no-appointment-necessary COVID-19 (coronavirus) testing performed by Precede OHS will be available on-site at Co-op Place for only $40.
Given the increased screening prior to venue entry, fans are encouraged to arrive early to Co-op Place, on Oct. 16. Doors will open at 5:00 p.m. MDT.
Mask use will remain mandatory inside the venue for fans, except when eating or drinking.
"It means a lot that PBR Canada is working so hard to be able to make sure that we have events to go to, make money and make a living in this sport," Tetz said. "The easiest thing for them would have been to not have these big events where you need to have fans in the seats to make it viable. The fact they have come up with all these protocols and getting things going shows the kind of dedication they have and how much they care about this sport in this country right now."
"They are moving forward and not taking any steps back."
Tetz' eyes are firmly on the honor of becoming the 2021 PBR Canada Champion and collecting the accompanying $50,000 bonus.
What will it take for the hockey player-turned-bull rider to collect that title?
"I show up and do my job. That's all it is. You can't control what everyone else does, and there are a lot of points up. But you can show up and ride your bulls and do your job."
"I have been riding good, and I have no plans on slowing down right now."
The bull riding action for PBR Canada Cup Series' PBR Thunderbuck in the Badlands begins at 7:00 p.m. MDT on Saturday, October 16.
Tickets for the event are on sale now, and start at $35, taxes and fees included, and can be purchased online at Tixx.ca, or at the Co-op Place Box Office.