#InCaseYouMissedIt: Kasel Records Second-Highest Score in PBR History
By: Darci Miller Tuesday, October 5, 2021 @ 2:45 PM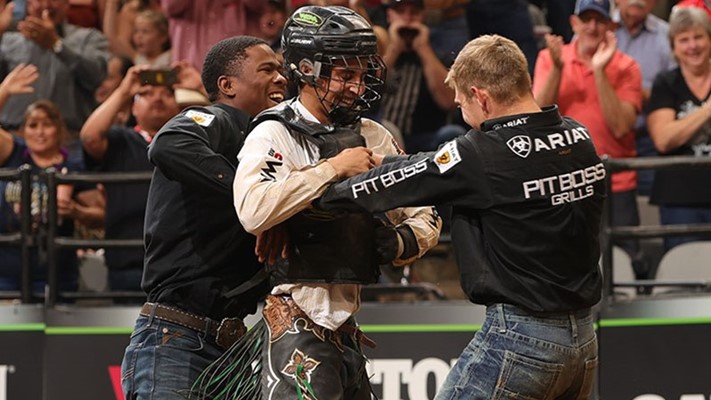 COLORADO SPRINGS, Colo. – Before this season, the record for highest-scoring ride in PBR history stood at 96.5 points since 1999, and no rider had even matched it since 2004. With Dalton Kasel's eye-popping ride in San Antonio this weekend, two riders have beaten that old record in the past three months. Plus, Woopaa's historic season continues, there's a new man to beat in the Rookie of the Year race and more. Miss a moment of the action this weekend? Here's what happened around the PBR.
On the Unleash The Beast…
Dalton Kasel kicked off the PBR U.S. Border Patrol Invitational, presented by Ariat, with a Round 1 victory…
…and finished it up with the event victory and a 96.75-point ride on Woopaa, giving him the second-highest score in PBR history. Not bad for a weekend of work.
The two highest-scoring rides in PBR history have something in common: Woopaa, the frontrunner in the YETI World Champion Bull race.
World No. 3 Cooper Davis finished fifth in Round 1 – and fifth in the overall event average – to inch closer to No. 1 Jose Vitor Leme in the world title race.
Junior Patrik Souza's second-place finish in San Antonio makes him the new leader in the Rookie of the Year race.
Keyshawn Whitehorse won the Minot Y's Men PBR Touring Pro Division Event in Minot, North Dakota, and then made the 1,500-mile trek to compete in San Antonio.
Meanwhile, on the Pendleton Whisky Velocity Tour…
Marcos Gloria won the first Pendleton Whisky Velocity Tour event of his career at the Hampton Classic.
Up north in PBR Canada…
PBR Canada No. 1 Dakota Buttar won the 5/5 Bucking Battle in Grande Prairie…
…while Jake Gardner took the overall event win, his first on the elite Cup Series.
Down under in PBR Australia…
Kurt Shephard won the Rockhampton Invitational, his second event win of the season, to surge to No. 2 in the PBR Australia standings.
Through the lens with Andy Watson and BullStockMedia
Check out the best photos from day one and day two in San Antonio.
Looking ahead
The Unleash The Beast rolls into Greensboro, North Carolina, for the PBR Union Home Mortgage Invitational, presented by Bass Pro Shops, on Oct. 9-10 (RidePass on Pluto TV on Oct. 9 at 6:45 p.m. ET; CBS on Oct. 10 at 3 p.m. ET; CBS Sports Network on Oct. 10 at 8 p.m. ET).
The Pendleton Whisky Velocity Tour next heads to Wheeling, West Virginia, for the Wheeling Invitational on Oct. 8-9 (RidePass on Pluto TV on Oct. 8 at 8 p.m. ET).