Canadian Champions Dakota Buttar and Zane Lambert Swap Wins in Heated Battle for 2021 Title
By: Covy Moore Tuesday, October 26, 2021 @ 8:55 AM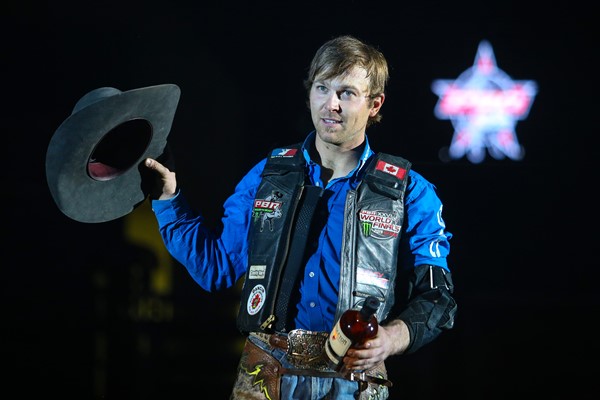 AIRDRIE, Alberta – Dakota Buttar is on the edge of history. With the chance to be the first back-to-back national Champion in PBR Canada history, there are records to be written.
But don't tell him that.
As he said to Scott Byrne on the TSN broadcast from Medicine Hat, Alberta, "I am not trying to be a back-to-back champion, I am trying to be the 2021 Champion."
Buttar furthered his chances at that title with his first PBR Canada Cup Series win of the season in Calgary, Alberta this past weekend.
Riding Two Bit Bucking Bulls' standout Langham Kid in Round 1 for 84 points, Buttar, who said third on the event leaderboard entering the final round, said the championship round draft selections were all great options, but with a four-point deficit to round winner Coy Robbins, and sitting two points behind second-place Lonnie West, the Buttar had to pick deep in the talented pen.
Selecting Wild Hoggs Bucking Bulls' Norse God, the decision proved dividends, as Buttar earned 89.5 point to surge to the top of the leaderboard and win the PBR Pendleton Whisky Classic, defending his title from 2020.
"There were a few bulls in there I wanted," Buttar began. "I wasn't coming in in first, I had ground to make up. To have a decent shot I would have to be up there."
"My old buddy Tractorland's Pound Sand was in there, but I didn't think I could be enough to pass those guys. I knew they would ride and be a bunch, so I had to be a bunch more. I was 90 on [Norse God] in Ponoka, then a couple weeks later Jordan Hansen was 88.5 on him. I was going to have to get a big score and I knew I could get a big score on him."
"He felt great," Buttar said further of the event-winning ride. "He had a change up at the end, haven't seen him go the other way before. It worked out good."
With the end of the season in sight, and a feverish battle brewing to grab one of the 20 qualifying spots to the PBR Canada National Finals in Edmonton, Alberta, on Nov. 12-13, Buttar padded his points lead to 96.16 points over No.2 Zane Lambert.
With a two-night PBR Canada Cup Series event this coming weekend in Saskatoon, Saskatchewan, as well as one more touring pro event in Yorkton, Saskatchewan, getting seated in the standings is critical.
For Buttar, however, the Saskatoon event is effectively a home show for the Eatonia resident.
"I always love coming here," Buttar said. "It's basically my closest event, my hometown event. I will have a lot of family and friends show up and you don't always get the chance to ride in front of all those people."
"Before I was riding, I would go there and watch CCA finals. There was a time where I was there watching when Zane was riding, I was wanting to be there too. It's a special building to me, it gave me my start kind of before I was even riding. It gave me that extra exposure to the sport."
"With this being that last push before the Finals, there will be a lot of guys putting it on the line there," Buttar continued. "And with the two arena format it gives it that Finals vibe. For fans, there is not a bad seat in the place. You will not miss out on much. The pyro and the show is incredible. I can imagine it's a headache trying to organize all us bull riders during an event on this scale, but it is such a cool atmosphere."
Sitting second behind Buttar in the standings is Ponoka, Alberta's Lambert, who Buttar said is not only one of the toughest guys to ride against, but is as classy as they come.
"He is a guy that I have a lot of respect for," Buttar said of Lambert who has won two Cup Series events to date in 2021. "He is a great bull rider, but he is also a great person too."
"It is awesome to see someone who has been competing for titles as long as he has, and what he has done for Canada. He singlehandedly has put Canada on the map in the PBR world."
"He has been to every single PBR Canada Finals, been to the World Finals, the Global Cup. He has outlasted his generation of guys but has done everything there is to do along the way in Canada, and anywhere really."
While Buttar heaps praise on Lambert for both his attitude and demeanor in and out of the arena, he says it's advice given by Lambert that he consistently revisits time and time again.
"A few years ago at the CFR, it came down to me and Zane that last day for the Championship," Buttar chronicle. "Beforehand he came up and talked to me, it was kind of just me and him in that moment and he said, 'You have to make the most of these situations because a guy never knows how many opportunities you will get like this.' That has always stuck in my head."
"I don't know if it was a big meaningful conversation that day for him, but those words he said really stuck with me. That is what I always try to do. I have to try and stay consistent, because you know Zane, he always has been consistent.
"I wish all my buddies luck every time, I want to see them all be 90. I just want to push myself to be 90.5 because you don't know how many opportunities like this you will get."