ABBI World Finals to Feature Canadian Flare with Four Foley Bucking Bull Bovine Athletes
By: Kacie Albert Friday, October 29, 2021 @ 11:21 AM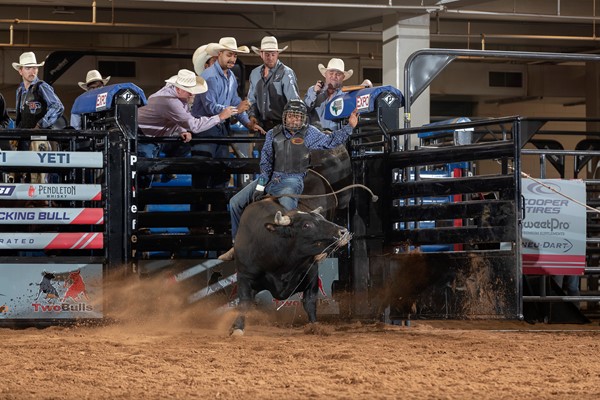 SASKATOON, Saskatchewan – It's been four years since the Foley Bucking Bull name was on display during a PBR World Finals week, but all that is about to change in a matter of days when the ABBI Classic competition begins in tandem with the 2021 PBR Pendleton Whisky Velocity Tour Finals.
Making the more than 1,500km trek from Lloydminster to Alberta, Fogo, Ceilis Pyper, Road Rash and Nasty Cherry will all compete under the bright lights in Sin City.
Entered as a wildcard in the ABBI Classic World Finals, Fogo and Ceilis Pyper will be the first to compete from the outfit, both slated to buck at the year-end event during Round 2 from South Point Arena & Equestrian Center.  
"He's been good," James Foley said of 4-year-old Fogo. "I haven't had too many gates at the Cup Series events in Canada, but the few PBRs that I took him to he was really good.
"I decided that now is the time, he is 4 years old, I might as well get him down here and see what happens."
Fogo made his PBR debut in July at the Cluny, Alberta, Touring Pro Division, marked 40.5 points when he dispatched Lonnie West in 5.52 seconds.
Despite an off-performance in his very next trip, Fogo steadily improved in his following trips, remaining unridden, and concluding his PBR season on home soil in August in Marwayne, Alberta, when he bucked off Fabian Dueck in a quick 1.85 seconds to earn a 41.5-point score. 
"The goal is to get Cody [Lambert] to see them and either they make it back to the PBR Finals, or they get into the Classic Finals."
While Fogo has been earning a name for himself in Canada, Ceilis Pyper has been stateside since October 2019 residing in Ohio with K-C Bucking Bulls. In August, Ceilis Pyper made statement in Belton, Texas, tying for 10th in the ABBI Derby event when he was marked 88 points.
"He's a big 3-year-old," Foley said. "I'm hoping he has a good day, and can come back too."
Later in the week, Road Rash and Nasty Cherry will buck for the first time outside of the Foley ranch when they compete in the Open Yearling and Maiden Yearling Futurity events.
"Just one trip," Foley said of what awaits the duo of young animal athletes. "These two young bulls have never left my yard. This is their first time going anywhere to buck, and they are going to Vegas."
Road Rash earned Foley's confidence after wowing at the two ABBI Futurity events held in Canada in 2021.
"I had two events at my house, I actually had the only Futurity events in Canada this year at my house," Foley chronicled. "[Road Rash] finished third at each of them, so he won the most money out of any yearling in Canada this year at two events, which doesn't mean much, but he does buck."
"He's in the open," Foley continued. "It's super tough competition, but I don't raise bulls to sit at my house, and eat feed, so we're coming down here.
"I think he's going to do good, but we'll find out."
For Nasty Cherry, the stakes are a bit higher.
Bucking in the inaugural Jerry Nelson's Frontier Rodeo $100,000 added Maiden Yearling Futurity presented by Zimmerer Kubota, and bro event, his out in Las Vegas will mark his first trip in competition. A high-profile competition, powered by ABBI, D&H Cattle and Lone Star Bucking Bull Genetics, the winner will take home more than $100,000, and prize money will be paid out 25 places.
"He's been really good at home, but the last time I bucked him, he spun the other way," Foley said of Nasty Cherry. "Not ideal when you're heading to Vegas and then he decides to change delivery, but we're just going to go and see how he does. "
Nasty Cherry may not have a name for himself yet, but he is a son of Buck Nasty who made two appearances on the elite Unleash The Beast in his career, in addition to bucking at the 2017 Pendleton Whisky Velocity Tour Finals and inaugural Global Cup in Edmonton, Alberta. Bucking 29 times across all levels of competition, Buck Nasty was ridden just three times before his retirement.
And despite the relation not being readily apparent, Ceilis Pyper is also a Buck Nasty son, and half-brother to Nasty Cherry.
"Ceilis Pyper is a Buck Nasty son, too," Foley explained. "I put him in an auction for a fundraiser for a little girl with muscular dystrophy and her name was Pyper. The guy who bought the naming rights was a guy by the name of Bret Wilson who was on the TV show Dragons' Den and is part of the ownership group of the Nashville Predators. He also owns a restaurant called Ceili's, so that's why they named that bull Ceilis Pyper."
"They did a big fundraiser, and with that money they built [Pyper] a house and made it so she could live in there, it's all wheel chair accessible and everything."
Fogo, Ceilis Pyper, Road Rash and Nasty Cherry joint the quartet of 2018 PBR Canada Bull of the Year Happy Camper, 2020 PBR Canada Bull of the Year Catch My Drift, Hard Not To Get and Unkle Kranky who were selected to buck at the 2021 PBR World Finals No. 3-7 at T-Mobile Arena.
Tickets are still available for the 2021 PBR World Finals.
Marking the year-end event's final time in Las Vegas at T-Mobile Arena, tickets for the five-day event range in price from $27 to $351. Fans can purchase tickets at the T-Mobile Arena Box Office, pbr.com, at AXS.com, or by phone through the PBR Customer Service Department at 800-732-1727.