The Morning Line – Edmonton – Round 3
By: Kacie Albert Saturday, November 13, 2021 @ 4:24 PM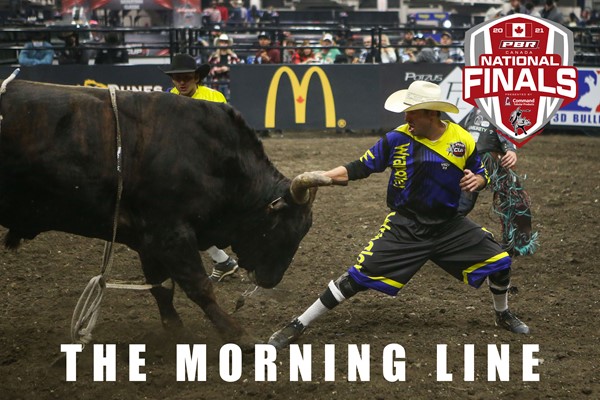 EDMONTON, Alta. – Today is the day. In just a matter of hours we will crown a 2021 PBR Canada Champion and present them with a $50,000 bonus.
But that isn't the only cheque set to be handed out.
Not only will the 2021 PBR Canada National Finals, presented by Command Tubular Products, event winner collect a minimum $30,000, but the 2021 Canadian Global PBR Canada Bull of the Year is also set to earn $10,000.
RELATED: Click here for the full Saturday daysheet.
You won't want to miss this historic event. Tickets are still available and can be purchased online at Ticketmaster.ca. Before you go, be sure to check out the fan guide, here, of what to expect once you arrive at Rogers Place.
Below are PBR Canada bullfighter Tanner Byrne's bets for Round 3 of the event from Edmonton.
Let us know your thoughts and your picks for Saskatoon by tagging @PBRCanada on Twitter.
Jake Gardner vs. Freaked Out
This is a rematch from Saskatoon. Jake Gardner rode this bull for a really good score. The bull fits Jake's style really perfect, right in the gate to the right. I look for the exact same result as Saskatoon, for an 88-89-point ride for Jake Gardner on Freaked Out of the X6 Ranch.
Zane Lambert vs. Up Shift
Zane Lambert is looking for his third title and he needs to step up to the plate and get a bunch of points today to try to edge out Dakota Buttar. This is the bull to do it on – Up Shift of Vold Rodeo Company. He's a great bull, should be right in the gate to the right into Zane's hand. They were 92 points on this bull a week ago. One that fits Zane's style perfectly. He can ham him up and could be in that 90-point range for the round win.
Callum Miller vs. Hanna Motors Wilford
This is a rematch for Callum. He rode him once and bucked off him once. They have a history. Callum should know how this bull feels, knows his style. The bull could go either way, probably going to go both ways. Callum made one of the best rides of the year on this bull earlier this year in Lethbridge and look for him to step up to the plate today, knock one out of the park to finish the season off strong in Edmonton.
Todd Chotowetz vs. Gandy
Todd is coming in first place ahead of day two in Edmonton. He is looking to stay on the rest of his bulls and win the Finals which is a huge honor and something that everyone wants to win in their career. This is a great bull from Skori Bucking Bulls. Should be out around to the right and into Todd's hand. They have matched up before. Todd knows this bull, should be a good one to get an 85-86-point ride on to set himself up for a good pick in the championship round.
Ashton Sahli vs. Finning Nikki Sixx
Ashton knows this bull. He's a big, high-horned brindle. Should hop, skip out there, usually is around to the right, but could go either way. But if it lines up the way that this bull usually bucks, it should fit Ashton's style really well. A lot of kick, a lot of action. Ashton is a guy that can get a lot of points out of any bull that he gets on and this could be an 88-point ride. Really big for Ashton on Saturday in Edmonton.
Stay tuned in to PBRCanada.com and follow the tour on Facebook (PBR Canada), Twitter (@PBRCanada), and Instagram (@PBRCanada) for the latest results, news, stats and more.