Cody Coverchuk Aims for World Finals Berth After Historic 2021 Canadian Campaign
By: Covy Moore Monday, November 29, 2021 @ 10:53 AM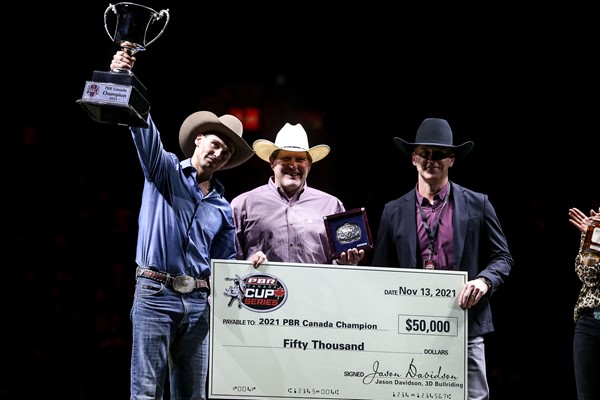 AIRDRIE, Alta. – When Cody Coverchuk walked into Roger's Place for the final day of competition for the 2021 PBR Canada National Finals, presented by Command Tubular Products, his chances of claiming the PBR Canada Championship were slim.  
After bucking off both of his draws in the initial round of competition, Coverchuk was in a must-ride situation to keep his title hopes alive. Adding to the grim nature of his reality, the Meadow Lake's native less-than-ideal performance gave him the last selection in the Round 3 draft, effectively giving his opponents the chance to pick his third bovine athlete opponent of the crucial event.  
Remaining focused, Coverchuk proceeded to take it one bull at a time, a mindset which proved dividends.
"Coming in that day I had a championship on my mind, but at the same time I didn't really care what the outcome was, I just wanted to ride that bull, the one bull nobody wanted," Coverchuk said. "I wanted to ride that bull to prove it to myself."
And that bull was none other than Vold Rodeo standout Rico. After being ridden in the first two outs of his career, Rico bucked off every rider to climb aboard him after, entering the matchup boasting a 10-out buckoff streak across all levels of competition.
But, Coverchuk cracked Rico's code, reaching the requisite 8 for 83 points.
With then No. 1 Dakota Buttar sidelined by a groin injury, Coverchuk's score made it a three-man race heading into the championship round. The Saskatchewan man and two-time PBR Canada Champion Zane Lambert were the lone men within striking distance of chasing down the reigning Champion as the final outs of the season got underway.
"When I got past Rico, I didn't think I was going to make the short round, but in comes Jason [Davidson)] to tell me I got Finning Lil Shorty."
"I didn't think about anything, I just grabbed by rope instantly and got out of there as soon as I could so they couldn't tell me another bull," Coverchuk said with a laugh.
In what would end up being the second highest marked ride of the 2021 PBR Canada National Finals, Coverchuk matched the striking animal athlete jump-for-jump en route to a critical 89.5 points.
"It was great," Coverchuk chronicled. "I thought for sure he was going to start to the left and then go right, which is his normal track. I got on him in 2016 at the Finals and he did the same thing that time too, kicked out and went right."
"I don't know if it's the way I ride him and he goes right with me, but I had to chase him around there. He got my chest just a little bit, and I got it poked out there and was lucky not to touch him."
"Then he got really nice," Coverchuk continued. "Closer to 8 seconds I was getting more and more excited. I was able to jump off on my feet and then it was celebration time."
However, with 12 riders still to compete, including Lambert, the celebration was brief as it was still anybody's game.
"After I rode that second one, I was back in the locker room pacing around. I honestly had no idea if that was going to be enough."
"Every time a guy was getting on a bull, I wanted to see him ride that bull. That is just the way it is in the PBR, the bulls are so rank. On that day, in that situation, I was a bit more nervous with $50,000 on the line. I was trying to make it look like I was playing it cool, trying something, but deep down inside I was freaking out."
And Coverchuk had every reason to be on edge, Lambert drew reigning PBR Canada Bull of the Year Catch My Drift, a bull he covered for 90 points or more twice prior in 2021.
In the end, however, the Two Bit Bucking Bulls' standout got the better of Lambert, bringing him down in 4.94 seconds, and clinching the 2021 PBR Canada Championship for Coverchuk.
After entering the 2021 PBR Canada National Finals in Edmonton ranked No. 2 in the nation, 53.66 points behind No. 1 Buttar, Coverchuk finished third at the year-end event, netting 79 national points, allowing him to leap-frog his countryman in the standings, finishing No. 1 in the standings by a slim 23.34 points.
The 2021 was a comeback for the Saskatchewan cowboy.
But the time away from the sport, coupled with the COVID-19 pandemic, put a lot into perspective for him, Coverchuk explained.
"Rolling through the year, that is just kind of the game, you get hot and cold for a few shows. I kept my head down. My dad always told me to let the riding do the talking. You don't need to talk about how good you are, you can ride, just come and do it."
"I wanted to let the boys know I am not done, and that I will be here for a while yet," Coverchuk added. "I am pretty happy with the outcome. Personally, I appreciate bull riding a lot more in 2021. When you get it all taken away from you, you learn to appreciate it."
"That is all I had done up until 2018, and when you lose it, it puts everything into perspective. It made me realize how much bull riding means to me in my life. It made me appreciate this championship way more."
Being in a race with two competitors who have fought the same fight as him, Coverchuk has nothing but praise to heap on Lambert and Buttar after a tough fought season.
"I love Zane. He has been there since I was 14 years old getting on steers at Vermillion, while he was getting on practice bulls while going to college. He always seems to be in your corner. Every year Zane is amazing. He can ride the unrideable bulls and does it with a style that gets those high points and I love that."
"Some have said 2022 may be his last year, my thoughts are Zane will be going out with a bang and he will be showing up and showing out," Coverchuk continued. "The rest of us riders better be ready to show up and show out too, cause we know Zane will be."
"Every time I watch Dakota get on a bull, I am expecting him to ride," Coverchuk said as he pivoted to reflecting on Buttar's 2021 campaign. "He rides that good and that technical, he is just that phenomenal. I know he will be coming back next year, and he will be doing what he does and that is ride every bull they run underneath him. The rest of us better hump up for next year to have a chance at it."
Wrapping up the season in the state-of-the-art Roger's Place was a cherry on top of a great year of bull riding in Canada.
Bringing the pinnacle of professional bull riding to the one of the nation's premier sports and entertainment venues turned out to be a match made in heaven. Coverchuk added that it's the atmosphere the PBR Canada Finals deserves in this country.
"The PBR Canada Finals, [Roger's Place is] obviously where our Finals need to be. The fans showed up too, Saturday night was packed, and it was rowdy. When Brinson did his thing, asking if you are ready for the PBR, and that place went nuts, I was like yep, this is where we need to be, this is the PBR Canada Finals."
As for 2022, Coverchuk says it is going to be business as usual with plans to head stateside and qualify for his career-first PBR World Finals.
"A lot of the same as 2021, I will show up to each event and take them all one at a time. I want to get on each bull and treat them like they are the last bull, because you never really know when it will be."
"In 2022 I am seeing big things for me. I want to go down south after our February events and get rolling to make the PBR World Finals next year. That has been always been the goal, and I won't be going anywhere till I achieve that."