Vold Rodeo Bovines Impress at Montana Unleash The Beast Event
By: Covy Moore Thursday, May 20, 2021 @ 12:47 PM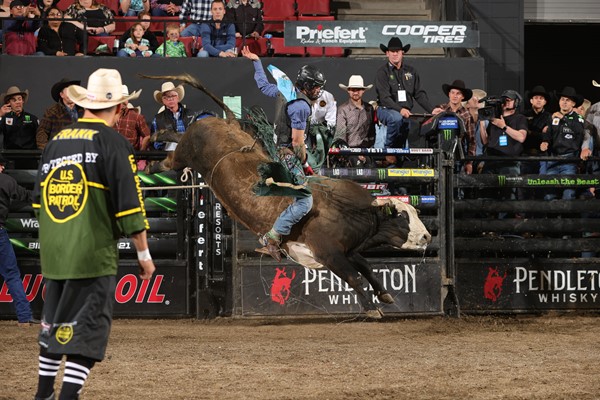 AIRDIRE, Alberta – The annual Unleash The Beast event in Billings, Montana, is often a pilgrimage for Canadian stock contractors looking to showcase the best bucking bulls the nation has to offer.
This year was no exception with Eno Bucking Bulls, Braithwaite Ranches, X6 Ranch and Vold Rodeo all carrying the flag for Canada's bucking bull industry.
As the most represented outfit, Vold Rodeo and Nansen Vold led the contingent, hauling five bovine athletes stateside for the elite tour event.
RELATED: X6 Ranch's Carlier Cartel Leads Canadian Contingent of Bulls and Riders at Billings, Montana PBR Unleash The Beast Event
With more than a half dozen bulls from his operation already campaigning full time on the elite Unleash The Beast, Vold brought another quintet that easily could be contenders stateside in seasons to come.
"We had a good showing," Vold began. :"Our weakest one was Timber Jam. He was maybe out of shape a bit I would say. That was a pretty average trip for him. I know he can be better than that, but he got by fine.
"Kalit Karma had a bit of a wreck in the chutes, but came out backwards, or tried to. The other three were really good though."
The hopes for a stock contractor in Canada in being invited to the US PBR scene is to showcase your bucking stock to a larger industry, and hopefully leave a couple bulls behind, selling to the like Cord McCoy, J.W. Hart and Chad Berger.
This time around, Vold left two bulls with Hart, not as a full sale, but to stay stateside and be exposed to that larger market.
"I left Diamond Show down there with J.W., and Hard Not To Get as well, the young 4-year-old," Vold said. "He is going to play with them, he has some guys who are interested in those two bulls. He is going to get them on his feed program and see how they fit too and maybe make a deal on them later in the month or so."
In his elite tour debut, Diamond Show led the Vold Rodeo contingent, marked 44.25 points in Round 1 when he bucked off Derek Kolbaba in 3.26 seconds. The marks tied for the eighth best of the main event and were the best of the young bovine's career to date.  
For Hard Not To Get, he also bucked in Round 1, bucking off Rodrigo Melgar in 3.27 seconds to earn a 42.5-point bull score.
"I was going to bring home Vertigo Spy and Jayded, but they ended up having a really good time down there. There were full plans to bring them home, but with nothing still going up here we left them down there," Vold said of two of his other standouts who have been living with Hart in Oklahoma for the past several months.
Both out in Round 2, Vertigo Spy was marked 43.25 points when he bucked off Andrew Alvidrez in 4.34 seconds, and Jayded was scored 44 points when he dispatched Chase Dougherty in 4.7 seconds.
"We need to be able to have that larger market down there, especially when we are sitting idle at home," Vold continued. "Even just exposing them, not even selling them yet. It's a good market, it's not where it used to be five or 10 years ago.
"We could see top bulls trade for hundreds of thousands of dollars a few years ago, and now we are in that $30,000 -$40,000 for a top bull. It's nothing to bat an eye at. It's a great number for bulls that can perform on that level, and there are guys that want that. If you have a short round bull from Canada, there are guys that definitely want to try them out. There are always guys that want this bull or that bull to showcase in short rounds and 15/15 Bucking Battles and things."
One bull that Vold had hopes for on this trip was Kalit Karma.
The black, 7-year-old from Tyler Thomson is a flashy bucker with a couple of years of Canadian competition experience. With a great practice trip a few weeks ago with Australian PBR Canada standout Callum Miller, Vold was confident that the bull would perform.
But with a recent change in delivery, Kalit Karma ended up balling up in the chute and not giving his rider a fair shot. Marked just 37 points, Rafael Henrique dos Santos was awarded a re-ride after coming down in 3.99 seconds in Round 1.
For Vold, the out was disappointing, but he is confident in every bull that he trucks that far.
"We switched him around, Jake [Wilson] and I have worked with him for two months now to get him going out that other side, but that bull has it in his mind that he goes out to the left. He got balled up a bit and came out backwards."
"No one got to see anything," Vold added. "He damn sure was going to perform if he got out good. I have no worries with that bull, I know what he is. If we don't do anything with that bull here soon, he is certainly a go-to sire."
Not alone in Billings, Vold was also joined by Dairn Eno of Eno Bucking Bulls and Lindsay Carlier from X6 Ranch. And it was X6 Ranch's Carlier Cartel that posted the top score of all Canadian bulls in the draw, marked 44.75 points when he bucked off two-time PBR World Champion Jess Lockwood in 3.78 seconds in Round 1.
Not only did the score mark the top marks of any bull in Round 2, and third-best of the PBR Wrangler Invitational, presented by Cooper Tires, but the effort was the second-best of Carlier Cartel's career.
Carlier Cartel earned a second trip in Montana, selected to buck in the championship round. Drawn by Dougherty, Carlier didn't leave the chutes with the Texan disqualified.
The powerful bovine athlete was one of three from the Alberta outfit, joined by Off The Grid and Muzzle Blast. Both making their Unleash The Beast debut in Round 2, Off The Grid bucked off Mauricio Moreira in 6.21 seconds to earn a 42.75-point bull score, and Muzzle Blast dispatched Joao Henrique Lucas in 2.4 seconds to earn a 41.75-point score.
"X6 Ranches had an outstanding weekend," Vold said. "Their bulls were very good. Carlier Cartel, big, scary, mean, Canadian-bred, looking sucker."
"Those guys down there are looking for that size and attitude. That bull had a great day with Jess Lockwood, I think he was the high marked bull of the night, or awful close. He got him gone to Chad Berger."
"They left two bulls. Came home with one, they probably couldn't be too much happier I don't think, their bulls did absolutely outstanding down there."
Fans can relive all the action from Billings Unleash The Beast event today on RidePass at RidePass.com or via the RidePass mobile app.