Skori Buckers making Waves Stateside on Touring Pro Division
By: Covy Moore Wednesday, May 26, 2021 @ 7:06 PM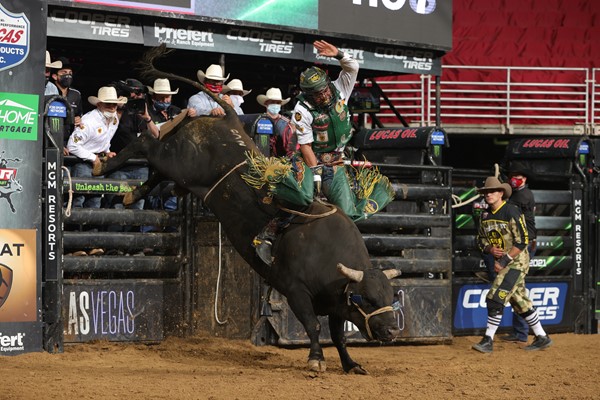 AIRDRIE, Alberta – Hanna Motors Power Dozer, Hanna Motors Homeboy, Dunt and Snapshot are a set of bulls from Lane and Ellie Skori in Kinsella, Alberta, and in late 2020 the quartet of bovine athletes was sent south to the care of M Rafter E Bulls' Sam Mitchell.
With the hopes of exposing them to the larger U.S. market, as well as keeping them fit and in competition shape, the Skori buckers recently took on the Ridin' with Mason Lowe event in Cassville, Missouri.
Homeboy, Snapshot and Dunt were all out in Round 1 of the Touring Pro Division event, with an all-Canadian match-up architected when Albertan Riley Gagnon matched up against Dunt. While Homeboy's trip with Luke Bradley ended in a re-ride, the remaining two bovine athletes both registered buckoffs, as Dunt bested Gagnon in 2.39 seconds, and Snapshot sent Timmy Vaughn to the dirt in 2.25 seconds.
The standout, however, was 2020 PBR World Finals qualifier Power Dozer, who posted a 43.5-point bull score when he teamed Austin Richardson for an 88-point ride to win the championship round.
"He has had them since right before the PBR Velocity Finals," Lane Skori began. "Power Dozer was in the short round at the Velocity Finals, and from that got that trip at the World Finals. It has been really good.
"It has mainly been a good way to keep them going and bucking somewhere. The hope was to sell one of them, or all of them if the right offer comes along. The interest has mainly been in Power Dozer and Snapshot. If things open up here, I don't know if I should plan on selling them or not, cause we can bring them back here."
That decision to bring his bulls back comes with the recent news of Alberta's planned reopening later this summer.
But with plenty of steps to get the bulls back to Canada and with them in the talented and capable hands of Mitchell, Skori says the decision is still up in the air.
"Its going to depend on the next few weeks here," Skori added. "See if things open when they say they are going to."
"If they are going to, we are going to have to start planning before the start of June to get them here in any amount of time. We aren't sure if that will happen though either because Sam has a lot of events coming up, and they have to head to Vegas for an event there as well."
As for what stock contractors stateside are looking for in a bull that they want to add to their lineup, Skori says its big numbers and consistency.
"Getting to the World Finals definitely helps," Skori said. 
"If they are going to spend big money on them, they want to see that consistency, that 44-plus points every time. And if they are really going to spend the really big money on them, they want to see 45-plus and see opportunities in the short round matched up against good guys."
No matter if they come home or not for the 2021 season, Skori says he is confident in the up-and-coming bucking bulls on his outfit's roster to fill out the variety of events already on the docket for this season.
"We have a bunch of really good young bulls. We just need to get some trips on them. We are going to be bucking some at home this weekend. Dummy bucking at home to keep them in shape."
"There are a lot of really good coming 3- and 4-year-olds out of Two Point Oh and Tom Petty I am looking forward to seeing."
With another smaller event planned for Prince Albert at the start of June that Skori will be hauling bulls to, as well as others in the works with various stock contractors in Alberta, Skori says himself and other stock contractors made a deal to ensure a Touring Pro season is able to build into the 2021 PBR Canada Cup Series.
"Me and Tanner Byrne have been planning a bit together, along with Josh Berezay and Two Bit," Skori concluded. "We made a plan a couple months ago to make sure things happen, and we think we can roll on with our events this year as scheduled."
"Tanner does a great job, and put on some great events last year, even with a cap on the amount of people allowed to be at them."