Five Vold Rodeo Bulls Ready for Trip Stateside to Buck on the Elite Unleash The Beast
By: Covy Moore Wednesday, May 5, 2021 @ 11:42 AM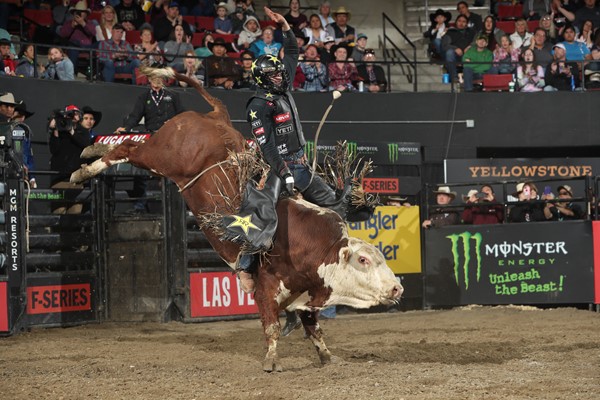 AIRDRIE, Alberta – On May 14-16, the elite PBR Unleash The Beast will make its annual trip to Billings, Montana, bucking into MetraPark for the PBR Wrangler Invitational, presented by Cooper Tires.
With he league's rank bull power expected to be on full display, some of Canada's top bull power will also make the journey stateside for the tour stop, with Nansen Vold slated to haul down five bovine athletes from the nation.
Trapped, Timber Jam, Kalit Karma, Diamond Show and Hard Not To Get will all represent the Vold Rodeo outfit, while a couple other Canadian bulls from X6 Ranches, Braithwaite Bucking Bulls and Darin Eno are expected to perform later this month.
For Vold, the 2020 season was slow in Canada, but the bucking bull operation hasn't stopped.
With numerous bulls from the Vold string campaigning in the states, including the likes of Nailed, Canadian Mist and Jayded, Vold says he is confident that the five he is bringing down will perform.
"We got the call," Vold began. "We have been working on it the last little while bucking at the barn at home and getting those top bull exercised and in shape. I got the call for five. I have pulled some older bulls, more proven. Got a couple young ones thrown into the mix as well. See if they can perform at that level."
"We are hoping to leave some stateside as well," Vold added. "They are always interested in our top end bulls, so we will see what happens when we get down there."
Trapped and Timber Jam have both competed in the United States, but ended up spending much of 2020 with cows as part of the breeding push Vold made last season when his great bulls weren't needed in the arena as much.
However, despite the time off, Trapped and Timber Jam are at the top of Vold's list.
"Trapped is the most consistent one of out the five," Vold explained. "He stays in shape really well, never really gets fat. He got to go last time before COVID stuff came into play."
"They are all in their prime. Those bulls will perform well, they have been there before I am not worried about them at all. We are just excited to get to an event and see what we can do."
As for the two younger bulls, Vold calls them, "outstanding."
Hard Not To Get was born out of a cow that isn't a part of Vold's typical breeding program, but said being raised on the ranch has certainly shown his bucking talents.
"He was raised at home, came out of a cow of a friends that lives with mine," Vold said. "He came from a different cow program from ours, but has been ranch raised. He has always been outstanding since day one. He was doing well in the futurity back in the day."
"He is a bit of a hot head too, big strong yellow, brown kind of bull. He has that size factor that will get along with the Brazilian or bigger bull riders down there."
In most any other year the Billings event is held roughly a month earlier, which means cooler temperatures. With different climates across the continent, Vold says the ideal time to acclimate bulls to another locale would be the spring months.
"That one works good, Billings is just in Montana, very similar climate to what we do at home here," Vold explained. "Summer is a lot harder of a time to go south. You want to bring those bulls when they are transitioning from spring because you don't want them too hot down there in the states or too cold being up here, so you get them down early so they can acclimate to the temperatures as the weather changes, instead of shocking them from cold to hot."
Forward looking, with Canadian events not anticipated to get underway until the summer months, Vold says that they are working hard at home to keep the bloodlines going and their best bulls ready to go for the third quarter start of PBR Canada competition.
"We have been saying we need to liquidate and liquidate, but it gets hard to make the call on a bull that could work for somebody. We have been going through everything from calves to yearlings to two-year-olds," Vold said.
"We have had Jake Wilson up here working with us since January too, he has been helping out and organizing riders to get on them to keep them in shape. So we are busy at home doing that, but we still aren't getting them on the truck much to go anywhere, which is kind of a kick in the ass.
"The feed bills are coming in, but we are still working to keep these animals in shape and ready to go. There are a lot of guys in this business that are struggling a lot, we are going to lose a few guys through this for sure. It's not ideal. Another three months of waiting will basically be another year lost for stock contractors."