Wilson Rodeo Aims to Add Pair of Touring Pro Division Events to Canadian Schedule in 2021
By: Covy Moore Tuesday, March 9, 2021 @ 4:13 PM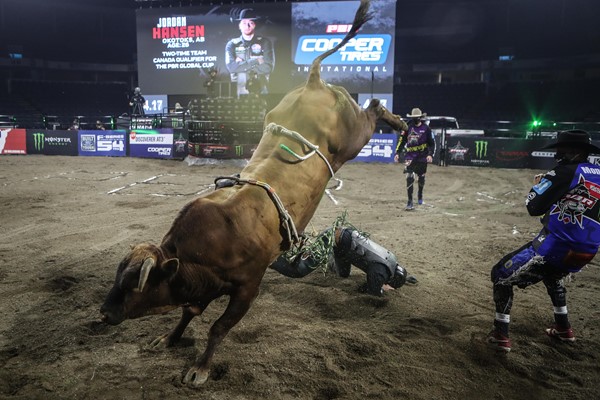 AIRDRIE, Alberta – In 2020, Cluny, Alberta-based stock contracting outfit Wilson Rodeo, held three open bull ridings during what was a slower summer for events.
As government restrictions for gatherings began to lift, Slim and Heather Wilson went to work creating opportunities not only for bull riders to compete, but also for stock contractors to buck their bulls, production contractors to work, a for a handful of fans, the chance to enjoy a bull riding, a drink and summer Alberta skies.
"Pretty early on in the spring or summer when we realized that we won't have too much of season," Wilson began. "Before things opened up, we got things going for when things opened up. Right when they opened, we had dates. We just said we are going to do it; we are going to have a series. Originally, we just were going to have a jackpot, but a few sponsors came forward after the first one saying they wanted to help. It all just snowballed form there."
"They were all just little open bull ridings, but the first one we had 23 or 24 guys show up," Wilson continued. "More than half of them were the pro guys from the PBR and Rodeo Canada.
"We learned a lot last year, probably more last year than we ever have, from a full productions standpoint. Instead of just bringing sponsors and bulls, we had to get it all figured out."
And with those lessons fresh on his mind, Wilson is working towards holding another pair of events this summer at the picturesque Coulee Creek Farms in Strathmore, Alberta.
Unofficially, Wilson is working to set a date in both June and July for a pair of PBR Canada Touring Pro Events.
While the Wilson family may have learned many lessons on event production in 2020, they are no strangers to being involved with top notch events.
During a normal season, the Cluny PBR event would be held the first week of July, and event hosted by Wilson Rodeo and the Cluny Lions. With three years of events under their belts, the duo unites to produce one of the Touring Pro Divison's most prestigious tour stops from a competition standpoint, often attracting bull riders ranked inside the Top 50 in the world.
"On our normal date, we have had Jess Lockwood, Chase Outlaw; we get the best bull riders in the world," Wilson said. "Chase has been all three times, we have had as many as 10 guys in the Top 50 at our bull riding."
"We get really good turnout, and the committee that we deal with for the Cluny Lions, after that first year with a really good turnout of bull riders, some of the PBR fans on our committee were completely shocked and amazed at who was there," Wilson said.
"If you are going to go bull riding, the PBR is the best option. I have always wanted to be aligned with the PBR. It's just the top tier of bull riding in Canada and the world."
Bringing in bucking bulls for their 2020 events was easy with the likes of Wild Hoggs Bucking Bulls, Vold Rodeo and Flying High Rodeo Company supplying the talented pen of bovine athletes. But with a decent year of development of their own herd of buckers, Wilson said there is plenty coming up through the Wilson Rodeo program.
"I have a couple four year olds coming up. One red brindle I call Touch Too Much. As a three-year-old, last year he was the strongest out of all of them," Wilson said. "I had to give him a rest last year after he matched up with Mike Ostashek twice back-to-back at our events. Mike was pretty sure I was rigging the draw to throw him on him all the time. I kept him out at the last one, to make sure Mike didn't get him."
"I also have a little brindle muley bull I call Revelation. He is a bit lighter, a bit smaller, but I have some pretty high hopes for that one as well, guys will want to be on the lookout for."
"That's the push for us, the love of the game," Wilson concluded. "We had to do something. As far as we knew there was nothing going on. When we set out dates in 2020 there were no bull riding events. We could have dummy bucked our bulls all year and done it that way, but people wanted to get on bulls, people wanted to watch something happen in front of their faces. I would rather have a bull riding."