Ty Prescott Reflects on 2020 campaign, Eager for 2021 to Kickoff
By: Covy Moore Monday, March 15, 2021 @ 12:16 PM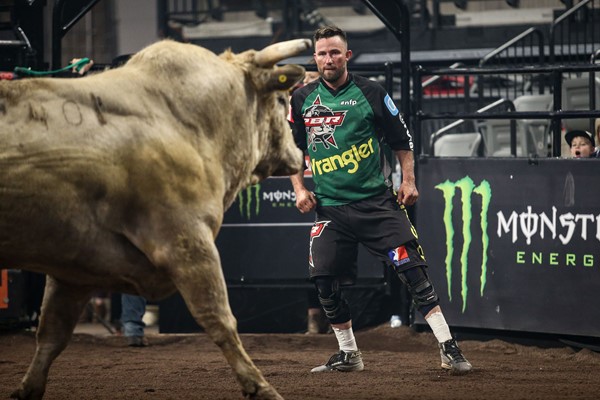 AIRDRIE, Alberta – Often introduced at PBR Canada events as the Wild Child, Ty Prescott is a mainstay at league events.
In addition to being one of the consistent bullfighters regularly tapped to work the league's events, Prescott has spent his entire life in and around the sport of rodeo. 
The Wild Child moniker has come honestly to the Strathmore, Alberta native, as he is by far the most honest, filter-free athlete in the PBR Canada family, with the biggest heart. 
When the 2020 season came to an abrupt halt approximately one year ago, Prescott said he was shocked as his whole life has revolved around the sport. 
But with the support of family and friends, in addition to his girlfriend and her daughter, Prescott has been ready for each opportunity that has come to work since the shutdown. 
The first of those calls was in July for the return of PBR Canada's Cup Series in Lethbridge, Alberta. 
RELATED: Cowboy Spirit Propels Gebraad to Champion PBR's Return in Canada
"The Lethbridge no crowd bull riding sticks out for sure, I thought it was neat," Prescott said as he reflected on 2020. "Not that I would rather be doing it in front of no crowd, but it really brought us back to why we do it -- for the love the sport.
"It was just a new take for me. I all has really opened my eyes and I sure won't take what we do for granted ever again." 
"It is something that I have done every day of my life," Prescott continued. "I never thought it could be taken away like it was. So getting back was awesome. I miss the people, that's the biggest thing. I miss my buddies. You miss everyone in this game, it's like a big family -- from the riders, to the families to the guys working the back pen."
Prescott is quick to site that his heroes have always been cowboys, and that rang true in 2020 as well. With a monumental run for eventual champion Dakota Buttar, to the consistent pressure from two other PBR Canada campaigners, Prescott is a fan of the sport first and foremost. 
"Dakota and Brock (Radford) battling it out," Prescott said of a highlight from the past year. "Brock is one of those guys that rides so good, you would think he would have two titles. And he keeps grinding. And Dakota is someone you can't bet against." 
"The other standout for me is Zane Lambert riding hurt and showing out at the finals in Grande Prairie. And he was riding as good or better than anyone there, at 50%.
"Those three made the whole year exciting. Zane stepped up and made ride after ride. He really gritted it out and made it work."
Personal and professional development has been on Prescott's mind during the offseason.
In 2020, he was invited to work with participants in Kynan Vine and Brett Monea's Ultimate Rodeo Bullfighter Experience. On the personal side, Prescott said that the addition of his girlfriend and her daughter to home life has been a welcome change – and he even has a pair of capable ranch hands around the house now too.
"COVID really slowed me down," Prescott said. "And then them moving in has been amazing. I have the two of them and I am really happy. Kendall is a blast. She is outside working with me, gathering cows, tagging calves. I haven't barely called friends for any help around here. And Kristin keeps us both put together. Things are really good, it's opened up a new chapter for me, and I am pretty happy about it."
As for what 2021 holds, Prescott said that he isn't worried about the fitness side as the process behind calving 600 head of cattle in a season is more than enough to keep him fit.
With how much he misses the sport, he is equally as prepared to get back at it, planning to get the cleats on soon and begin warming up for what is setting up to be an exciting 2021 season.
"I just can't wait to get back. I miss it all, like I said. I miss people and traveling with the boys. I miss the handshakes the hugs, the smiles, I miss everything about it. I just can't wait to get back. That is the biggest part of my life, and I just can't wait to get back. I can't say it enough." 
"We will be getting practicing now that the arena is drying up," Prescott concluded. "Brett and I are going to do a fair amount of practicing, we have a few Mexican calves to go through and test out. We will be started in that in the next couple weeks.
"When I get that call, I will be ready."