Surging Sophomore Riders Tanner Eno to Travel Stateside to Begin 2021 Season
By: Covy Moore Tuesday, March 30, 2021 @ 9:45 AM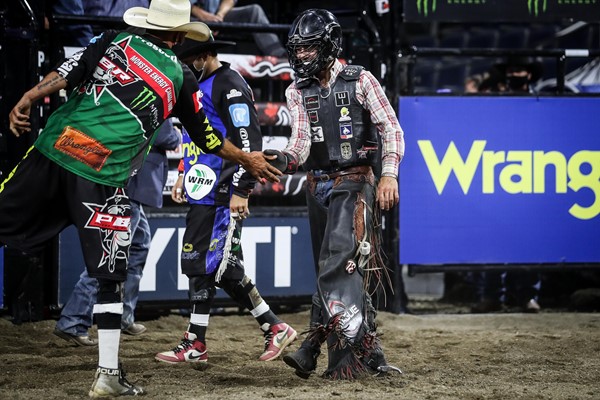 AIRDRIE, Alberta – For 22-year-old Tanner Eno, his rookie campaign in the PBR Canada ranks went well. Riding at 10 events, including the four-event PBR Canada Finals Week, the surging young gun registered three Top-5 finishes.  
And while Eno admits the season overall wasn't ideal, it had its positive points and moments to learn from.
"Last year when it all hit we were just playing it by ear," Eno began. "Everyone was in the same boat. We all hoped it would come and go pretty quick."
Eno made his PBR debut in November 2019, riding at one of the initial Touring Pro Division events of the year in Dawson Creek, British Columbia. The Albertan, however, wouldn't return to action again for eight months, not competing again until PBR trailblazed the return of sporting events in Canada.
Closing his season out riding at the intermittent events that cropped up, Eno concluded the year No. 11 in the national standings, 382 points behind 2020 PBR Canada Champion Dakota Buttar.
Now, with the 2021 season underway globally, despite zero events being held thus far in Canada, Eno is turning his attentions south of the border, preparing to travel to the United States to begin his second year with the PBR.
"We have to go to whatever we can," Eno said. "For us the hardest part about it is that we are nobodies, we don't have our in on anything yet. We can't get into the San Angelos, we have to go to the little ones and do good. On the PBR side it's the same time, got to get lucky, get into one and get lucky on one then you can start getting in them all."
For Eno, the plan to travel stateside has been months in the work.
As soon as fall rolled around in 2020, and things were looking like they would be a little bit slower in Canada come 2021, Eno and his father Darin started looking for a good van that could be converted into a travel van to enable the young cowboy the opportunity at the winter and spring runs stateside.
"Once we hit the fall, I started looking at vans because it's a bit of an investment to go down," Eno added. "We don't really know too many people down there other than the few that have come up here, we are just jumping in a vehicle and we had better win or we will be washing dishes somewhere."
"Dad and I put a pile of work into this van, so we can save a dime or two while we are down there."
As for traveling partners, Eno is splitting the driving duties with his friends, and fellow bull riders, Ashton Sahli and Tyler Craig, both of whom made their PBR Canada Cup Series debut in 2020.
"Those two guys, they are two guys that are my age, we have grown up together. They have 100% the same mentality as me that is if you want to do it, you do everything you have to do to do it."
"We are ready to pay our dues and work like heck to get our names out there," Eno continued. "Those guys are my two best friends, and as soon as I bought that van they called and asked when do we leave."
"The biggest thing in rodeo and bull riding is trying to find the right people that want it the same amount as you, and people that in my opinion can beat you on any given day. You have to travel with people who are better than you if you want to learn and push to do better."
For the Coronation, Alberta cowboy, the metre stick for success on a run through the United States is a moving target. While winning at every event entered is on their minds, being able to learn and get their stock and name up while they are there is paramount for the trio.
"It's a big investment, there is a lot of money on myself to win. But the reason I want to go is if you want to be in the top of bull riding, you have to go down there. I think there are just as good as guys up here as down there, but there are so many more. Texas is like its own country, there are 12-year-old kids that ride better than you do." 
"They are all top bull riders up here and you are only as good as who you hang out with, so I am going down to get better, ride my bulls and make some good money," Eno continued. "The come home part is still up in the air right now. It's going to come down to how well we do. I want to say that we stay till we just can't go anymore, but I would rather look to the positive side. I want to come back because there are things starting to happen up here. I have my goals up here too, and I want to get those done as well."
Eno will be the seventh Canadian bull rider stateside when himself and his traveling partners roll through the border. Craig, Sahli, Wyatt Gleeson, Jordan Hansen, Logan Biever and Jake Gardner are all competing in both PBR and rodeo events in the coming weeks.
For Eno, he says the mindset is to keep it simple and enjoy the road.
"I am going to be keeping it as simple as possible. It's as simple as ride bulls and try to have fun doing it. All the work you put in at home, in the gym, getting on practice bulls, it's all for this. Go out and have fun. Your body knows what's going on. It's just a bull riding. It's just like getting on in the yard. Be thankful we can still do it. This last year has been hard on everyone."
"At the end of the day, getting on isn't fun. Winning is fun. That is my opinion."