Jake Gardner Heads Stateside with World Finals on His Mind
By: Covy Moore Wednesday, March 24, 2021 @ 5:13 PM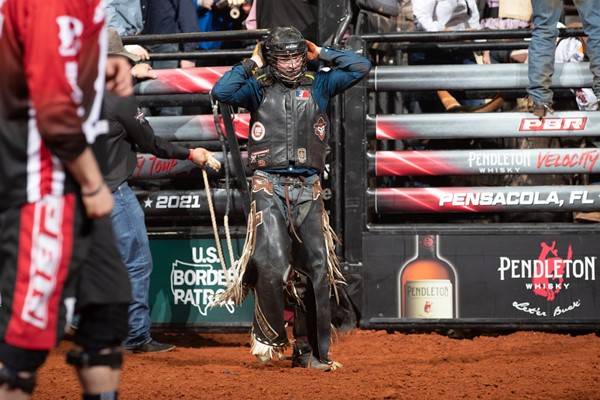 AIRDRIE, Alberta – There isn't a lot of question in Canada as to the talent of Jake Gardner.
The accomplished bull rider from Fort St. John, British Columbia has two PBR Canada event wins in three seasons, and at the young age of 24 is amidst his prime competitive years.
This past weekend in Pensacola, Florida, Gardner made his 2021 debut, riding at the Pendleton Whisky Velocity Tour's Pensacola Invitational.
Going 1-for-3 to tie for 11th and net 1 world point, Gardner was marked 85 points atop Rag Doll in Round 1 of the event.
Despite bucking off his final two draws of the two-day tour stop, Gardner is happy to be back to competing after a winter of 12-hour days anticipating the return of PBR events.
RELATED: British Columbia's Jake Gardner Ties for 11th at PBR Pendleton Whisky Velocity Tour's First-Ever Event in Pensacola, Florida
"The winter was long, 12-hour days, I put the work in for a few months," Gardner began. "I did want to get down here sooner, but it's not cheap to get down here and get set up. I wanted a little bit of leeway. As soon as spring break came, I knew I wanted to be down here. 
"I was on the alternate list when I first entered Pensacola, but got the call the Monday before. I would rather be down here riding bulls than sitting up there, so I said screw it, and bought a plane ticket and here I am."
"It wasn't too bad," Gardner said as he began to recall the Pensacola event. "I was a little nervous cause I hadn't been on a high caliber bucking bull since PBR Canada finals. I did have a little practice before I came down. When I saw the draw on my first bull, I knew he was good. I knew if I just closed my hand and tried hard it would work out.
"That was the game plan there. Getting by that one was good because it gave me one point, and that point will be helping me get into more events. It was a sigh of relief to get that one done and start like that, but I certainly didn't finish the way I wanted to with the weekend. I expect a lot more out of myself the coming weeks."
In 2020, Gardner was selected to ride for Team Canada at the PBR Global Cup USA in Arlington, Texas, competing for national pride alongside the country's best in bull riding. And that experience of having tasted the top of the sport is certainly what inspires Gardner to push this season for his career-first berth to the PBR World Finals at T-Mobile Arena in Las Vegas come November.
"I am getting older and I think I am just getting into my prime right now and I have to take advantage of that," Gardner said. "With nothing going on in Canada I just got tired of waiting around and my goals and what I want to accomplish are in the states right now. I just forced myself to get down here and put my name down and enter."
"Right now I am just focusing on the PBRs, but I did buy my PRCA card," Gardner added. "I want to get my qualifications up so I can make a run at the NFR next season making those big winter rodeos. The goal for this year is to make the Top 35 in the PBR and make the PBR World Finals by the year's end.
"Each weekend in April I will be going to one. Maybe some rodeos here and there. In May I am still working to get some stuff lined out. I am planning on being down here for a couple months, make a bit of a run out of it."
Traveling with PBR Canada veteran campaigner from Priest River, Idaho, Thor Hoefer II, as well as having Claresholm, Alberta's Logan Biever competing at the same events is nothing but an advantage for Gardner, who says having guys you know have your back is essential in the sport, but guys who know how to win is imperative as well.
"Thor is a real good guy. I think it was early winter when he told me to get down there, he had a place and could help me get set up. The whole time he has been good, motivating me to get down here. He is a guy that looks out for his buddies, and he has been setting me up with practices and things. He wants to win so he is a good guy to have around and feed off of."
"Logan has always been a guy that tries till his head hits the ground," Gardner concluded. "Every time he nods his head, he gives a guy motivation to do just as good. He is a good guy to feed off of, because of that cowboy mentality of never let go. He knows how to win. You can feed off that and build each other up."
Both Gardner and Biever are next schedule to compete on the Touring Pro Division on April 2-3 in Ivins, Utah, for the PBR at Tuacahn Amphitheatre.