#InCaseYouMissedIt: Two Winners for the Price of One, Lockwood Bounces Back and More
By: Darci Miller Monday, March 15, 2021 @ 3:12 PM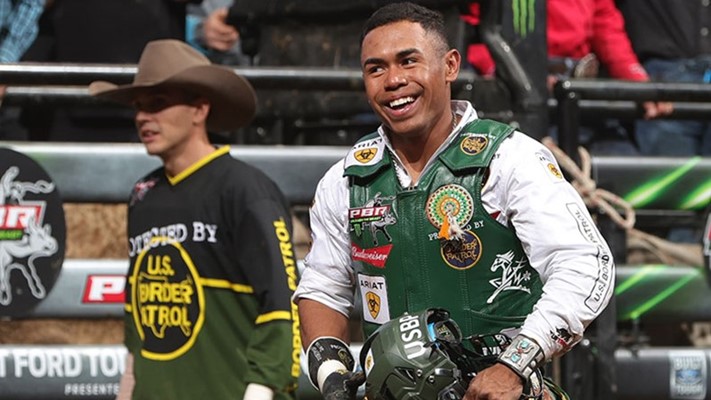 COLORADO SPRINGS, Colo. –What's better than one premier series event winner? Two premier series event winners. Plus, Jess Lockwood didn't let a potentially broken hand slow him down, Rodrigo Melgar made history and a lengthy buckoff streak came to an end. Miss a moment of the action this weekend? Here's what happened around the PBR.
On the Unleash The Beast…
2018 World Champion Kaique Pacheco had a banner weekend in Glendale, going 3-for-3 at the PBR Built Ford Tough Invitational, presented by Cooper Tires, to surge to No. 2 in the world standings.
He's inching closer to world No. 1 and 2016 PBR World Champion Cooper Davis, who won Round 1.
You know who else had a banner weekend in Glendale? Keyshawn Whitehorse, who earned the first premier series event win of his career as the event begun in Del Rio, Texas, finally concluded… 27 days after it started.
Rodrigo Melgar made history this weekend, becoming the first Guatemalan bull rider in PBR history to earn a qualified ride on the premier series.
Joao Henrique Lucas may have been left with Struttin Stuff as the last pick in the championship-round draft, but he made the 8 to end the bovine's premier-series buckoff streak at 31.
It's been a rough season so far for two-time World Champion Jess Lockwood, who likely now has a broken his free hand. But he bounced back to deliver an 88.25-point ride aboard Rising Sun.
Lockwood was far from the only rider to keep the PBR Sports Medicine team busy this weekend. The list of injured riders includes Jesse Petri, Joao Ricardo Vieira, Cody Teel, Derek Kolbaba and more.
PBR fans may recognize Zoel Zohnnie from the "Be Cowboy" campaign, but during the pandemic, Zohnnie was putting those cowboy values to work in the Navajo Nation.
Through the lens with Andy Watson and BullStockMedia
Check out the best photos from day one, day two and day three in Glendale.
Social spotlight
That sky though! 
We vote bull rider.
#MondayMotivation from Daylon Swearingen!
Looking ahead
The Unleash The Beast next heads to Kansas City, Missouri, for the PBR Caterpillar Classic on March 20-21 (RidePass on March 20 at 7:45 p.m. ET and March 21 at 2:45 p.m. ET; CBS Sports Network on March 20 at 2 p.m. ET and March 21 at 8 p.m. ET).
The Pendleton Whisky Velocity Tour is back in action in Pensacola, Florida, with the Pensacola Classic on March 20-21 (RidePass on March 20 at 8 p.m. ET and March 21 at 3 p.m. ET).