#InCaseYouMissedIt: It's The Jose Vitor Leme Show in Fort Worth, Rank Bull Pen Dominates and More
By: Darci Miller Tuesday, March 2, 2021 @ 11:01 AM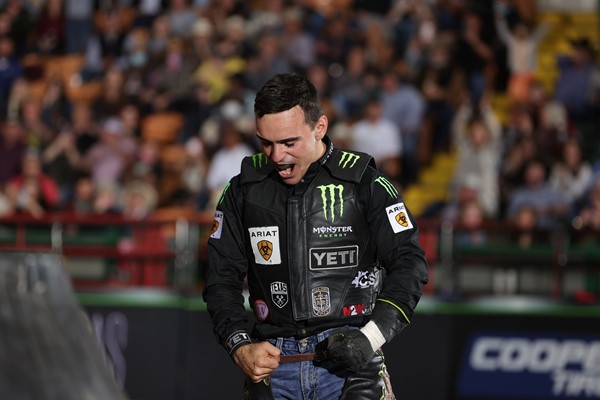 Did you miss Jose Vitor Leme? We know we did. The 2020 PBR World Champion was back in action in Fort Worth and teamed up with a familiar foe to make some 90-point magic. Plus, Chiseled led a bull pen that meant business and the world title race lost a contender to injury. Miss a moment of the action this weekend? Here's what happened around the PBR.
On the Unleash The Beast…
On his very first bull of the 2021 season, Jose Vitor Leme broke his ankle. On his very first bull back from that injury, he won Round 1 in Fort Worth.
The brand new dad dedicated that performance to his newborn son, Theodoro. (Go ahead, say "aww." We know you want to.)
Though Leme was bucked off in Round 2, he rebounded in the championship round to ride Woopaa – the bull on which he clinched his world title – for a whopping 94.75 points, clinching his first event win of the season.
Woopaa wasn't the only bull to show up in Fort Worth. Chiseled led the way among the bovines with a 47-point bull score, Smooth Operator carried Taylor Toves to a 92.75-point ride, and did you SEE that championship round?
It wasn't all good news in Fort Worth, though, as Brennon Eldred will be out 4-6 weeks after breaking two ribs and sustaining a partially collapsed lung.
It may only be March, but it's never too early to start planning for the 2021 PBR World Finals on Nov. 3-7! We're heading back to Vegas, and tickets go on sale on March 3.
Meanwhile, on the Pendleton Whisky Velocity Tour…
Hunter Ball won Round 1 at the Collision at the Coliseum in North Charleston, South Carolina …
…but it was Jesse Petri going 3-for-3 to earn the first event win of his PBR career.
Through the lens with Andy Watson and BullStockMedia
Check out the best photos from night one and night two in Fort Worth.
Social spotlight
You heard the man! 
Blessing your day with some inspiration. 
Now THAT is a face we're always happy to see! 
Looking ahead
After a one-week break, the Unleash The Beast heads to Glendale, Arizona, for the PBR Built Ford Tough Invitational on March 12-14 (RidePass on March 12 at 7:45 p.m. ET, March 13 at 8:45 p.m. ET and March 14 at 3:45 p.m. ET; CBS Sports Network on March 13 at 11 p.m. ET and March 14 at 10 p.m. ET).