#InCaseYouMissedIt: Campbell Lights Up Kansas City, Leme Rides For Fourth Straight 90 and More
By: Darci Miller Tuesday, March 23, 2021 @ 3:41 PM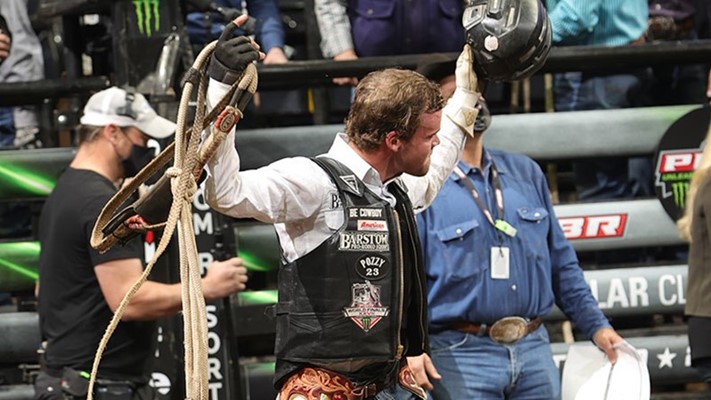 COLORADO SPRINGS, Colo. – Boudreaux Campbell impressed when he won the 2020 PBR World Finals, but the first premier series regular-season event win of his career may have been even more stunning. Plus, Cooper Davis further distanced himself atop the world standings, the Pendleton Whisky Velocity Tour welcomed an old friend back to the winner's circle, and will Jose Vitor Leme ever score below 90 points again? Debatable. Miss a moment of the action this weekend? Here's what happened around the PBR.
On the Unleash The Beast…
2020 Rookie of the Year Boudreaux Campbell winning his first regular-season premier series event in Kansas City may not have been a shock. His 95.5-point ride on Woopaa, however, was eye-popping.
Despite competing in just his third event this season, reigning World Champion Jose Vitor Leme cracked the Top 10 of the world standings… and all four of his rides this season have been for 90 or more points.
You want more 90s? You got it! 2016 World Champion Cooper Davis rode Chiseled for 94 points in the championship round to remind everyone why he holds the world No. 1 ranking.
The last time we saw Andrew Alvidrez, he was leaving Tulsa, Oklahoma, last October with a broken neck. In his return to the premier series, Alvidrez rode Charmer for a fifth-place finish in Round 1 in Kansas City.
Lucas Divino and Ezekiel Mitchell each missed the championship round in Kansas City due to injury, while Eduardo Aparecido competed with one.
Meanwhile, on the Pendleton Whisky Velocity Tour…
Michael Lane and Cole Skender tied for the Round 1 victory at the Pensacola Invitational…
…but it was nine-time PBR World Finals qualifier Shane Proctor who took the event win.
Through the lens with Andy Watson and BullStockMedia
Check out the best photos from day one and day two in Kansas City.
Social spotlight
Start 'em young! 
Stylin' and profilin'.
We're here for the old guys, tbh. 
Looking ahead
The Unleash The Beast rolls into Louisville, Kentucky, for the PBR Louisville Invitational on March 27-28 (RidePass on March 27 at 6:45 p.m. ET and March 28 at 1:45 p.m. ET; CBS Sports Network on March 27 and 28 at 8 p.m. ET; CBS on March 28 at 12 p.m. ET).