Coy Robbins Undertakes Mental Toughness Challenge in Support of Ty Pozzobon Foundation
By: Covy Moore Wednesday, March 3, 2021 @ 11:10 AM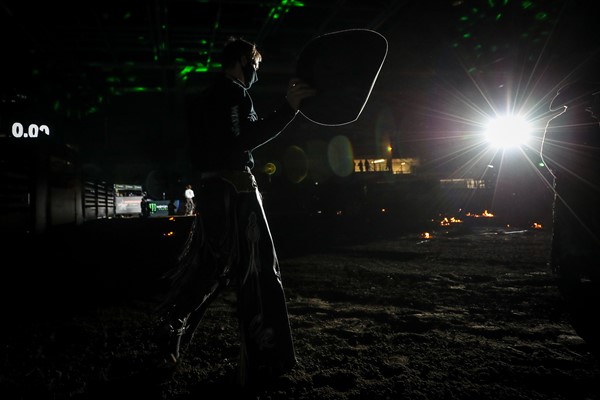 AIRDRIE, Alberta – For 2017 PBR Canada Rookie of the Year Coy Robbins, the last several seasons have been tough. Undergoing four surgeries for two separate injuries, the Medicine Hat native has been through the ringer.
In 2020, Robbins returned to competition in the latter half of the abbreviated season, going 1-for-6 and registering a Top-10 finish at one of the four events that comprised the year's Canadian Finals.
Also starting a business in late 2020, Robbins says that the difficult year taught him heaps, primarily that a backup plan is needed at any age in professional bull riding.
"It all made me realize how bad I do want to ride bulls," Robbins began. "Not that I every really questioned how much I want to ride bulls, but this past year put it into perspective."
"Working for a living isn't nearly as fun as traveling to new places with your buddies to get on bulls. I don't like plan B, because it's a sore excuse for not believing in yourself, but you do need something that can get you through financially in different times. Times of injury or a pandemic."
"COVID fast tracked it to where I started my own company, Proline Ranch and Livestock Supplies, in September. Just been doing that since then."
In 2021, Robbins is undertaking a new endeavor -- the 4x4x48 challenge where he'll attempt to run four miles, every four hours, across a 48-hour time span starting at 9:00 p.m. on Friday, March 5.
Without a ton of events to look forward to, and getting too comfortable in his current workout routine, Robbins was looking for a challenge, and an adrenaline rush, and the David Goggins-created challenge was perfect.
And while Robbins says running is a part of his normal routine, something of this magnitude is going to test him physically and mentally.
"He talks mental toughness and proving to yourself you're capable of a lot more than you think you are," Robbins said of Goggins. "This is going to be hell. I have been training about five days now where I am trying to get the four miles in, or more, in a rather timely manner.
"I am running at a pace of about 40-45 minutes for four miles, which means I will have about a three-hour break between each four-mile leg. I have already started to realize that I am a heck of a lot more capable than I thought. It's clear to me that I have been operating far from my full capacity. That's true with all humans, we all put limits on ourselves."
With giving back an element for most social media-based challenges, Robbins quickly decided to use his undertaking as a platform to raise funds for the Ty Pozzobon Foundation.
"It's close to home for us because they aim at assisting cowboys and western lifestyle athletes," Robbins said of the Ty Pozzobon Foundation. "But specifically, Sports Medicine helps us all through everything in this sport, and I frequently need them for a 21-year-old. The Ty Pozzobon Foundation really helped me look for someone to talk to about depression and anxiety in 2019 as well. They helped me in times of need. It's not the biggest goal, I set $2500 as my fundraising goal. I know times are tough, so even just a simple share on social media is more than enough.
"Sharing anything that highlights mental health, mental toughness and the Ty Pozzobon Foundation is great. I think I am at about $2200. Still about 10 days out too. I am grateful to be able to give back to the foundation that has helped me in definite times of need."
"Everyone in this world has or has known someone who has struggled with mental health," Robbins continued. "I am not even saying diagnosed depression or anxiety, but just being overwhelmed with stress, or just being down and out.
"So if there is someone like myself presenting something to help raise that awareness, you may think you're doing it for me, but when you donate that $5 or click the share button, someone in need might just see that, click on a link and end up at the Ty Pozzobon Foundation website and watch one of their videos or something that helps out with something going on in their life."
To donate or keep up to date on Robbins' challenge slated for March 5, visit the Mental Toughness Challenge in support of the Ty Pozzobon Foundation on Facebook.