Aaron Roy Confident in Bid for Fourth Career National Championship in 2021
By: Covy Moore Wednesday, March 17, 2021 @ 11:56 AM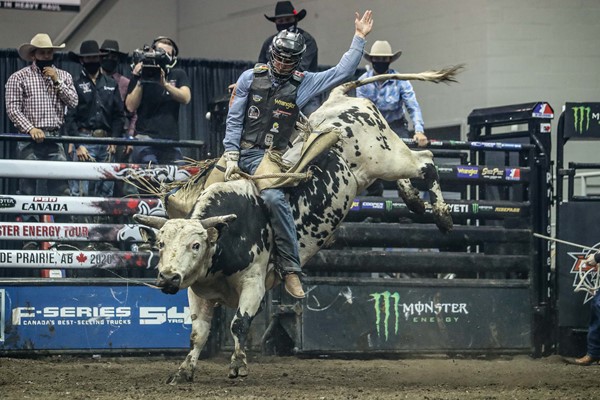 AIRDIRE, Alberta – Despite finishing a disappointing No. 8 in the 2020 PBR Canada national standings, three-time champion Aaron Roy says last season was business as usual, despite the slower paced schedule.
"There wasn't that much downtime for me really," Roy recalled. "I was still going to three of four a month, between little practice pens and smaller jackpots around here. I never really stopped getting on bulls. It was kind of an average year for me for the amount of things I went to."
"This sport is still growing, people still want to do it," the veteran competitor continued. "There are a ton of guys that want to get on bulls, and even in a pandemic it shows. There are guys doing anything to get to get on and going anywhere to get on bulls."
While skipping a handful of events during the 2020 season was a factor in Roy's end of year rank, the 33-year-old is quick to point to consistency being the key to success, a concept demonstrated the year's eventual champion Dakota Buttar.
"It is going to take consistency. I had some bad goes last year at a couple events and that I think that is what cost me. I was still in the Top 10, and I didn't go to some events that guys went to," Roy said.
"It just takes consistency to win this thing. Dakota proved it. He stayed on however many bulls, he rode awesome all year, and he was the Canadian champ."
The 2020 PBR Canada Finals were not exactly picture perfect for Roy.
Going 3-for-5 across the three-day, four-event stretch, Roy says he has all but forgotten about last season's finals, and is focused on looking forward.
"For a pandemic, it was nice having a few fans there to watch," the Saskatchewan native said. "Every event really felt like a practice pen all year without fans. You use them to get hyped up when you are getting on. It was a great event, it was well produced."
"Bulls were good, and guys really came to ride."
Since the 2020 PBR Canada Finals Week, Roy has been working and coaching his son's hockey team.
With one practice pen under his belt already in 2021, Roy says he will be ready for whenever restrictions allow for events to resume.
"I have been keeping pretty busy, coaching the kids playing hockey. Between work and that it has been busy. I have been to a practice pen already this year. It felt good to get on, I haven't been on since the finals. I made two pretty good rides.
"When they do give us the go ahead, I will be ready. Everybody will be hungry, but I will be hungrier."
Having competed with the PRB for going on 16 years,  Roy is one of, if not the most experienced contender within the PBR Canada ranks.
And with that status comes the questions of retirement.
However, for Roy, he says he won't consider retirement until he doubts his ability to beat the competition. And with 31 90-point rides, 39 event wins and a trio of PBR Canada titles, Roy says he is confident in his ability to outperform the competition to this day.
"Right now I know I can still compete and beat all the guys in PBR Canada. I will still be going until I have a doubt in my mind that I can beat those guys. You won't see me again at that point. But for me, right now, I am here to win the Canadian Championship again."