Jared Parsonage Looks Towards 2021 PBR Canada Championship After Winning Season-Launch Event
By: Covy Moore Wednesday, June 16, 2021 @ 3:02 PM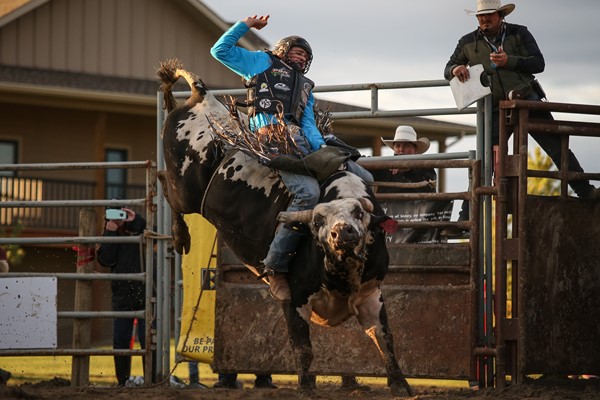 AIRDRIE, Alberta – The 2021 PBR Canada season is officially underway.
With two days of Touring Pro Division competition at the Tanner Byrne Invitational, presented by Lipsett Cartage, in Prince Albert, Saskatchewan in the books, Jared Parsonage is now atop the national standings after emerging the victor amongst the more than 40 entered contenders.  
The Maple Creek, Saskatchewan cowboy went a perfect 2-for-2, riding Flying Four Bucking Bulls' Turn Back Time for 88.5 points in the opening round, followed by an 88-point effort aboard annual Bull of the Year contender Finning Lil Shorty in the championship round. 
RELATED: Jared Parsonage Wins Season-Launch PBR Canada Event in Prince Albert
"The second day I drew in and knew I had a chance to win the long go, or should win the long go, [on Turn Back Time.] I saw that bull the day before, I knew he would fit me good," Parsonage said. "He is what I like. Right into my hand and that big and strong type of bull. It was good. It's an opportunity a guy has to take." 
"He was around last year, he wasn't that big, a bit calfy last year," Parsonage continued. "He has really grown up. I knew I would like him. He comes out there and kicks really hard and goes left -- makes a guy work for it the first round, then it's smooth sailing. He kicks and spins in the same path. You can't stub your toe, but if you do your job you can be a bunch with him."
Matching up against the flagship Flying Four bucker Finning Lil Shorty as the top-seeded rider in the championship round on the second day of action, Parsonage said those are the situations where you know you can win, but the pressure is on you alone. 
"That would be the expectation," Parsonage explained. "But there is quite of bit of pressure with that one cause he is such a good bull. He bucks, he gives you that same kind of jump that's good to ride. There aren't any dirty tricks or anything. When you get into a position where you expect to win, you have to be riding those kinds of bulls if you want to be at the top level."
And Finning Lil Shorty was a familiar foe for Parsonage. He first drew the bull during the 2020 PBR Canada National Finals Week in October 2020 bucked off in a close 6.52 seconds.
This time, however, Parsonage reversed his fortunes.  
"He did his job, he kicked and spun. The pressure was really just on me, because I knew he would do his. It was all in my hands, put it that way."
Parsonage left the Byrne Ranch having earned 27 national and 15 world points, catapulted to the top of national standings.
Now 10 points ahead of No. 2 Zane Lambert and 10.67 points ahead of No. 3 Nick Tetz, Parsonage admits that he doesn't really seek out practice bulls to shake off the rust, instead relying on the high-pressure moments like the one he found himself in in Prince Albert. 
"There is getting on practice bulls, and that's all fine and dandy, but that's not putting yourself in those pressure situations for money, against top guys," Parsonage explained. 
"It's those pressure situations like Lil Shorty there, where you have to do your job, the event and the money is on the line. That's how you get back sharp riding bulls, is putting yourself in those pressure situations."
Parsonage will be heading stateside for a run of rodeos before competing in the upcoming Calgary Stampede.
His plans for the year consist of earning the qualifications to enter some of the bigger rodeos in the states, while banking on competing across the PBR Canada tours as that schedule continues to shape up. 
The calculated cowboy added that while working towards those big rodeo events in the states can be a slog, he enjoys the importance the PBR puts on all its events across the Touring Pro Division and elite PBR Canada Cup Series. 
"On the PBR end of it a guy can really manage it well up here," Parsonage continued. "The schedule isn't crazy busy down south either on the Touring Pro side. I want to hit some rodeos down there and get some qualifications towards San Antonio and Houston and places like that.
"Once our televised and big events get rolling up here, there are really great opportunities to make a lot of points, even with these Touring Pro events. They are all kind of the same on the points side of things, while going to a $4,000 rodeo isn't the same as going after those $25,000 rodeos." 
"Honestly, it's like being a rookie again down there, trying to set yourself up for next year."
After a tough year that saw some fan less events or minimal attendance events happening, the Tanner Byrne Invitational melded the backyard bull riding event with the ability to bring in more and more spectators as restrictions continue to ease in Canada. 
For Parsonage, he has nothing but praise to heap on Tanner Byrne and his family for building a successful and safe event. 
"It's awesome. All the credit to him and his crew for all the work they put in. They know what they are doing. They are full blown professionals," Parsonage concluded.  
"They ran a great event. I have nothing but good things to say about them, that whole crew there, Ryan [Byrne] and Rusty [Clunie] and those guys. I don't know if all the setup is as stressful as the wondering what you can and can't do right now. Worrying about that stuff has to be hard. They did a lot of work on that ground the second day as well. Great atmosphere, great set of bulls, great hospitality. Just an overall great event."