Flashback Friday – Back to Bucking as the 2021 PBR Canada Season Gets Underway
By: Kacie Albert Friday, July 2, 2021 @ 9:05 AM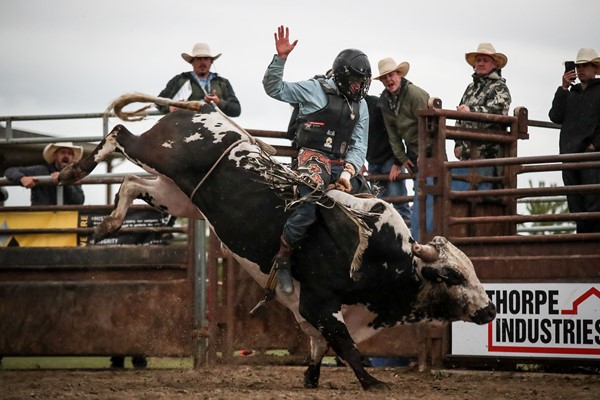 NEW YORK CITY – The month of June brought the return of PBR action in Canada – a moment more than 150 days in the making.
While the Tanner Byrne Invitational, presented by Lipsett Cartage, was definitely one of the highlight moments from the month of June, PBR Canada's finest were busy elsewhere, but on home soil and in the United States.
Today, we look back at the highlights from June as told by the month's can't-miss social moments!
EXTRA, EXTRA, READ ALL ABOUT IT
The month of June saw some significant business news as PBR Canada continues to take the sport of bull riding to new heights in the nation!
One of those deals included bringing select Touring Pro Division events to Cowboy Channel Canada.
And don't forget to get your tickets now!
In the month of June, tickets became available for the Cup Series events in Medicine Hat at Co-op Place, Grande Prairie at Revolution Place, and Lethbridge at ENMAX Centre.
Jesse Byrne also continued his foray into the fashion world, launching Cowboy Couture.
READY, SET, LET'S BUCK!
The 2021 season got underway in electric fashion June 10-11 in Prince Albert, Saskatchewan for the Tanner Byrne Invitational, presented by Lipsett Cartage.
And there was no one more excited that event organizer Tanner Byrne and family, who overcame some of less-than-ideal weather conditions to put on an incredible show!
Following the two days of high-adrenaline competition at the Byrne Family Ranch, Jared Parsonage emerged the victor surging to the No. 1 rank in the race for the 2021 PBR Canada Championship. Let's relive his winning ride!
Two-time PBR Canada Champion Zane Lambert took to the practice pen ahead of the event – a decision which proved dividends. He may have finished second in Prince Albert, but he delivered the first 90-point ride of the year in Canada!
Following Lambert's lead, 2018 PBR Canada Rookie of the Year Nick Tetz also took some time to practice atop some of Nansen Vold's top buckers! He converted those tune-up trips into a third-place finish at the Tanner Byrne Invitational.
Aussie, Aussie, Aussie! Finishing the Top 5 at the season-launch Touring Pro Division Event, Callum Miller is attempting to become the first Australian to be crowned the PBR Canada Champion in 2021.
After a brief trip stateside, Tyler Craig and Ashton Sahli returned to Canada in time for the start of the 2021 PBR season on home soil. Both converting Craig tied for seventh, while Sahli was sixth!
Pulling double-duty, Byrne was also one of the three fearless bullfighters on the dirt for every out. With wrecks undeniable in the sport – check out this save by Byrne as he stepped in the line of fire to protect reigning PBR Canada Champion Dakota Buttar.
HO, HO, HO – IT'S COWBOY CHRISTIMAS
Tis the season for Cowboy Christmas and Canada's finest are ready to rock n' roll!
Lambert got his trusty Ford F-150 tuned up for the miles of road trips that await on the near horizon.
Tanner Eno, who began his season stateside, hit the practice pen for a last-minute tune up.
West got a wardrobe refresh thanks to Wrangler!
CANADIAN INVASION
With the PBR season in full swing in the United States, a new flock of Canadians have travelled south in search of world points and a berth to the 2021 PBR World Finals come November.
One of those riders was no other than annual national title contender Brock Radford. Ahead of the Touring Pro Division event in Deadwood, South Dakota, where he finished third, Radford got a little help from two-time PBR World Champion Jess Lockwood in the practice pen.
However, it wasn't all bucking bulls at Lockwood's! Coy Robbins, Lonnie West, Bryce West and Logan Biever took some time to help out on the Montana ranch.
West also found success in Deadwood, finishing sixth after covering Element 79 for 82 points.
But first, West began his year with a 10th-place result in Kalispell, riding Twisted Mind for 84.5 points.
HAPPY FATHER'S DAY
After celebrating out favorite moms in May, we took a time to recognize Dad and all he's done for us in June for Father's Day. Checkout these shoutouts from Canada's finest including Radford and Ty Prescott.