2020 PBR Canada Champion Dakota Butter Wins Pool A to Advance to Showdown Sunday at Calgary Stampede
By: Kacie Albert Thursday, July 15, 2021 @ 10:32 AM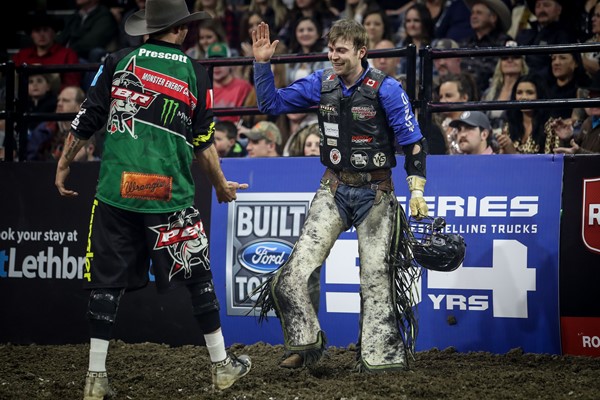 NEW YORK CITY – For reigning PBR Canada Champion Dakota Buttar the 2021 season brought the chance to compete at the Calgary Stampede, his first berth to "The Greatest Outdoor Show on Earth," since 2017.
And while the Calgary Stampede always brings with it an unmatchable energy, this season the 10-day spectacular was met with added sentiment after being cancelled in 2020 due to the COVID-19 (coronavirus) pandemic.
"It's the Calgary Stampede, and just being here in these bucking chutes is pretty good energy," Buttar told Postmedia's Todd Saelhof. "I didn't think it was going to go, but it's pretty awesome that they made it happen."
On July 9, action got underway for Pool A – and Buttar was electric from the moment the first chute gate swung open and the socially-distanced crowds watched on from the iconic Grandstand.
Drawing Unleash The Beast bucker Timber Jam from seven-time and reigning PBR Canada Stock Contractor of the Year Nansen Vold, Buttar delivered a ride many won't soon forget in Round 1.
Matching the powerful red-and-white bull jump for jump, Buttar reached the whistle for a monstrous 90 points, taking to the back of the chutes to celebrate as the raucous crowd erupted in cheer.
Not only was the score the first 90-point effort in the bull riding at the Calgary Stampede, but it also propelled Buttar to the round win, allowing him to surge to an early lead in Pool A.
"I've seen this bull a few times, but I've never been on him," Buttar told Saelhof following. "I was pretty excited to get on him."
As action continued in Round 2, Buttar next faced State Law.
Again reaching the requisite 8, Buttar was scored 89.5 points for his qualified ride aboard the striking black bovine, winning the round and extending his lead in Pool A.
"Both the money and the support are pretty special — it's been a long wait to finally get going in front of fans again, so that's pretty cool," continued Buttar in his interview with Saelhof. "Getting the bull rode and getting the win, that's a bonus."
While Round 3 on July 11 went to the bulls, with every rider registering a buckoff, including Buttar who was dispatched by Devils Child, the Pool A riders found themselves back in the money on their last day of action before the start of Pool B.
For Buttar, he found his name across from that of Jack The Ripper's in the draw.
The 28-year-old concluded the opening rounds of the 2021 Calgary Stampede in successful fashion, covering Jack The Ripper for 83.5 points to finish second in Round 4 and win Pool A.
"It feels awesome to be riding again in front of fans, it was a long wait and I'm happy to be back," Buttar told Cowboy Channel.
As the top earner in Pool A, Buttar automatically advanced to Showdown Sunday on July 18, when the Top 10 bull riders will duke it out for the title of 2021 Calgary Stampede Champion.  
Current PBR Canada No. 1 and 2018 Champion Cody Coverchuk and No. 4 Garrett Green also advanced from Pool A, alongside JC Mortensen and Denton Fugate.
Battling a potential kidney injury which kept him out of competition for Round 2, Coverchuk's 84.5-point ride on Red Jam in Round 1 secured him a second-place finish in Pool A.
Green reached Championship Sunday also via his Round 1 ride. Covering Duck Soup for 82.5 points, the Meeting Creek, Alberta-native split fourth-place in Pool A with Fugate.
Pool A also included the likes of two-time PBR Canada Champion Zane Lambert who narrowly missed an automatic berth to Showdown Sunday, finishing fifth. 
While the Ponoka rider went 1-for-4, riding Shameless for 81 points in Round 1, Lambert will get a second chance to contend for the event title on Wild Card Saturday when the final two positions at Showdown Sunday will be on the line.
The remaining 13 riders who qualified for the 2021 Calgary Stampede began their campaign for the event victory July 13 when Pool B got underway.
Featuring a deep roster of talent, the Pool B field includes Jared Parsonage, currently tied for No. 2 in the PBR Canada national standings, and 2019 PBR Canada Champion Daylon Swearingen, in addition to Cup Series regulars Jordan Hansen, Edgar Durazo and Lonnie West.
Stay tuned to PBRCanada.com and follow the tour on Facebook (PBR Canada), Twitter (@PBRCanada), and Instagram (@PBRCanada) for the latest results, news, stats and more.