Logan Biever Riding Momentum from Texas to South Carolina
By: Covy Moore Friday, January 22, 2021 @ 9:45 AM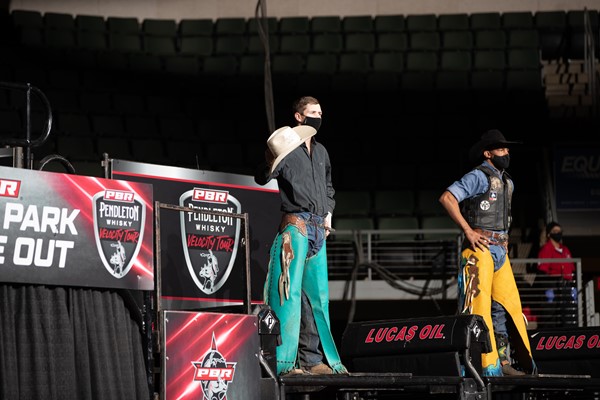 AIRDRIE, Alberta – To begin the 2021 season, Claresholm, Alberta's Logan Biever made his way south last weekend, launching a three-month competition run in the United States, chasing PBR World Points, and staying warmed up ahead of a mid-year PBR Canada kickoff. 
His season debut – the first Pendleton Whisky Velocity Tour event of the new year in Cedar Park, Texas, Jan.15-16.
Matching up against Winston Bucking Bulls/Melton Bull Co.'s Perfect Pistol in Round 1 of the Lone Star State tour stop, Logan's grit was on full display, reaching the requisite 8 for a runner-up 87.5 points.
While he was unable to convert in either of his outs on the second day of action, Biever says he is happy with the start to what he hopes is a busy year. 
"It was unplanned for the most part," Biever began. "I didn't want to see this year go like last year with a few less events. I wanted to go a lot harder, and right now, there isn't anywhere better to go to get on bulls right now. It is going to really prepare a guy for when our events come along. This is hopefully going to put me where I am already in a good spot when we get events going."  
"Get in good shape and be ready," he continued. "Hopefully come back and get some Canadian events won and go for that title. It just keeps the fire fueled for me."
RELATED: Claresholm-Native Logan Biever Eighth at PBR Velocity Tour's Cedar Park Chute Out in Texas
Going 1-for-3, Biever finished eighth overall, netting four world points and $867.90. He is now tied for the No. 43 rank in the PBR world standings, 126 points behind No. 1 Mauricio Moreira.
While each event's goal will be to ride every bull that is run under him and take home the title, Biever said the biggest lesson he wants to take away from his time stateside is consistency. 
"Our bulls are not any worse than the bulls down here, not at all," Biever began. "The Canadian bucking bulls are great. But the number of bulls you can get on and win on are different up there to down here. There are only a couple dozen bulls you can be 90 on. And really, if they are that good consistently, they are coming down to the states anyways."
"But I am hoping this helps me with my consistency with that level of bull so that when I get home and have those opportunities to get on those bulls I can capitalize on them," he added. "Get that pretty big score. It won't be foreign because that's the caliber of bulls you are used to getting on."
This weekend, Biever will be in Greensville, South Carolina, for the Pendleton Whisky Velocity Tour's Greenville Invitational Jan. 22-23 at Bon Secours Wellness Arena.  
Eager to return to action, Biever says that once you get that first event or two out of the way, the other riders' unfamiliarity begins to fade. 
"I am feeling pretty good," Biever said. "It's definitely nice to be going to back-to-back events again. It's been a little while. I have come down to the States before, but it's usually just for the weekend. You don't come back right away because of the Canadian events going on." 
"This will be a good routine for me to get into," Biever concluded. "These back-to-back events and get to a point where you are rolling into these events and things are more familiar to you."
"You are in a different country and all, so there are nerves. But I am ready to get rolling into this one this weekend, feeling confident and ready to have fun. That's going to be the best thing to help me win this weekend."
Fans can watch all the action from the Greenville Invitational LIVE on RidePass, at RidePass.com, or via the mobile app. The LIVE stream will begin at 8:00 p.m. EST on Friday, January 22, and 7:00 p.m. EST on Saturday, January 23.