Foley Proud of Canadian-Raised Bovines Trips at Season-Launch Unleash The Beast Event
By: Covy Moore Wednesday, January 27, 2021 @ 10:56 AM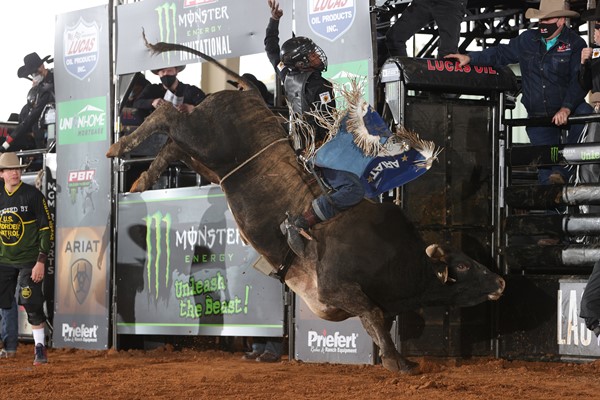 AIRDRIE, Alberta – For those in Canada and around the world, who may have never heard of Foley Bucking Bulls, you will know the name now.
The ultimate goal of any stock contractor in the bucking bull business is to have their animal athletes showcased on the world stage.
And for James Foley, that moment occurred Jan. 16-17 in Ocala, Florida, for the season-launch PBR Unleash The Beast: American Roots Edition event.
The sixth-year stock contractor from Lloydminster, Saskatchewan, recently sold Black Beetle, a coming five-year-old bucker from their herd to K-C Bucking Bulls, based in Mt. Orab, Ohio. Additionally, Foley also decided to send one of his standout four-legged athletes, Firebeatz, down as well for some experience and to market to the stateside bucking bull industry.
At the PBR Monster Energy Invitational, Black Beetle matched up against Cody Teel, dispatching the Texan with a 42.75 score, while Firebeatz carried Ezekiel Mitchell to an 85.75 score and a berth to the championship round.
For Foley and his family, this past weekend was "the cherry on top" of the years of work they have put into their program.
"When a bull that we raised bucked at the UTB level, that was really the cherry on top of the cake," Foley began. "That made my program what it is to me right now. I don't put this all on myself either. My dad is a huge part of this operation. He runs the tractor, does a lot around here."
"That moment Sunday was a cherry on top for all of us. This was hours and hours of unpaid love of the game coming to fruition."
Black Beetle was purchased from another producer in Canada in 2015 as the Foley Bucking Bulls outfit was beginning to form.
"He was raised at our place," Foley explained. "He is from a Derek Adams bred heifer we bought. He has been a pain in my ass ever since he was born. He didn't really buck really good with the dummy. He always had the intensity though. He was always a bull that stayed away from you when you worked him. He was super nervous. I bought him to the ABBI finals as a 2-year-old. We couldn't even load him up."
"We just let him grow up," Foley continued. "He grew up pretty good too. I hauled him to a lower-level event. The first time he had a ride, Shay Marks rode him in Saskatchewan somewhere and was 85-86. He was just out to the right, just a cool bull. Last summer Justin Volz had a jackpot at his place. He ended up being the high-marked bull of the jackpot deal."
After sending some video down south of his more recent trips, the footage was more than enough for K-C to commit to buying him, putting him on the truck immediately.
"Born and raised at our place. He is the first bull hauled to a UTB that I raised, so Sunday was pretty special. Me and the family all watched it," Foley said. "You talk to the guys like Justin Volz and Nansen Vold and those guys, they all tell you it's something special when it's something you raised. But for me personally, I don't give a shit if it's my bull and it's bucking down there - it's special."
The story behind Firebeatz's climb to the top level is similar.
Bought at a cow and calf sale in 2016, Foley hauled Firebeatz to an ABBI just seven days after adding him to his herd.
"He ended up winning that ABBI event," Foley remarked. "He kind of started to get sick and tired of the dummy after a while. By the time the ABBI Finals rolled around, we put the dummy on him, and he literally walked out, four seconds straight to the gate, they tripped the dummy, and he walked out. I looked at him and was like, 'are you kidding me?' He didn't even try to buck. He just didn't care. He just walked out."
"He is bred how you want them to be bred," Foley continued. "Fire Show son. I took him home after that and contemplated what to do. I didn't have many bulls then, so I kept him. I hauled him to a semi-pro event in Lamont, Alberta, and he bucked really well there. I put him out on cows and bred with him.
"When he was four, I started putting him in the classics. He did really well, was second a lot. Might have won one or two. He was a high-marked bull at a few events. I have his sons that are coming two, and I have a couple that are amazing out of him. We are stoked on him, but he has really been more of a herd sire for me."
"He is tame as can be, super quiet," Foley added. "He is almost a pain that he is so quiet. He is a favorite around our place. I hate to say we treat each animal differently, but he is treated like gold because it's so easy."
For Foley, seeing his bulls bucking at the top level has relit a fire in his belly.
With a solid herd of buckers ready to go in Canada whenever events begin to pop up this spring, he is excited to see what the future holds.
"You don't get paid a bunch hauling bucking bulls in Canada," he said. "The guys that do it love the sport, love the animals. That's probably 75 percent why we do it. I think we all have that goal or that drive to raise one that goes to the World Finals, and you get your coat and your 8 seconds of glory saying that's my bull out there," Foley said.
"We raise them to sell them too, to get them to guys that can bring them to the NHL of bucking bulls, the Unleash The Beast Tour."
Fans can relive all the action from the PBR Monster Energy Invitational on RidePass, at RidePass.com, or via the mobile app.