2020 in Review – Top 5 Riders in PBR Canada Competition
By: Kacie Albert Monday, January 25, 2021 @ 3:40 PM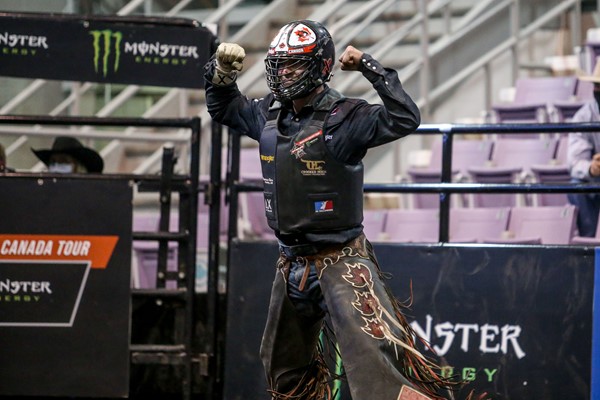 NEW YORK CITY – In 2020, PBR Canada fans may have witnessed one of the most unique seasons in league history, but they also witnessed one for the history books.
Dominant season long, Dakota Buttar emerged the year's national champion, but that wasn't without formidable efforts delivered at every tour stop by both veterans and surging young guns.
Today, we look back at the Top 5 riders from the 2020 PBR Canada national standings.
No. 5 Garrett Green (-289 points)
While he may have finished short of the national championship, Meeting Creek, Alberta's Garrett Green finished 2020 a career-best No. 5 in the national standings. Going 10-for-16, Green concluded his second consecutive season with a head-turning 62.5% riding average.
Beginning the year in his home province, the now 28-year-old rode to a runner-up finish at the season-launch PBR Canada Cup Series stop in Calgary.
A month later, Green then rode supreme at the league's second-ever 5/5 Bucking Battle in Lethbridge, covering Vertigo Spy for a season-best 88.5 points.
However, Green's momentum was quickly haulted with the onset of the COVID-19 (coronavirus) pandemic, as the sport's world was put on pause in the days that followed the Lethbridge event.
Following a 138-day hiatus from competition, PBR Canada resumed action on July 23 in Lethbridge, the very city which hosted the most recent fan-attended tour stop – and Green was quick to recapture his winning ways.
After bucking off in the first event in the double-header at ENMAX Centre, Green won the second, dominating the PBR Built Ford Tough Invitational.
RELATED: Green's Continued Success in Lethbridge Propels Him Up Canadian National Standings
"I was disappointed I didn't win both for sure," Green said at the time. "I shouldn't have let that first bull get me like he did. I had good draws. I wanted to leave there number one, but it is what it is."
"I definitely climbed up a spot and got closer to the number one man. Hopefully we get some more bull ridings here coming up and a guy can get some good draws and get some points wrapped up."
Green left the Lethbridge double-header ranked No. 5 in the nation, and after registering an additional Top-10 finish on the Touring Pro Division, seventh at the Glen Keeley Memorial, qualified for his fourth career PBR Canada Finals.
In the unique three-day, four-event season culminating quartet of tour stops, Green logged one eight-place effort before finishing the season ranked No. 5 in Canada, 289 points behind champion Dakota Buttar.
"I can't thank the PBR enough," Green said of the team that made history in returning LIVE sport to the nation. "We sure appreciate it."
No. 4 Callum Miller (-288.5 points)
Before the 2020 season, Australian sensation Callum Miller had ridden just one year in Canada.
Competing at six events throughout 2017, Miller went 1-for-12, registering just one Top-10 finish, an eighth-place result at his Canadian debut in June 2017 in Moose Jaw, Saskatchewan.
However, the tides turned for Miller in 2020.
Making his season debut at the Calgary PBR Canada Cup Series event, Miller went 2-for-3 en route to a seventh place finish, cracking the Top 20 in the national standings and leaving the Nutrien Western Event Centre tied for the No. 19 ranking.
Miller went on to compete at two additional regular-season events, shut out at both tour stops, however, broke through in Grande Prairie, when the league bucked into the Alberta city for the three-day, four-event PBR Canada Finals week.
RELATED: Two-Time Canadian Champion Lambert and Australian Sensation Miller Split Victory on Opening Night of Competition for 2020 PBR Canada Finals
At the first event, the Warwick, Queensland-native parlayed an 86-point ride on Finning Nikki Sixx and 87-point score on Finning Lil Shorty into his career-first event win, tying for the PBR Shell Rotella Challenge victory alongside two-time PBR Canada Champion Zane Lambert.
As a result, Miller netted 66 national points and surged to No. 10 in the national standings, inching within 243.5 points of the top spot.
In the following events, Miller's momentum continued.
Finishing ninth at the second event, the Aussie concluded the year with back-to-back runner-up results, ending 2020 a career-best No.4 in the national standings, 288.5 points behind champion Buttar.
The now 25-year-old concluded the year having gone 7-for-12 on Canadian soil, covering 58.33% of his bulls.
No. 3 Brock Radford (-241 points)
Since making his league debut in 2013, Brock Radford has been a force within PBR, competing both in Canada and the United States on the elite Unleash The Beast.
And in 2020, Radford was hoping it would finally be his year that he would conclude the Canadian season with his career-first national title.
Radford began his season early, riding at both of the Touring Pro Division events that were held in the 2019 calendar year, but counted towards the 2020 season.
While he was shutout in Dawson Creek, British Columbia, the Albertan finished second in Lloydminster, Saskatchewan, surging to No. 3 in the national standings and rising to within 162.5 points of then No. 1 Buttar.
Radford, who was simultaneously riding stateside on the league's elite tour, then made a splash at the season-launch PBR Canada Cup Series stop, winning the first-ever 5/5 Bucking Battle in Calgary to finish the event ranked No. 2 in the nation.
At what would be the last Canadian event held prior to the onset of the COVID-19 pandemic, the De Winton cowboy finished runner-up in both the main event and 5/5 Bucking Battle held in Lethbridge.
While the league may have then entered a 138-day hiatus from competition, when action resumed, Radford was red hot, winning the historic PBR Cooper Tires Invitational at ENMAX Centre.
"Definitely feels good to be back," Radford said from the dirt inside ENMAX Centre moments after the win. "We've all been sitting at home getting cabin fever, so we're all excited to be back doing what we do. Us riders can't be nothing but grateful. Without PBR Canada, we wouldn't be here today putting money in our pocket."
While Radford was unable to earn additional points throughout the remainder of the regular-season, he closed out the year with one runner-up effort at the Canadian Finals, ending the year No. 3 in the national standings.
And while he may have fell short of his goal of earning a Canadian title, his success in Grande Prairie at the PBR Canada Finals Week allowed him to punch his ticket to the PBR World Finals as an alternate.
Marking his second career appearance at the prestigious event, Radford went 1-for-4 to tie for 19th.
Radford recorded his one qualified ride of the four-day event in Round 1, when covered Stretch for 89 points. The commanding score was a career-best for Radford on the elite Unleash The Beast, and tied for the fifth best of the 2020 PBR World Finals: Unleash The Beast opening round.
For his efforts, Radford earned 32.5 world points and concluded the 2020 season No. 39 in the world standings.
RELATED: Radford Looking to 2021 with Lessons Learned During Tough Canada and World Finals
"I definitely feel like I learned a lesson down there," Radford said. "I gained a lot of confidence being there in general. I am just ready for 2021."
"I need to remember who the heck I am. That is the lesson. I just need to breathe and remember who I am. I need to ride bulls my way. Not get caught up in styles, or think there is a right way to ride the bulls. There is one way to ride a bull, and that is my way."
No. 2 Zane Lambert (-240.17 points)
While two-time PBR Canada Champion Zane Lambert already has his name firmly etched in the league record books, he nearly accomplished yet another milestone during the 2020 season.
One of the league's most consistent riders, Lambert registered five Top-5 finishes throughout the regular season, punching his ticket to the 15th PBR Canada Finals of his career as the nation's No. 5 ranked rider, 168 points behind No. 1 Buttar.
And once inside Revolution Place in Grande Prairie for the 2020 PBR Canada Finals Week, Lambert mounted what many thought would be a campaign that would net him his historic third national title.
"I think the finals went good," Lambert said. "I started off with some good momentum coming in healthy and feeling good. I kind of got sored up that first day and was riding sore the second day."
On the first night of action, despite sustaining a shoulder injury which would plague him for the remainder of the week, Lambert tied for the event victory alongside Miller.
Going a perfect 2-for-2, Lambert's flawless performance earned him a critical 63.33 Canadian points and allowed him to climb to No. 4 in the national standings.
As the 2020 PBR Canada Finals Week continued, Lambert inched closer to No. 1 Buttar.
Compliments of a runner-up finish at the second of the four season-culminating events, the Ponoka-native rose to No. 2 in the nation.
While Lambert competed in the third event, bucked off by Finning JB Muley in 6.44 seconds, his shoulder injury sidelined him for the final event of the year.
RELATED: Lambert Looks to 2021 After Runner-Up Effort in 2020
 "I rode good, things were clicking really good," Lambert said following the event. "Came a little short for that title, but I definitely put some pressure on Dakota Buttar and made it so he had to ride there. He rode really good though. If he let me, I was there to steal it from him. He didn't, so good on him, happy he got that title he set out to get."
"Came a little short on the season," the 34-year-old added. "That is my goal too, so it would have been good to win. I think I ran out of bulls. I think if we had kept rolling I could have got him, and the season was a little shorter this year. There were 5/5 bulls that I wasn't able to get on, which put me behind by three bulls. But at the same time I messed up on a couple too, so I can't complain. Good race, good season, short but sweet."
"Ride everything you get on," Lambert said of his approach for 2021. "Try every time you go at it and get as many points you can. They add up over time. That's been the story of my career is that it all adds up. I always get on more bulls than everybody, pick away and pick away at it, and have always ended up in the race somehow."
No. 1 Dakota Buttar
In 2020, not only did Dakota Buttar actualize his dream of earning a PBR Canada Championship, but he did so in historic fashion.
After falling just short of the national title in 2019, Buttar began the most recent year in championship form, winning the first three events on Canadian soil he entered. Beginning the streak in Lloydminster, Saskatchewan, for one of the first Touring Pro Division stops of the year, Buttar then logged back-to-back wins on PBR Canada's Cup Series, dominating the field in both Calgary and Lethbridge, Alberta.
As a result, he surged to a dominant 100.5-point lead atop the national standings as the world was put on pause in response to the onset of the coronavirus pandemic.
Following a 138-day hiatus, PBR Canada competition returned on July 23 in Lethbridge, Alberta with a double-header event. In addition to resuming action with a three-event win streak, Buttar had also covered his last 10 consecutive bulls, and was eyeing the record for most bulls ridden in a row.
RELATED: Buttar's Canadian Record Streak Ends at 11, But Pursuit of a Championship Continues
Despite seeing both streaks broken, Buttar still left Lethbridge atop the national standings, then 67.5 points ahead of No. 2 Radford.
"I was never too worried about it," Buttar said of his ride streak which ended at 11. "I was trying to make each bull count as much as I could. Looking back it's a pretty cool feeling to have a streak like that, and then to find out I was tying my own streak.
"It did help push me a little bit. Deep down, I wanted to push that streak as long as I could. I think everyone would. No one likes bucking off. But for me, it was about getting those points and placing high."
As the regular-season continued, Buttar logged one additional event win, victorious at the prestigious Glen Keeley Memorial, ahead of the PBR Canada Finals Week.
 "As long as we could have finals, I was going to be pushing for a PBR Canada title," Buttar explained. "I just let one bull get away from me and that's all it took in 2019."
At the first event that comprised PBR Canada Finals Week, Buttar extended his lead atop the national standings, finishing third to out-distance the No. 2-ranked rider from 99.5 points to 137 points.
Then, on the second day of competition, Buttar cemented his victory when he won the PBR Wrangler Chute Out.
As the season concluded, Buttar punctuated his historic season with a win at the PBR Built Ford Tough Championship, leading him to finish the season as the 2020 PBR Canada Champion, 240.17 points ahead of No. 2 Lambert.
RELATED: Reigning Canadian Champion Dakota Buttar Reflects on Historic 2020 Season
"This year we were pretty limited, only so many bulls, so they all really counted," Buttar added. "When there are not as many events in a year as normal, one bull can make a big change, so I tried not to let any bull get away from me. I wanted to use every draw and get the most out of every one of them."
One bull in specific was instrumental in Buttar's rise to national glory – Tykro Pound Sand.
Attempting the bull four times in 2020, all resulting in scores, three of his matchups with the bovine athlete propelled Buttar to an event win.
RELATED: Wild Hoggs Bovines "Pound" The Competition
"I owe a lot to that bull, especially for this year," Buttar said.
"I got a fair amount of my wins on that bull this year and won a lot of money. Not saying there weren't other good bulls I couldn't have done the same on, but he definitely pulled through every time I got on him. He was always his honest self."