2020 in Review – Top 5 Bulls in PBR Canada Competition
By: Kacie Albert Monday, January 11, 2021 @ 3:01 PM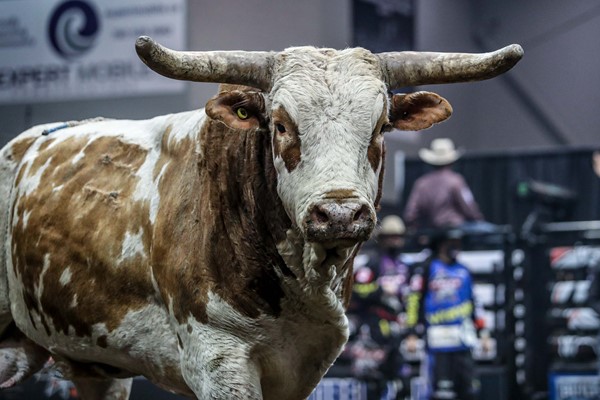 NEW YORK CITY – While the competition season may have been limited in 2020, the bovine athletes were standout each time the chute gate cracked open.
With the bull pen led by Catch My Drift, today we'll look back at the Top 5 bulls from the 2020 campaign and their top outs from the season.
No. 5: Tykro Pound Sand (Wild Hoggs/Corey Chmelnyk)
Concluding the season with a 43.2-point average bull score, Wild Hoggs' standout Tykro Pound Sand ended the year No. 5 in the national standings.
The striking bull often found himself paired with 2020 PBR Canada Champion Dakota Buttar, propelling the Saskatchewan native to three of his event wins.
Pound Sand began the season in dominant fashion, marked a season-best 44 points when he teamed with Buttar for an 88-point score. Later in the season, Tykro Pound Sand duplicated the 44-point effort, once again being covered by Buttar, but this time for a 90-point score at the prestigious Glen Keeley Memorial.
RELATED: Wild Hoggs Focuses on Their Future Buckers During Abnormal 2020 Season
The black-and-white bull's season ended with two trips at the 2020 PBR Canada Finals Week. Covered by Buttar for 86.5 points in his first out to earn a 42.5-point bull score, Pound Sand's last trip of the year was against Wyatt Gleeson, bucking off the Albertan in 2.4 seconds to earn a 43-point score.
While the outs did not impact Tykro Pound Sand's standing in the Canadian rankings, he earned two trips on the elite Unleash The Beast in Nampa, Idaho, in October. Marked 42.5 points and 41.75 points, respectively, Pound Sand was first ridden by Junior Patrik Souza for 87 points before tossing Bradley Brittain in a quick 4.87 seconds.
No. 3 (tie) Finning Lil Shorty (Flying Four Bucking Bulls)
After being crowned the PBR Canada Bull of the Finals and earning a World Finals selection to end 2019, Finning Lil Shorty was consistently rank in his handful of appearances at PBR events throughout 2020.
Concluding the year tied for No. 3 in the national standings, Finning Lil Shorty bucked to a 43.3-point season average.
Finning Lil Shorty's top trip of the year was earned on home soil competing at the Tanner Byrne Invitational in Prince Albert, Saskatchewan in August. Drawn by Lonnie West, the two danced for an 89.5-point score as Finning Lil Shorty was marked 44 points.
The Flying Four bull's season once again wrapped with a strong performance at the PBR Canada Finals Week. Twice marked 43 points, Finning Lil Shorty was taken to the whistle in both outs, ridden by Callum Miller for 87 points and Buttar for 88 points.   
No. 3 (tie) Timber Jam (Vold Rodeo)
Tying with Finning Lil Shorty for the No. 3 ranking in 2020 amongst Canada's top bulls was Vold Rodeo's Timber Jam, with the bovine's season determined greatly by his performances at the league's Finals Week.
Timber Jam concluded the regular-season tied for No. 11 in Canada, amassing a 42.5-point average.
His regular-season efforts were highlighted by a 44-point score earned in Lethbridge, Alberta in March when he bucked off Kache Moosman in 3.2 seconds, and a 43-point score in Ponoka, Alberta, later that year when he dispatched two-time PBR Canada Champion Zane Lambert in 3.75 seconds.
Once inside Revolution Place in Grande Prairie, Timber Jam was nothing short of electric.
Bucking at the first of the four events that comprised the season-culminating tour stop, Timber Jam turned heads, bucking off Shay Marks in 3.43 seconds to earn a 45-point score.
RELATED: 2020 in Review – Top 5 Bull Scores from PBR Canada's Cup Series
The score was not only the top marks from the PBR Canada Finals Week, but the best score from the entire season of competition on PBR Canada's elite tour.
Timber Jam bucked one more out at the Grande Prairie event, punctuating his season with a 44-point, 4.62-second out against Jake Gardner.
Compliments of his strong scores, Timber Jam soared up the standings, surging eight positions to end the year tied for No. 3 with a 43.3-point average.
No. 2 Happy Camper (Two Bit Bucking Bulls)
In 2020, Happy Camper sought history, attempting to become the first-ever, two-time PBR Canada Bull of the Year in league history.
And after a strong regular season, the Two Bit Bucking Bulls' bovine athlete was in the position to do just that.
RELATED: Two Bit Bucking Bulls' Happy Camper and Josh Berezay Hopeful to be First-Ever Two-Time PBR Canada Bull of the Year
In the months leading into the three-day, four-event PBR Canada Finals week, Happy Camper posted three scores in excess of 43 points to surge to atop the national bull standings, locked in a three-way tie with Finning Lil Shorty and Tykro Pound Sand.
In September, his top marks were registered in Ponoka, marked 44 points compliments of his 6.78-second buckoff of Dayton Johnston. Happy Camper's other top scores included a 43-point out in Calgary in January when Jared Parsonage covered him for 88 points, and in Lethbridge in early March when he dispatched Nick Tetz in 2.16 seconds.
The striking brown bull was then electric in Grande Prairie as the unique season came to an end, posting back-to-back 44-point scores, one of which he earned after teaming with West for a 90-point score.
However, despite his best efforts, Happy Camper could not remain atop the leaderboard, surpassed by his fellow Two Bit Bucking Bulls pen mate Catch My Drift for the coveted Bull of the Year honor.
Happy Camper finished the season 0.1 points short of what would have been his historic second title, ending the year with a 43.7-point average.
No. 1 Catch My Drift (Two Bit Bucking Bulls/K Rose Ranch)
After being a formidable force in seasons prior, in 2020, no bull was more dominant than Catch My Drift.
Catch My Drift's regular-season was headlined by a pair of 43.5-point scores, earning the marks in January in Calgary and in Ponoka in September to bookend the year. In Calgary, Catch My Drift was covered by Garrett Green for 88 points, while his Ponoka out was a 5.5-second buckoff of Tyler Craig.
RELATED: Two Bit Nation Bovine Athletes Dominate 2020 PBR Canada Bull of the Year Race
As a result, Catch My Drift concluded the regular-season No. 4 in the nation with a 43.33-point average, 0.17 points behind the No. 1 spot.
Rising to the occasion, Catch My Drift was not only consistent but seemingly unstoppable in Grande Prairie for the PBR Canada Finals Week.
The black bull posted back-to-back 44.5-point scores, bucking off Coy Robbins in 3.19 seconds and Tanner Eno in 2.71 seconds, to surpass those bulls in front of him and be crowned the 2020 PBR Canada Bull of the Year with a 43.8-point average.
 "It was awesome," Two Bit Bucking Bulls' Josh Berezay said. "I thought all the bulls showed up, and when you are not using them like we usually do, it's great when you can put a couple of back-to-back events together. Catch showed up and showed that he was tired of being second."
"Intensity and he was all there. He leaves and rides that gate out of there, then he completely drops out of the sky. When he turned back, he meant it. It was awesome."