Through the Lens – PBR Canada's 2020 Season in Photos
By: Covy Moore Monday, February 1, 2021 @ 9:40 AM
AIRDRIE, Alberta – This past season was a year that will go down in the history books. Every year does, but 2020 is unique in that sports, and everyone else had to adapt. 
PBR Canada shone through, pioneering the return of sporting events in the nation, ensuring that those in our industry had somewhere to compete and work during an unprecedented year. 
For myself, someone who is tasked with capturing still photos from each event along the PBR Canada tour schedule, the year stands out in five specific images. I am not someone who has many favorite photos, but these five are some of the standouts from this past season.
To me, they each tell a story. They illustrate the challenges, the uncertainty, but most of all, the triumphs of 2020.
1. Tanner Eno | Lethbridge, Alberta | 07/12/20
Tanner Eno showed up and showed out in the 2020 season. Finishing the year ranked No. 11, Eno is the son of former bull rider turned stock contractor Darrin Eno, the man behind 2019 PBR Canada Bull of the Year Homegrown. Marking his rookie year, Eno put his work ethic and attitude on display when he matched up with Nansen Vold's World Finals bucker VJV Whiskey Hand during the made-for-television, return to competition events in Lethbridge in July. He would hustle his way to an 87.5-point ride. What I find amazing about this moment is the fact that we produced two performances in one day. This was Eno's last bull of the day, in which the young bull rider had already attempted four bulls previously.

Whiskey Hand seems like a handful but creates very flashy images. This image stands out on the year because of the subject matter, the accomplishment, and the bull power.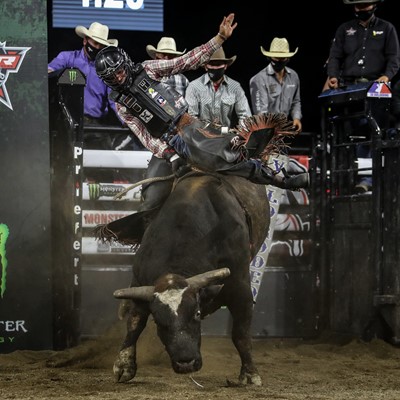 2. Logan Kadlec, Bo Byrne and Tanner Byrne | Prince Albert, Saskatchewan | 08/13/20
Without the pyro splashes, NHL stadium grandeur, and bright lights, the Tanner Byrne Invitational in Prince Albert, Saskatchewan, was one of the limited PBR Canada-sanctioned Touring Pro Division events held during 2020 following the onset of the COVID-19 (coronavirus) pandemic. With regulations allowing organizers to have approximately 200 in attendance for outdoor events, the entire competition and production staff masked up to continue pushing the sport forward.
In this photo, what stands out to me is masks -- 2020 will always be remembered for masks, and I have an entire hard drive full of bull riders wearing masks.
With the backyard bull riding put on by the Byrne clan and not always having the opportunity to be in the alleyway during openings, this photo presented itself. These guys are badasses, masks or not.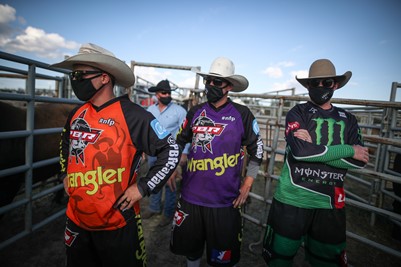 3. Klayton "Mouse" Lakevold | Lethbridge, Alberta | 03/07/20
Before the slowdown, PBR Canada was treated to a visit from injured bull rider Klayton "Mouse" Lakevold. The young competitor was hurt the previous year at an event in Lloydminster, Saskatchewan, and was up against a long recovery from his wreck. With a less-than-optimistic outlook of him regaining his ability to walk, Lakevold has been working incredibly hard to regain that faculty. At this event, he was on-site to present the championship buckle.
With a little help from his friends, Lonnie West and Todd Chotowetz, Lakevold walked into the arena to present the eventual 2020 PBR Canada Champion Dakota Buttar with the event buckle. 
What stands out in this photo to me is community.
Lakevold is young in his PBR career but has the respect of an entire dressing room of bull riders. This image was captured shortly after he arrived with his father, Darcy. Lethbridge, traditionally, is the event in which this community catches us. Often it's the season opener, and this past year was no exception.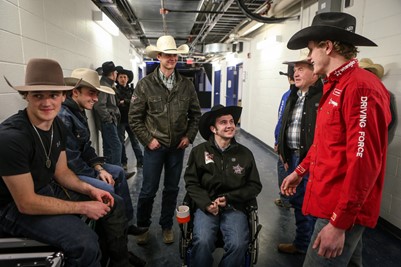 4. Zane Lambert | Grande Prairie, Alberta | 11/05/20
Stepping off a bull after riding for the required 8 seconds has to be one of the highest-adrenaline moments in all of professional sport and is certainly one of the most dangerous.
But in the face of this, the competitors are some of the most humble, so celebrations aren't always normal. 
For Zane Lambert, riding Nansen Vold's Whiskey Hand for 88.5 points on the first day of competition at the 2020 PBR Canada Finals Week was more than reason enough to celebrate. Adding to that, he knew he was still in contention for the title at this moment, outperforming No. 1 Buttar by tying for the event victory.
At 34, Lambert admitted he was sore and had to duck out of the competition that weekend to preserve a shoulder, but did so after solidifying his spot as the No. 2 rider in Canada.
These are the moments that make sport for me. Moments of triumph in which spectators and fellow competitors are looking at one person who just accomplished something is amazing.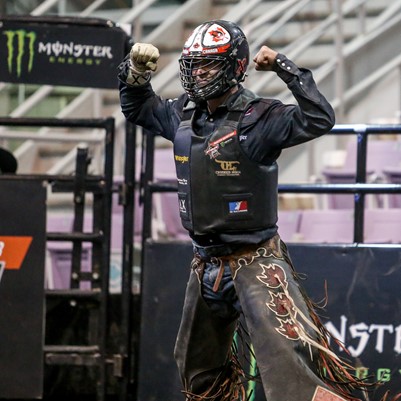 5. Dakota Buttar | Grande Prairie, Alberta | 11/07/20
The quiet moment after the dust has settled.
This is one of my favorite photos from this season because of how quiet it is. Not every sport allows being behind the scenes as much as this. But after riding Finning Lil' Shorty in the final round of the 2020 PBR Canada season, then doing media interviews and a slew of photos after the event, Buttar found himself catching up on all the well wishes he received in that time.
These moments are made slightly more environmental due to the social distancing requirements.
I have always been someone who loves shooting an environmental portrait in a solitary setting. Typically dressing rooms are packed with 20 guys, and you can't capture moments with this quiet feeling. 
I am humbled to be able to document this sport and its continued narrative year to year.
These athletes, both human and bovine, are incredible. It is a sport like nothing else on the planet.