#InCaseYouMissedIt: Davis Keeps on Winning, Lockwood Makes His Return and More
By: Darci Miller Monday, February 15, 2021 @ 5:41 PM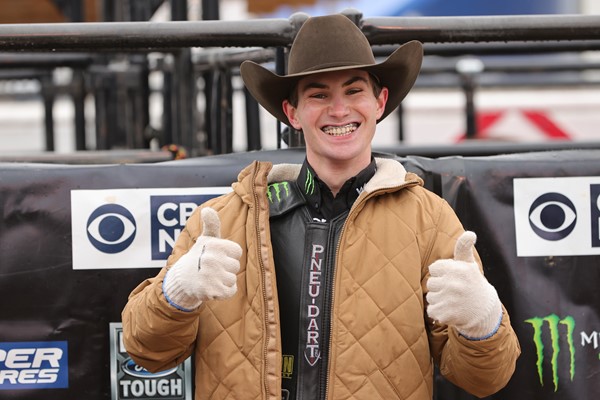 COLORADO SPRINGS, Colo. – It was a unique weekend in Del Rio. The winter weather in Texas – seriously – wreaked havoc on the competition, but that didn't stop Cooper Davis from extending his lead atop the world standings. Plus, Rafael Henrique dos Santos came through in a big way and Jess Lockwood returned following surgery. Miss a moment of the action this weekend? Here's what happened around the PBR.
On the Unleash The Beast…
2016 World Champion Cooper Davis was the big winner in Del Rio, as the world No. 1 bull rider took the 15/15 Bucking Battle victory to further distance himself from the rest of the field.
Rafael Henrique dos Santos also had himself a pretty decent weekend – he earned the first premier series round win of his career and moved up to No. 25 in the world standings.
The last time we saw two-time World Champion Jess Lockwood, he had broken his jaw on his first bull of the season. He was back in action in Del Rio after missing the last two UTB events, and he looks to be back to his old 8-second shenanigans.
Competition came to a halt, however, as the PBR postponed Sunday's Round 2 and championship round due to the threat of a winter storm – in Texas! We're as shocked as you are.
But if you're dreaming of spending some time where it's warm – say, in the desert – you can start making plans to attend the 2021 PBR World Finals on Nov. 3-7 in Las Vegas.
Through the lens with Andy Watson and BullStockMedia
Check out the best photos from Del Rio.
Social spotlight
Love comes in all forms. 
Or… not.
Dreaming of some warmer weather.
The throwback we didn't know we needed!
Looking ahead
The 2021 Unleash The Beast: American Roots Edition heads to Pecos, Texas, for the PBR Can-Am Invitational on Feb. 20-21 (RidePass on Feb. 20-21 at 3 p.m. ET; CBS on Feb. 21 at 12 p.m. ET; CBS Sports Network on Feb. 20 at 10 p.m. ET and Feb. 21 at 8 p.m. ET).
The Pendleton Whisky Velocity Tour continues with the Lexington Invitational in Lexington, Kentucky on Feb. 19-20 (RidePass on Feb. 19 at 9 p.m. ET and Feb. 20 at 8 p.m. ET).