Biever Weathers Storms, Continues Stateside Push for World Points
By: Covy Moore Friday, February 19, 2021 @ 8:58 AM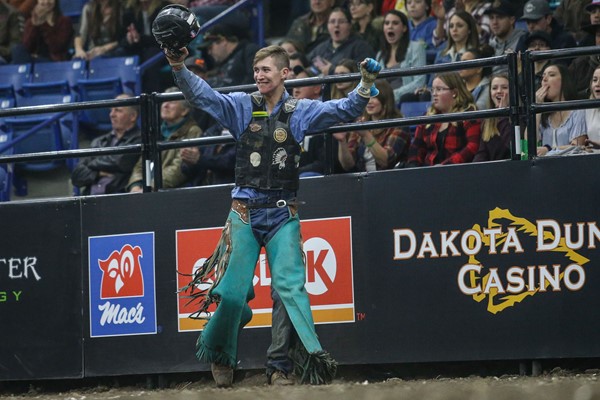 AIRDRIE, Alberta – For a young Canadian bull rider heading down south for a winter run of PBR events, one expects a few challenges.
But for Claresholm, Alberta's Logan Biever, a cold-snap and two-day blizzard that wreaked havoc across the southern United States was not one he anticipated in a trip between Texarkana, Arkansas and Texas.
After tying for sixth at the PBR Touring Pro Division event in Arkansas this past Saturday, a quick flight back to his residence in Texas was the expectation for the 22-year-old – however, what would actually take place was much different.  
RELATED: Claresholm's Logan Biever Ties for Sixth at PBR Touring Pro Division Event in Texarkana, Arkansas
"It was a bit cooler; I thought it was normal weather to be getting on in," Biever began. "Just a cool crisp day I guess. I flew into Texarkana, they just have a regional airport, and probably the smallest airport I have ever seen. I was supposed to fly back out Sunday morning, but they pushed that to Monday morning. I am not sure why it was cancelled at that point, there wasn't much there yet, but by Monday morning there was a fair amount, and by the night time there was more."
"It was real time weather," Biever continued of the historic storm that is still plaguing Texas and the surrounding states. "The airline wanted to wait until Wednesday to get me going, but that just wasn't going to work for me."
"I found a rental car. I was trying to drive to Fort Worth. No one down there has seen snow. It was the craziest thing. They are not going very fast at all on the highways. On any hills or anything where you needed a bit of momentum. I was thinking, 'We are going to get stuck if we are driving like that.'"
And while the impacted American communities may have never had to contend with a storm of such proportions, for Biever, with a lifetime of experience in winter conditions, he said travel was reasonably easy for him.
"Once I got on the I30, it was touch and go," Biever recalled. "It was mainly just semi-trucks trying to make the trip.  I can tell though they will all tell stories of the little grey Nissan that was on the road that day. It was a big ordeal for all them, but for me it's like a normal day in Canada."
In Texarkana, compliments of an 87-point aboard Little G, Biever punched his ticket to the championship round tied for fourth overall. Unable to convert on Nose Job, the Albertan finished the event tied for sixth, earning 1.5 world points.
For Biever, who is competing stateside not only to be back in the thick of the action, but to also work on consistency and collect early world points, he says he is happy with the little steps of seeing more and more high caliber bulls more often.
"It felt awesome," Biever said of his Round 1 ride in Arkansas. "That was a really good bull. I thought it was a pretty good bull ride on my part for sure, but who knows. I was 87. I didn't really know that bull. I tried to find out who the stock contractor was when I got there, but no one seemed to really know him or the bull. So it was one of those things where you don't know much about him going it, but it panned out for me I would say."
"It's is one of those things where I don't just have one goal," Biever said more broadly of his time in the United States. "I just want to walk before I get running too fast is the thing for me. Seeing these really good bulls each and every week is going to help bring me to that next level."
As for the 1.5 world points that Biever captured this past weekend, he says when he first arrived he had stars in his eyes with the goal of making an Unleash The Beast event before his time down south was done, but wants to keep pressure like that off so early in the season.
"I did check world points at first, and I was pretty excited about that, it could really happen," Biever said.
"Riding more bulls makes it happen easier. But I also don't want to be showing up at an event thinking if I do well here I can get into an Unleash The Beast. Next weekend could be the weekend. That is a lot of pressure to put on yourself. The more and more I am riding down here, the more I am being realistic about it. I check a little bit, but I don't want to stress myself out. I am going, having fun and working on the consistency. The rest will fall where it may."
Next up for Biever is the PBR Pendleton Whisky Velocity Tour's Lexington Invitational in Lexington, Kentucky at Rupp Arena on Feb. 19-20.
Fans can catch all the action LIVE on RidePass, at RidePass.com or via the mobile app.