Buttar Reflects Positively on 2021 Despite Heartbreaking Finish
By: Covy Moore Wednesday, December 1, 2021 @ 4:05 PM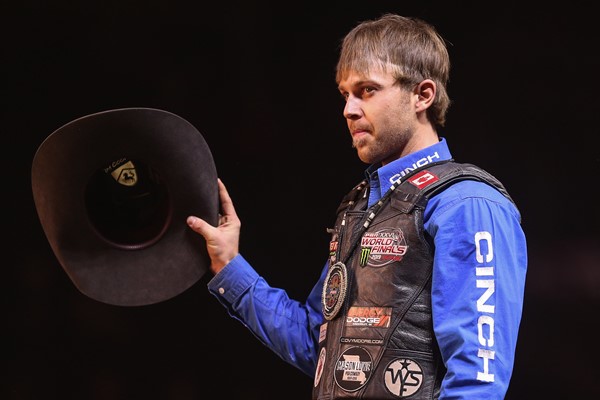 AIRDRIE, Alta. – As action got underway Nov. 12 for the first-ever PBR Canada National Finals in Edmonton, Alberta, then No. 1 Dakota Buttar walked into the state-of-the-art Roger's Place at 95%.
What ailed him – an ill-timed groin injury sustained at the final regular season Cup Series event in Saskatoon, Saskatchewan, just two weeks prior, that many thought had ended his season.
"Throughout my career I have been lucky avoiding injuries that make me have to sit out very long," Buttar said. "That's the first time I have felt something pop like that, I could feel it instantly on the bull's back." 
"I had a feeling what it was, but I didn't know. It was a couple shitty days at home, I couldn't walk or move on my own."
After returning home to Eatonia, Saskatchewan, Buttar spent the ensuing two weeks rehabbing, working to get himself ready for the last four bulls of the year, even electing to turn out of the Canadian Finals Rodeo which would have meant getting on six bulls in the 14 days between PBR Canada events.
"I was feeling pretty good about it," Buttar said of his recovery. "Bull riding requires certain muscles that you don't really need for day-to-day life. Getting around it felt great but getting on the bull put me back to square one. The hardest part is missing all these Finals after working at it all year."
"It happened when it happened," the 2020 PBR Canada Champion added resolutely. "I am kind of glad it didn't happen three months earlier, cause it would have cost me my whole year."
Inside Rogers Place, Buttar covered his Round 1 draw, riding Look Alive for 79.5 points, but as soon as he hit the ground, his pain was evident.
"Bull riding is all about adaptability," Buttar began. "You have to be able to adapt to what that bull does, adapt to the environment you're in, where you are. Everybody is going to ride hurt at some point, I am far enough in my career now I have dealt with a lot. So it was just jump for jump, adapt from there to make it happen the next jump."
"I had a pretty good idea it was going to hurt that second jump, and it did. I was prepared for it though. I was ready for it. I was ready for it not to hurt, but I was also ready to have it hurt. I could feel it as soon as that bull went left, it was a situation where I had to fight through it. Not like I could complain about it, cards I was dealt."
Buttar went on to attempt his bull in Round 2, bested by Devil's Advocate in 2.92 seconds, and while he drafted a Round 3 opponent, inevitably turned out of competition due to the aggravated groin injury.
"I decided at the last minute if I was getting on or not," Buttar said of his difficult decision on Championship Saturday. "Deep down I knew I couldn't, I had a good bull though. It was the bull I would have picked if I got to pick. I knew I wasn't going to be able to make the moves I would have to, to get the job done, but also put others at risk, myself, the bullfighters, everyone."
"I could hurt myself a lot worse doing that too. I don't want to be stuck sitting for six months or a year if I made it worse. I did everything I could do all year, I did absolutely everything I could do between Saskatoon leading up to Edmonton, so I knew it wasn't going to be the lack of effort or not putting in the time. It just wasn't meant to be this year."
Despite his 53.66-point lead entering the year-end event, his regular-season efforts weren't enough to clinch what would be a historic second consecutive Canadian title, surpassed by Cody Coverchuk for the 2021 PBR Canada Championship by a mere 23.34 points.  
"I thought it was a weird Finals all around," Buttar explained. "There weren't a lot of rides from the top guys. It seemed like the guys further back in the standings were lighting it up all around, and all the top guys had a weird off Finals."
"It did make for an exciting finish and a lot of drama all around. It was awesome. I think we were all excited about it. It was all that and then some. The crowd showed up, all our pyro is so cool. It gave a real PBR World Finals feel to our Finals up here."
Looking back on his entire 2021 season, Buttar says he is happy overall.
While he may have gotten a slow start to the season after the longest break of his career, as the calendar turned September, Buttar won three straight events and carried his momentum into the PBR Canada Cup Series season.
"I am happy with how my year went. It was a bit slow starting. I was riding bulls, but not placing as deep as I needed to be. I had to work on some things, adjust some things in the middle of the year there and once I was clicking again, I had a really good September."
If there was one bull ride that sticks out to the 28-year-old it would be when he matched up with Flying Four Bucking Bulls' Finning Lil' Shorty for 89 points in Prince Albert, Saskatchewan in September.
"That bull did everything he could," Buttar chronicle. "He went to the left, to the right, sucked back, blew in the air. He did everything you could ask for out of a bull, I felt like that was my rankest bull ride all year."
"He had me out of shape at the end, I had to fight to the bitter end. That has to be my favourite trip on the year."
As for what 2022 holds, Buttar is undecided, but remains focused on restoring his body to 100% health.
 With plans to head stateside to secure his first berth to the Wrangler National Finals Rodeo, Buttar will weigh what everything looks like for him once he is healthy again.
"I haven't really focused not that," Buttar said of the fast-approaching 2022 season. "I am focused on getting healed up and getting things back to normal for myself."
"I don't want to push anything here, get too excited. I just don't want to get ahead of myself. I am going day-to-day right now to just get healed up then we will decide from there."