Brock Radford Eyes 2022 PBR World Finals After Painful 2021
By: Covy Moore Thursday, December 30, 2021 @ 10:14 PM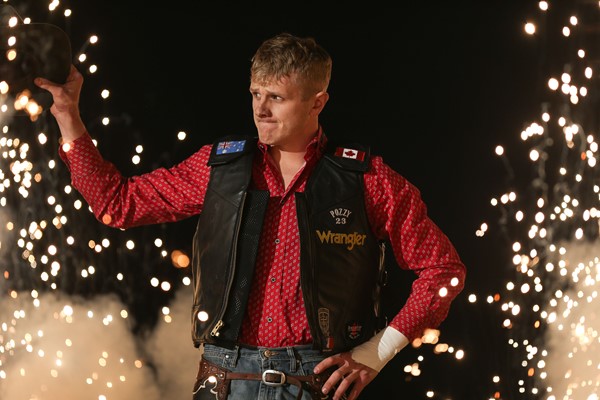 AIRDRIE, Alta. – When you look at the past six years of PBR Canada competition, one name was consistently at or near the top of the leaderboard – Brock Radford.
One of the most consistent riders in Canada since 2016, the De Winton, Alberta native had a tumultuous 2021 season. First, Radford sustained a broken bone in his leg in late May at a practice pen at the home of two-time PBR World Champion Jess Lockwood in Montana.
A mere week later, Radford broke his foot after a third-place finish at the Deadwood, South Dakota, Touring Pro Division event.
Despite the odds being against him, Radford returned home hungry to chase his first PBR Canada Championship at whatever cost.
But it turned out, he needed to slow down.
"Injuries happen," Radford began. "I didn't handle these ones as proper as I should have."
"Bull caught my leg and drove it into the ground pretty hard," Radford said specifically of his broken leg. "It was a non-weight bearing bone, so I didn't think too much of it. I just iced it a few days, and rode at Deadwood, but I broke my foot there because I wasn't the fastest runner that day and ended up under one."
"My walking wasn't very good coming home, and I cut that U.S. run short."
"I just didn't rehab things properly, I rushed everything," Radford continued. "I was chomping at the bit instead of being patient. It wasn't too bad of a break. I didn't need surgery and that made me think it wasn't that bad. I rushed it basically."
Taking just mere days to record, Radford quickly entered a Pro Rodeo event in High River, Alberta, upon his return to Canada. But in what became a hallmark of his season, injury was not far behind. In competition, Radford further hurt his ankle.
"I felt all the ligaments or something in my ankle pop," Radford detailed. "I couldn't walk, couldn't get my boot off. It wasn't good. I had a really bad sprained ankle for a while. I couldn't keep the swelling down."
"I kept getting beat up and beat up, and I was spending a half hour in the sports med getting things taped up at every event. It was a repetitive deal that I got sick of."
While be briefly retreated to the sidelines, watching on as the rest of his competitors earned points towards their berth to the 2021 PBR Canada National Finals, Radford decided to return in mid-October for the elite Cup Series event in Medicine Hat, Alberta.
But, Radford was again battered, roughed up inside the chutes on his first bull of the day. As a result, he aggravated all his leg and foot injuries sustained throughout the year.
"When you are hurt, they say a bull will know it," Radford laughed. 
"I got on a chute fighter and he was pretty testy in there. He did it in really good -- twisted my ankle around. I thought I re-broke it in the chutes. He was doing some nasty stuff in there. Bucked, then power bucked and caught my spur just right and twisted my ankle really bad."
As the final straw, Radford opted to end his season, seeking out the expertise and assistance of Canadian Pro Rodeo Sports Medicine Team's Brandon Thome for help in his recovery.
Along with his leg injuries, Radford also suffered from an intermittent stomach issue, leading Thome to refer the 26-year-old to experts in both rehabilitating ailments.
"I just decided to step back a little bit and actually heal it up," Radford said. "It has been good now though. I am to the point where I am jogging now. It gets sore still, but it is good and strong for bull riding."
"Brandon got me hooked up with a good doctor, they got me on a great track. We had the time. I wasn't riding bulls and my girlfriend Liv was helping me out, and we got to the bottom of it.
"I'm feeling good, but only time will tell."
"I feel like we are on the right path. Those guys know people and know the best people, they are the guys you want in your corner. I owe a lot to them."
And that path has brought Radford to Phoenix, Arizona where he plans on staying for the next month attacking the PBR Pendleton Whisky Velocity Tour with the never-give-up attitude he has carried with him his whole career.
"I am focused and ready to get back in the locker room, riding bulls and chasing money again," Radford added.
Radford will make his 2022 debut on Jan. 7 in Reno, Nevada. The expansion series' event will kickoff a big month of riding bulls for the Canuck.
Knowing the return to form is not always instantaneous, Radford said his long-term goal is another PBR World Finals berth, but for now he will look to recapture the consistency he has come to know most of his career.
"Start off taking it one bull at a time and look for that consistency," Radford said of his plan. "Then working on those short round bulls. Just to start, I have to make sure I am riding those long-go bulls. I am going to take a new approach to it and give myself a bit of tunnel vision, not worry about the other variables. I am going to show up and do my thing and go home. The end goal is being at the World Finals again."
"When things get rolling in Canada again, I want to get back up there and chase [Cody] Coverchuk, Zane [Lambert] and [Dakota] Buttar and give them guys some more competition."
And while Radford knows what he is capable of, with his injury riddled year now fully behind him, he admits that it is an odd feeling to be in full health and ready to compete.
"It's pretty weird, it's been so long since I got to call Ruby or Jack [to enter], but it's good to talk to them again. I am excited to see the boys again and get back in the locker room and those locker room vibes."
"I am excited to feel 10-foot tall and bulletproof again and get filling up the bank account. I am just excited to get back doing it and grateful to be back feeling healthy."