Rookie Ashton Sahli Powering His Way to National Finals Contention
By: Covy Moore Tuesday, August 10, 2021 @ 6:46 PM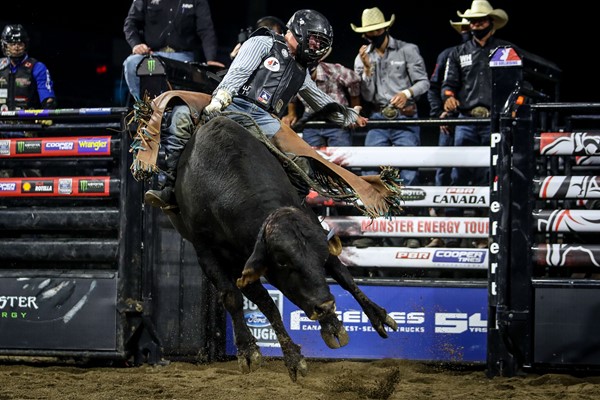 AIRDRIE, Alta. – When you look at the current PBR Canada national standings, there is a new name inside the Top 5 that quickly catches the eye -- 20-year-old rookie Ashton Sahli.
And it is not the fact that he is ranked No. 5, a mere 39 points behind No. 1 Jared Parsoage.
It's the statistic that he has 11 events entered under his belt on home soil, while Canada has held just seven events, meaning that just about any time there is an opportunity to double enter, Sahli is putting his name down.
"I have always been that way," the Red Deer, Alberta cowboy said. "You have more of a chance to win the more bulls you get on. And I don't think you get better in this sport without getting on bulls."
"It is already a big step to come and get on these PBR Canada bulls, so I just feel like the more you get on the more you will learn."
Sahli made his debut on PBR Canada's top tour in July 2020 at the unique, made-for-television Canada Cup Series tour stop that piloted the return of LIVE events in the nation following the onset of the COVID-19 (coronavirus) pandemic. 
While the results didn't go in his favor that day, he said it was good to make the jump, and he is elated that more events are being held with fans this year.
"It was weird being at those events with no fans," Sahli remembered. "I have been around it so long and have seen so many. So it wasn't really as big as you were thinking it was with no fans and what went on."
"Now this year we are firing and it's great. I am glad to have events to go to with fans and have it feel normal again."
Growing up immersed in the sport, the western lifestyle is a family affair. Sahli's younger brother Carter rides junior bulls, while his parents Jeff and Andria produce bull riding events across western Canada.
"I grew up around rodeo, my whole family. Rode steers from a young age and up through the amateur associations, then junior bulls, then the open bull riding. I figured I could one day get on these good bulls, and bought my card so here we are," Sahli joked.
Being exposed to the action and spectacle of the sport growing up was one thing, but Sahli says he has a different appreciation for those who put the work into putting these events on having seen it first-hand.
"It makes you appreciate everyone that does put these events on," Sahli explained. "I have all the hours of effort and work it takes to do one, from getting the sponsors to the setup itself and all the running around that comes with event days and the ones leading up to it."
"We are only able to do this because of the people who work so hard to put events on, go about it as professional as you can and help those people make it and keep it a professional sport.
"It doesn't come easy to put these events on. It is hard work."
For Sahli, he is taking the 2021 season one event and one bull at a time.
The goal -- remain within striking distance of the 2021 PBR Canada Championship.
"I go about it like you have to do your job and ride what they run under you," Sahli said. "If you do your job, you will go places. I came into this year with the goal of making the PBR Canada National Finals in a good enough spot to be in the running for all that money that is added."
"That is my goal this year. I want to be there and be in a spot to win."
And thus far, he is in good shape to actualize that goal. Going 6-for-22 (27%), Sahli has register two runner-up finishes, second in both Kinsella and Czar Lake, Alberta, along with four additional Top-10 efforts.
In a career-first, Sahli registered his first qualified ride on home soil this June in Prince Albert, Saskatchewan, marked 86.5 points when he rode Hanna Motors Rhythm & Blues to finish the event sixth.
Being the 20-year-old in the dressing room isn't easy.
But for the rider in the PBR Canada ranks who has gotten on more buckers in 2021 than anyone else in the nation, he says that attitude comes from some of the guys he looks up to most in that dressing room.
"I look up to Wacey Finkbeiner a lot, he has been there all through my steer riding career," Sahli concluded. "I really like the way he goes about things and how he holds himself as a person."
"Lonnie West too, he has been around as long as I was getting on steers. He was always there to lend a hand or give some advice. It's cool to be sitting beside those guys now."