No. 1 Ranked Jared Parsonage Eyes Career-First National Championship with Cup Series on the Near Horizon
By: Covy Moore Tuesday, August 17, 2021 @ 8:01 PM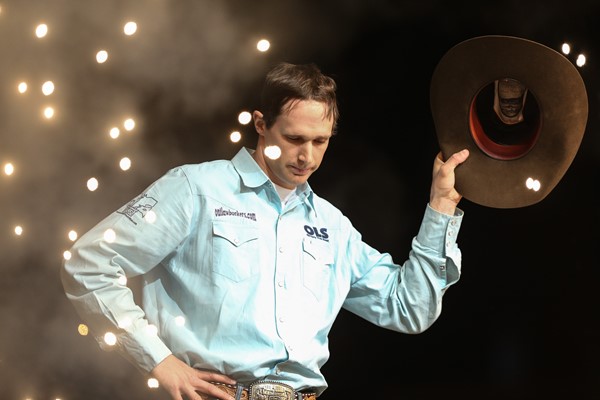 AIRDRIE, Alberta – A familiar place for the Saskatchewan man, the No. 1 ranked bull rider in Canada is currently none other than Jared Parsonage.
With a league-leading three event wins to date on the Touring Pro Division, Parsonage, who is seeking his first PBR Canada Championship, is a commanding 27 points ahead of No. 2 Dakota Buttar, with the season-launch for the elite Cup Series on the near horizon.
But for Parsonage, he says that while the No. 1 rider is the man everyone is chasing, the pressure is always greater when you aren't sitting where you want to be in the standings.
"Everybody has the same goal in mind, you want to be number one, but I don't look at it too much that way," Parsonage said. "I just try to do good at every event. Take it event-for-event, bull-for-bull."
"Personally, I have high expectations of myself and I want to do good at every one of these events."
Parsonage concluded the unique 2020 season No. 7 in the national standings, his fifth consecutive Top 10 effort. Riding 66% of his bulls (14-for-21), it was a less-than-ideal outing at the PBR Canada Finals week which dashed his dreams of a title.
The 28-year-old says winning the 2021 title will take a dominant performance inside Roger's Place at the first-ever PBR Canada National Finals in Edmonton come November.
"There isn't really a chance to run away with it in PBR Canada," Parsonage explained. "There are so many points at the Finals, you really have to do good there. The equation comes down to doing good at the PBR Canada Finals. Keep staying on, it takes care of itself from there."
"It's good to be seeing those 85-point and above scores, that is where you are winning."
And to win, Parsonage says the current list of short-round bulls isn't atop his mind, but he does have a plan for the bulls he will draft when the opportunity presents itself during the 2021 PBR Canada Cup Series.
"When we get to those Cup events you are going to want to be picking bulls like Happy Camper," Parsonage explained. "Bulls you can be 88 or 89 on or higher. That way those guys that come in with their 85-point bull ride, they can't beat you. Those are the ones I like."
"I have gotten along with [Happy Camper] good the couple times I have been on him. I haven't been on him in a while, but he just looks good, kicking and spinning and pushing back around to the left. I get along with those ones pretty good."
"There are all kinds of bulls in Canada though, it's hard to pick out just one," Parsonage continued of the nation's bovine talent. "Finning Lil Shorty, a guy is going to win on him. There are lots, Nansen [Vold] has a whole herd of them. More of less for me it comes down to getting the one that is going kick and spin, do their job, buck and give you a chance to win."
With a schedule jam packed full of PBR Canada Touring Pro and Cup Series events, as well as a healthy bunch of lower level bull riding events in Canada underway, it seems as though the bull riding season is back into the swing of things.
Parsonage said that the biggest difference from before the COVID-19 (coronavirus) pandemic began compared to now is the fan support has become incredible.
"The fan support has been really good. This pandemic made people realize how much they missed it. That is one thing a guy has noticed; the crowds have been awesome."
The Saskatchewan cowboy does have his sights set on one event in particular coming up -- the 2021 Glen Keeley Memorial Bull Riding – where he is the defending event champion.
"It would be nice to win the Glen Keeley again. Everybody wants to win that. I am really looking forward to all of them, I don't mind that we aren't traveling too far and wide this year. Staying close is perfect."
The 2021 PBR Canada Cup Series will get underway Aug. 27-28 in Lethbridge, Alberta, welcoming fans to ENMAX Centre for the fan-attended PBR South Country Co-op Showdown, presented by VisitLethbridge.com.
Tickets for the event are on sale now, and start at $30, standard fees may apply, and can be purchased online at ENMAXCentre.ca, or by phone at (403) 329-7328.