#InCaseYouMissedIt: Leme Notches Multiple 90-Point Rides to Set New Single-Season Record
By: Darci Miller Tuesday, August 24, 2021 @ 2:30 PM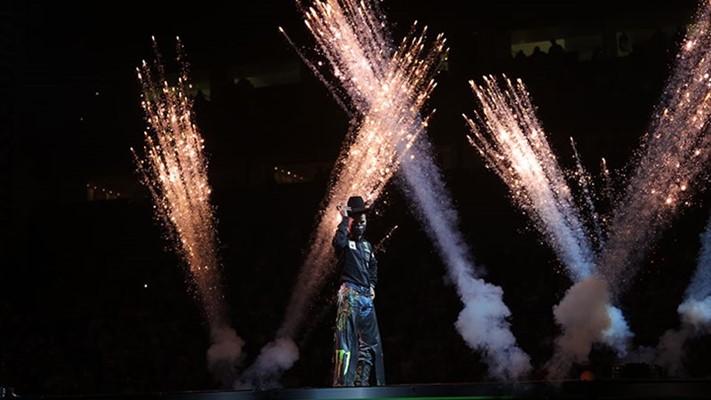 COLORADO SPRINGS, Colo. – This weekend, it was all Jose Vitor Leme. The world No. 1 bull rider made history yet again en route to an event victory, setting the new single-season record for 90-point rides. And then he added one more – because, you know, why not? Miss a moment of the action this weekend? Here's what happened around the PBR.
On the Unleash The Beast…
With his 90.75-point ride on Show Me Homie – good for the Round 1 win in Nashville – Jose Vitor Leme earned his 17th 90-point ride this season to set a new PBR record, edging ahead of Cody Hart's 16, set in 1999.
Cody Hart may have held that record for more than two decades, but he was thrilled to tip his cap to Leme for breaking it.
PBR.com takes you behind the scenes with the champ as he prepared to make history.
Miss any of Leme's 17 90-point rides? Click here to watch them all.
Now, of course, the question remains: how many 90-point rides can Leme reach this season? (Spoiler alert: he's hoping for 30. And no, that's not a typo.)
Leme is already up to 18 90s, as his championship-round ride on Bubba G scored 91.75 points to earn him his league-best fifth event win of the season.
The one thing Leme couldn't do this weekend? Make the 8-second whistle in the 15/15 Bucking Battle. Neither could anybody else, though, as Pookie Holler led a dominant pen of bulls that blanked the best riders in the world.
Austin Richardson won Round 2 with a career-best 91.75 points on Medicine Man, his first 90-point ride on the premier series.
On the injury front, Dener Barbosa doctored out of the championship round after a hard landing on an injured shoulder, Cody Nance dislocated a hip and more from sports med.
Meanwhile, on the Pendleton Whisky Velocity Tour…
Leonardo Lima went 1-for-2 to collect the first Pendleton Whisky Velocity Tour event win of his career in Grand Rapids, Michigan.
Through the lens with Andy Watson and BullStockMedia
Check out the best photos from day one and day two in Nashville.
Social spotlight
The champ doing champ things. 
Just boys being boys! 
We can always count on Silvano for an elite throwback. 
Looking ahead
The Unleash The Beast rolls into Fort Worth, Texas, for the PBR Tractor Supply Co. Iron Cowboy, presented by Ariat, on Aug. 28-29 (CBS Sports Network on Aug. 28 at 8 p.m. ET; CBS on Aug. 29 at 2 p.m. ET).
The Pendleton Whisky Velocity Tour next heads to Fresno, California, for the Fresno Invitational on Aug. 28-29 (RidePass on Pluto TV on Aug. 28 at 10 p.m. ET and Aug. 29 at 5 p.m. ET).