#InCaseYouMissedIt: Leme Notches Highest-Scored Ride in PBR History
By: Darci Miller Tuesday, August 3, 2021 @ 9:42 AM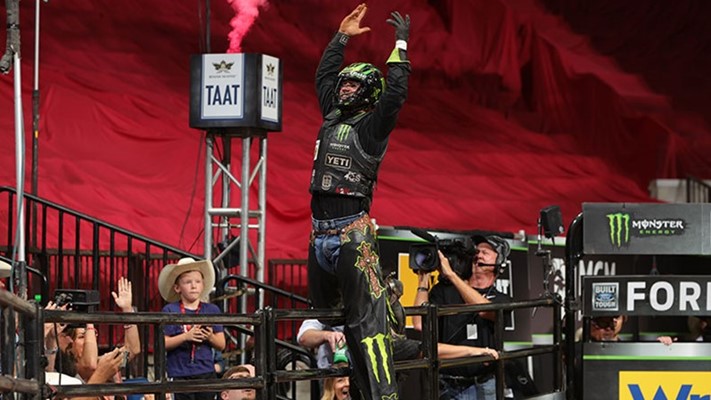 COLORADO SPRINGS, Colo. – If you missed this past week, you missed a big one. Not only were there two – yes, two! – Unleash The Beast events, Jose Vitor Leme rode Woopaa for the highest-scoring ride in PBR history: 97.75 points. And no, that's not a typo. Miss a moment of the action this weekend? Here's what happened around the PBR.
On the Unleash The Beast…
In the 28-year history of the PBR, no one ride has been better than 2020 World Champion Jose Vitor Leme on Woopaa Saturday night. The pair's 97.75 points eclipsed the previous high of 96.5, last achieved in 2004.
Leme and Woopaa already had a storied past together, and the dynamic duo has become one of the greatest rider-bull tandems in PBR history.
Bubba Dunn and Michael Gaffney were two of three riders to share the former highest score in PBR history, and both are in awe of what Leme was able to accomplish.
Upon seeing Leme and Woopaa's ride, Ezekiel Mitchell stood on the bucking chutes shouting, "Hand him the record books!"
Let's not forget, though, that reigning Rookie of the Year Boudreaux Campbell won Round 1 in Tulsa and then went on to take the overall event victory.
Earlier in the week, at Last Cowboy Standing in Cheyenne, Wyoming, it was Campbell conquering Woopaa for 95.25 points and the high-marked ride bonus.
But – raise your hand if you're surprised – it was Leme taking the win in Cheyenne for his first PBR Major victory.
Leme's three 90-point rides in Cheyenne brought him to within two of Cody Hart's single-season record for 90-point rides in a season – and he has since gotten even closer.
After an eighth-place finish in Round 1 in Cheyenne, Leme spoke on the difficulties of defending a PBR world title.
2016 World Champion Cooper Davis won Round 1 of Last Cowboy Standing to start his second half off strong.
Cody Nance showed up in Cheyenne as one of two riders on tour with a league-leading 11 World Finals qualifications.
On the other side of the coin was rookie Conner Halverson, who punctuated his first trip to Cheyenne with a fourth-place finish in Round 1.
On the Pendleton Whisky Velocity Tour…
Andrew Alvidrez went 2-for-2 to win the Bluff City Classic and move to No. 32 in the world standings.
Through the lens with Andy Watson and BullStockMedia
Check out the best photos from day one and day two in Cheyenne.
Social spotlight
From the man of the hour himself:
#MondayMotivation 
We love a full-circle moment! 
Looking ahead
This weekend, the Unleash The Beast continues with the PBR Wrangler Long Live Cowboys Classic in Sacramento, California, on Aug. 6-8 (CBS Sports Network on Aug. 6 at 11 p.m. ET, Aug. 7 at 10 p.m. ET and Aug. 8 at 8 p.m. ET; CBS on Aug. 8 at 12:30 p.m. ET).
The Pendleton Whisky Velocity Tour next heads to Columbia, South Carolina, for the PBR Bluff City Classic on Aug. 7 (RidePass on Pluto TV on Aug. 7 at 7 p.m. ET).