Flashback Friday – The Race for the 2021 PBR Canada Championship Heats Up, Celebrations Abound Outside of the Arena
By: Kacie Albert Thursday, August 5, 2021 @ 5:21 PM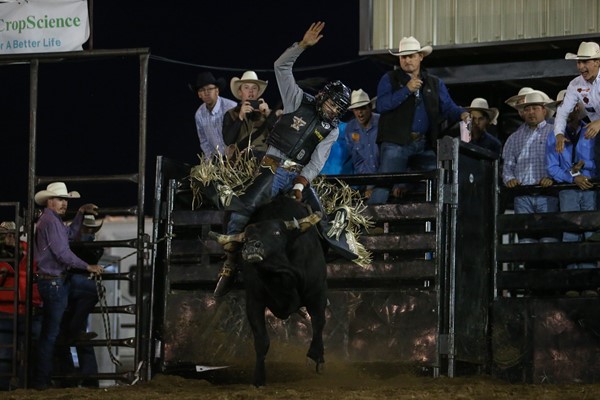 NEW YORK CITY – The race to the 2021 PBR Canada Championship is on, and the nation's finest proved in July it is going to be an all-out slug fest until the last bull bucks at the National Finals, Nov. 12-13 in Edmonton, Alberta, at Rogers Place.
And while the competition heating up was definitely a highlight of the month, the stars of PBR Canada also took time to relax, and celebrate personal milestones.
Today, we look back at the highlights from July as told by the month's can't-miss social moments!
But first, Happy Birthday Canada! On July 1, marked by Canada Day, the nation celebrated it's 153rd Birthday. (P.S. Looking good Brock Radford!)
BACK TO BUCKING
The 2021 PBR Canada season is in full swing, with five Touring Pro Division events held throughout the month in Cluny, Kinsella, Czar Lake and Manor.
Lonnie West was back in the winner's circle in Czar Lake! Here's the rides that put him there.
… but that wasn't before he finished fifth in Cluny and fourth in Kinsella!
Nick Tetz also tasted victory in July, topping the field in Manor! A picture of perfection, these were his two 8-second efforts.
Before he got rolling, he stopped by Shay Marks' house for a bit of a tune-up, and then made a visit to the Eno family.
Jared Parsonage added another W to his resume, victorious in Kinsella!
Young gun Tanner Eno found success on home soil after returning to Canada following a brief stint stateside. He finished fourth in Cluny and third in Kinsella compliments of these 8-second efforts.
Fellow Rookie of the Year contender Tyler Craig also put points on the board in July. He finished a career-best second in Cluny after posting this 84-point ride on Up Shift.
Know the name – Ashton Sahli. Posting back-to-back runner-up finishes in Kinsella and Czar Lake, he concluded July No. 3 in the national standings. Here's some of the rides that got him there!
Two-time PBR Canada Champion Zane Lambert found himself in … well … a not so fun position.
Micheal Ostashek has cause to celebrate, registering three Top-5 finishes throughout July.
And while he may not be Canadian by blood, Aussie Callum Miller has made himself right at home in the Great White North. He finished sixth in Manor, compliments of this ride atop Holy War.
UNLEASH THE BYRNE
For the first time in 2021, Jesse Byrne took his bullfighting skills stateside, returning to the elite Unleash The Beast for the Last Cowboy Standing Major at Cheyenne Frontier Days.
But he isn't the only Byrne fighting bulls in the United States.
Taking to the family business, Tanner Byrne was in the arena for several prominent summer Touring Pro Division events including those in Livingston and Big Sky, Montana. Let's watch him work!
CHEERS TO THE HAPPY COUPLE
As the month came to a close, the Chotowetz's said "I Do," resulting in a much needed celebration!
And the Eno's had cause to celebrate as well, with daughter Lori and now son-in-law Koby tying the knot!
FAMILY TIME!
In the midst of the return to competition, Canada's finest took some time for family, both at the events and apart, including 2017 Canadian Rookie of the Year Coy Robbins and Wacey Finkbeiner.
WAIT, YOU DO WHAT?
And like every month, we got an inside look into the lives of some of Canada's finest!
In July, Finkbeiner showed off his fabrication skills.
Sahli proved he's as agile on the water as he is on the back of a bull!
… and what fun is a weekend on the lake, without your friends?