#InCaseYouMissedIt: Leme is Back in The Winner's Circle, Vieira Keeps Reaching New Highs and More
By: Darci Miller Monday, April 12, 2021 @ 9:54 PM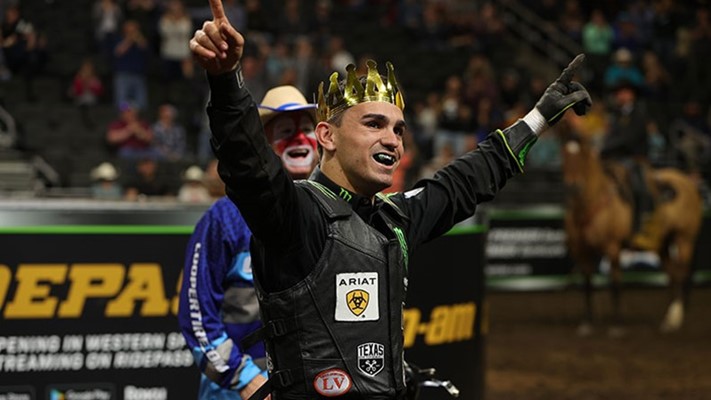 COLORADO SPRINGS, Colo. – If reigning World Champion Jose Vitor Leme knows how to do anything, it's win, even with an injury. Plus, Joao Ricardo Vieira had a major reason to smile, a few more riders look ahead to the 300 rides club, and the sports medicine team was kept plenty busy in Sioux Falls. Miss a moment of the action this weekend? Here's what happened around the PBR.
On the Unleash The Beast…
A twisted ankle? No sweat for Jose Vitor Leme, as the champ powered through the pain to go 4-for-4 – with two 90-point rides – and earn his second event win of the season in Sioux Falls.
Derek Kolbaba started the weekend off hot with his third round win of 2021.
It's been a minute since the PBR faithful saw Cody Jesus atop the Can-Am cage, but he got there for the first time in more than a year when he won Round 2.
Joao Ricardo Vieira is 36 years old and only getting better – his 93-point ride on I'm Legit Too in the championship round set a new career-high.
In other milestone news, Cody Nance and Eduardo Aparecido look to be the next members of the 300 rides club, as they sat at No. 289 and 282, respectively, after Round 1.
It was a rough weekend on the injury front as world No. 2 Cooper Davis, Chase Outlaw, Ezekiel, Matt Triplett and others were all ruled out of competition.
It takes a special person to put his own life in harm's way to help others. Dr. Donnelly Wilkes, a U.S. Navy Lieutenant, has done just that and was on hand in Sioux Falls as a Be Cowboy honoree.
Meanwhile, on the Pendleton Whisky Velocity Tour…
Leonardo Lima won Round 1 of the Aggieland Classic in College Station, Texas…
…but it was Paulo Ferreira Lima that rode off with the event victory.
Through the lens with Andy Watson and BullStockMedia
Check out the best photos from day one, day two and day three in Sioux Falls.
Social spotlight
Catch us trying to emulate this energy all week. 
You won't find many Easter eggs better than that one! 
Squad rolling deep. 
If you don't hold your breath during this video, you don't have a pulse. 
Get ready for the return of the Firewalker! 
Looking ahead
The Unleash The Beast next heads to Oklahoma City for the PBR Express Ranches Invitational on April 17-18 (RidePass on April 17 at 7:45 p.m. ET and April 18 at 2:45 p.m. ET; CBS Sports Network on April 17 at 9 p.m. ET and April 18 at 8 p.m. ET; CBS on April 18 at 1 p.m. ET).
The Pendleton Whisky Velocity Tour rolls into Grand Forks, North Dakota, for the Grand Forks Chute Out on April 16-17 (RidePass on April 16 at 9 p.m. ET and April 17 at 8 p.m. ET).