Canadian Pro Rodeo Sports Medicine Team Launches First Spring Training Camp for Western Sports Athletes
By: Covy Moore Wednesday, April 7, 2021 @ 5:36 PM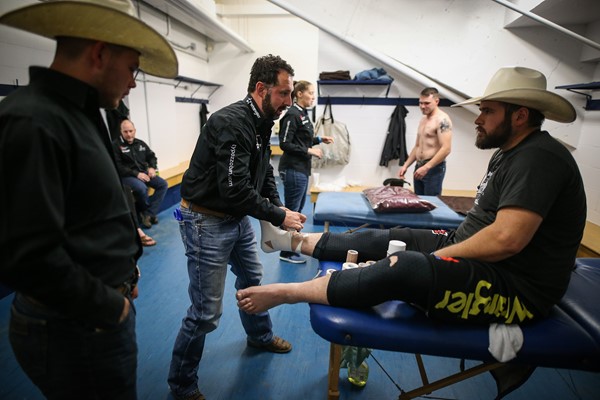 AIRDRIE, Alberta – The Canadian Pro Rodeo Sports Medicine Team (CPRSMT) is a crucial member of the PBR Canada team. From Touring Pro events scattered amongst small town Alberta and Saskatchewan to the bright lights of the PBR Canada Cup Series, the health and wellness professionals of the CPRSMT are with athletes every step of the way.
While many on the team are don't have backgrounds in bull riding, their love of the sport and the team's mission of striving towards a safer environment fuel them on a daily basis.  
CPRSMT Executive Director Brandon Thome, along with the expertise of CPRSMT board member and former bullfighter Kynan Vine have developed the Rodeo Athlete Spring Training Camp, slated for May 8-9 at Acumen Performance Clinic in Calgary, Alberta.
This camp will evaluate an athlete's current health and fitness levels and work to create paths for positive growth in the coming weeks and months as the 2021 season approaches on the near horizon.
The event will also feature a seminar series with Olympic level experts in nutrition, sports psychology and business and life management.
"Kynan and I have been talking about athlete development for a long time," Thome began. "We have been talking about how to make this sport better, substantially. Right around the start of the pandemic, we started talking about this."
"There is a huge interest in making the sport better, making it more professional. Through all that, Kynan and I were talking about the Spring Training idea and suddenly there is this big long plan put across my desk that Kynan had envisioned that is exactly what we needed."
"A spring training camp exists in most all professional sports," Thome continued. "We don't have one in rodeo. You come off the winter and you get back to it. We are bringing in lots of different professionals from all areas of health and wellness from nutritionists to strength and conditioning, rehab and injury prevention, business coaching, it's the whole nine yards. This is our jumping off point to demonstrate that we as a sports medicine team can be more than just the folks at the rodeos, but we want to be the leaders in the development side of rodeo and bull riding."
Thome says there has been a recent surge amongst western sports competitors to consult professional strength and conditioning trainers and nutritionists to help them experience more success inside the arena. The likes of Jake Vold, Bobby Mote and Richmond Champion have made their health and wellness a priority, and it shows in their results.
"From a competitor's standpoint, it's only started to come in the last few years. We have had a strength and conditioning coach who has worked with our team for 15 years. He ran a program called strong cowboy. He got out of it because it never stuck," Thome explained. 
"That was a huge jumping off point five years ago when guys were getting into the gym and looking at their strength and conditioning. It's the whole mentality that this is a professional sport versus a heritage event. We want to make this thing into the professional sport we all know it is, but it starts with the competitors."
With the support of the Ty Pozzobon Foundation, Acumen, and Precede Occupational Health, the cost to competitors is $250 for the two-day camp.
"We are making this a very professional run camp," Thome added. "It's what Kynan does, put's on events. And it's what I do, I bring high-level professional people together. We are bringing in sports psychologists who have worked in the NHL, we are bringing in the nutritionist who works with our Olympic athletes. The lunch is provided by a company called Fuel for Gold who provides meals for Olympians throughout their training. Everything from top to bottom, the strength and conditioning coaches are top level having worked with the New York Yankees."
"We are not messing around. We are bringing the right people. Even if they aren't rodeo people, we are bringing in people who want to learn too."
"We don't want to just give people a program, go do this and you'll be successful," Thome said further. "Go eat this on this day and this on this day and you will win. We want to teach these athletes how to do it so they don't have to rely on other people."
"All the way down to the things you can lean on in moments when you are sitting on the back of a bucking bull after bucking off your last six. How can I get out of my head. We don't want everyone to have to rely on so many individuals, we want to be able to teach them and not just hand a program. Here is a program for $100 a month. That doesn't do anything, it just makes you rely on other people."
"Guys are getting on way longer than they used to be," Thome concluded. "Zane Lambert has said it himself. He has been able to do what he has for so long because of the folks on our team being in his corner and helping him keep his body in top notch condition. We just want to be able to take that another step further with the mental and strength and conditioning aspect of it and give these guys the tools to treat themselves like professional athletes so they can see the results of professional athletes."
For more on the Spring Training Camp visit https://www.prorodeosportmed.com/.