Bullfighter Monea Creates Women-Specific Programming in 2021 with Customized Bullfighting Experience Event
By: Covy Moore Tuesday, April 20, 2021 @ 10:21 AM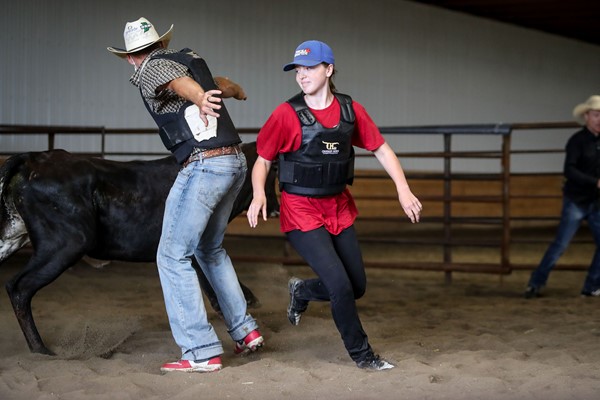 AIRDRIE, Alberta – In 2020, bullfighter Brett Monea, along with former professional bullfighter Kynan Vine set forth to build a hands-on bullfighting experience that would both educate and develop the industry's next generation.
With that, the Brett Monea Ultimate Rodeo Bullfighting Experience (UBFE) was born, and off of the success of the events ran last year, Monea is continuing to build on the momentum.
RELATED: Monea Launches Ultimate Bullfighting Experience to Both Educate and Develop Next Generation
"The UBFE was beyond my expectations in that I saw people lean into a place of discomfort," Monea began. "They trusted the process and the experience to come out on the other side feeling confident in their achievement."
"Now that we've launched it with success at Rafter U7 Ranch and Wellness Centre, my vision is to continue providing events here at the ranch and taking it to other ag societies to enable more people to access the experience."
And in the spirit of expansion, next on the docket for Monea is an event designed specifically for women who want to gain experience in cattle handling, pro rodeo bullfighter fitness and potentially even enter the arena with a young cow or calf.
Women were no strangers to the program since its inception with renowned equine specialist Angie Payne taking part in the first edition of the Ultimate Rodeo Bullfighter Experience. Apart from Payne, an additional young woman, Journey Rish, took part in a later edition of the event, and continues to pursue bullfighting and the fitness, training and animal smarts required to be successful in the industry.
"Brett Monea's Bullfighting Experience was one the best things that I've ever done in my life," Rish said. "And I'm not just saying that, I mean it."
"Everyone was so welcoming to me and they made sure I understood what was happening. I thought I was going to get pushed to the side because of my age and because I'm a girl, but I felt just like one of the guys throughout the entire time."
"I learned so much and I'm totally addicted to the sport now. If you have any interest in bullfighting start out with Brett and you won't regret it"
Payne echoed Rish's comments.
"I was volun-told to be part of the experience and also felt so excited to participate," Payne began. " I had lots of doubts as I'm a 62-year-old woman and was only one of two women to participate that day.  There were lots of amazing moments throughout the day and I would say the biggest takeaway for me personally was pride in myself to have done it and a huge sense of empowerment.
"Even though I did not fight a live animal, it did not diminish the total experience. Sorting huge beef bulls got my adrenaline going through the roof and I couldn't imagine actually engaging with one."
"I credit Brett, Kynan [Vine] and Ty [Prescott] for encouraging everyone that day and there was not a time in the day that I felt that I couldn't do something," Payne concluded. "Everyone throughout the day banded together to cheer each other on and there was an amazing sense of camaraderie"
A critical component of these events is safety, which Monea ensures he always emphasizes. As billed, a participant can have the opportunity to step into the arena with a more aggressive young cow or bull calf, but not without the blessing from Monea having seen the individual's ability to "fight" the animal.
"For the adult experiences, there is no guarantee that you get to fight a live animal," Monea explained. "You must be considered "fit to fight" by a panel of professionals and a strict set of requirements must be met.  Safety of the participants and animals are our highest priority."
"The feedback from the adult experiences is that their highlight of the day was not actually the fighting of live cattle.  It was the various processes throughout the day and the camaraderie between all the participants and facilitators."
"The youth experience is so much fun," Monea added. "The kids get to play bullfighting tag, get up close and personal to a bull named Jungle Monkey owned by Ty Prescott, an opportunity to sort live beef cattle, enjoy a live bullfighting demonstration and a whole lot more."
"The youth get to leave with custom t-shirts and new to the May 29th experience, my personal partner Precede decided to sponsor all the participants their own bullfighting jerseys.  I approached Wetaskiwin Ready Mix as well and they did not hesitate to help out when we take this experience on the road to other ag societies."
"This is not a bull fighting school, no fighting of live cattle is required," Monea concluded. "If you want an exceptional experience, to learn more about rodeo bullfighting and agriculture, a day of laughs and a sense of accomplishment, we would love to see you in the arena."
For more information on the event, which takes place near Carstairs, Alberta, May 29, click here.