Biever Sets Sights on the Big Lights After Second-Place Finish in Texas
By: Covy Moore Monday, April 12, 2021 @ 10:16 PM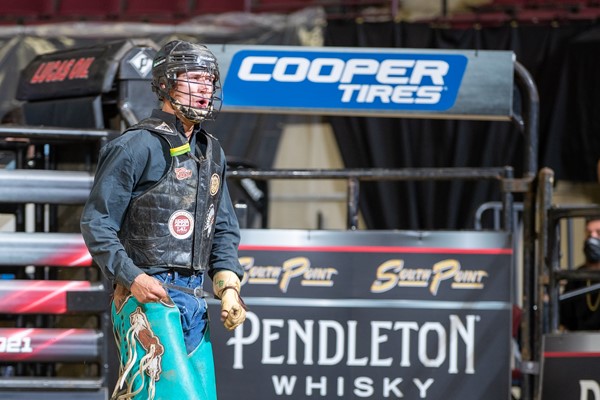 AIRDRIE, Alberta – The Canadian invasion is underway.
With the likes of Logan Biever, Jake Gardner, Wyatt Gleeson, Tanner Eno, Ashton Sahli and Tyler Craig currently taking on the PBR Touring Pro Division and Pendleton Velocity Tour events stateside, the climb up the rankings has begun for one Albertan in particular.
Finishing a career-best second at the Velocity Tour's most recent event in College Station, Texas, Claresholm-native Biever has made a rocket ship-like launch up the standings.
Going a perfect 3-or-3 at the PBR Aggieland Classic, Biever earned 25.5 world points, climbing 30 positions in the standings as he rose from No. 77 to No. 47. He now trails the Top 30 and a berth to the elite Unleash The Beast by 44.5 world points.
RELATED: Claresholm's Logan Biever Delivers a Perfect Performance in Texas to Finish a Career-Best Second at the PBR Pendleton Whisky Velocity Tour's Aggieland Classic
"It doesn't seem real," Biever said. "I don't usually like to win second, but when I got off I couldn't hardly believe it happened that way. I was shaking, I was pumped right up. It was sweet."  
"The last three four weeks, I have been pretty cold. I was starting to stress about things, money or making points or whatever. Missing things. I forgot about why I am down here riding bulls, it's fun."
"It's not always that easy," he continued "It's something you have to remember why you do it. I would say the only thing that has changed going into this weekend is I was here to purely have fun. Ride each bull for what it was, and it worked out for us."
Being the first of the Canadian's to head south with a PBR World Finals qualification in mind in 2021, Biever is now one of six Cauncks riding in the United States.  
And while they are all taking different paths throughout the country, they all have the same goal in mind -- not to mention, they were all entered at the College Station event.
"It's awesome to have some familiar faces down here and representing Canada," Biever added. "We are all backing each other, doing the best we can. It's awesome to see and have that camaraderie between us."
Biever said that the moment that will stick out for him from the weekend was his championship round bull RIP who he covered for 87.5 points.
"I just had a ton of fun there," Biever explained. "That short round bull I didn't know him at all. I asked around a bit. I heard he should go left. As soon as I crawled in the chutes there that stock contractor was worried about him hipping himself."
"I wasn't worried about anything else but riding the bull. The money or points or even the win wasn't on my mind, it was just about riding that bull. And I got it done."
Having gone from stressing about money and world points in the weeks leading up to the league's debut in College Station, Biever admitted that after a finish and a haul of world points like that, you have to check the standings.
"I looked last night. I was nervous about looking. From what I can see, I don't know exactly what It did for me, but from what I gathered I think it might have gotten me a spot in Oklahoma City next weekend, with all the injuries and exemptions being mostly used up."
"I am no mathematician anyways."
When Biever made the trip stateside at the beginning of the season, he told PBRCanada.com that his goal was to lock up a spot on tour and get in a position where he can make the 2021 PBR World Finals in Las Vegas before he comes back to Canada to contend for event wins in his home nation.
And this past weekend's success certainly poured more fuel on the Albertan's fire.
As for what he will do differently when he gets that shot at the big lights of the Unleash the Beast tour, Biever says nothing.
"The whole weekend is hard to put into perspective right now," Biever concluded. "I don't think I will do anything different. That is what I want to do. I think it's a pretty big accomplishment being able to get on that tour. I have always said to myself, I want to be able to go there. There is a part in a movie I like where the hero signs up for the big team. Even if you are there for five minutes, or you went to try out, at least you say you got to go and try. That's the way I think about getting on tour right now. I want to be able to say I was riding against the best guys in the world."
"I don't think a guy can change anything. You are with the big dogs, it's time to take it all in."